The Bonneville just broke 100,000 miles! I find it amazing that this car only had about 76,000 when I got it. I got my license in May and it has been my daily driver since. Looking forward to many more miles.
_________________
brownishSLE
"Family heirloom" Brown-on-brown 2000 SLE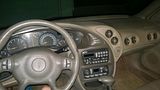 It's not winter anymore.
I'll get a new photo up
soon.