He was running the Zilla's T1R's.
Here's a coupe money shots for you guys:
31 cars raced (15 and 16 in each lane). Other cars attended and didn't compete.
The REAL money shot:
PDXGTP takes home the WCBF Bracket Racing Trophy. Perched here atop his cool ride.
(hired guns are cool......if they do good, you get to take some credit, if they screw up, you can blame them)
We did VERY well in the first half of the first round, and started 15 cars in the WCBF lane against 16 in the Grand Prix lane. Of the first 6 matchups, we won 5 out of 6. They finished that round by wiping out the entire tail end of our line. We lost our 3 biggest 'ringers', rrounds, Echo, and Pdad. That left Zilla, VBCSpangler, PDXGTP (driving SLEeper), singscountry1967, and Bugsi for round two.
Jordan (VBCspangler) and Tracy went out in round two. That left myself in Zilla, PDXGTP in SLEeper, and Bugsi in his SE for the WCBF side of the competition. Bugsi and I went out in Round 3. Thomas (PDXGTP) drove my SLE into the finals and lost by the barest of margins, bringing home second place in the class for the event, and taking home the WCBF bracket racing trophy (along with the Woodburn Dragstrip 2nd place plaque). If I can't win, I'll gladly watch my other car go into the finals.
My round 1 win against a GTP. Had a 0.009 R/T on this run. Note the smoke pouring out the hood vents (see, they ARE good for something) and the amount of smoke IN the car during the run. My throat is sore from all of it.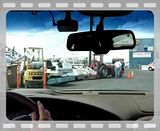 _________________
Click here for mod list for both cars
93 SSEi, 95 SLE (supercharged) 97 Buick LeSabre Limited
PontiacDad at WCBF '04: Cruise control? That's like surrendering!
Comprehensive guide to troubleshooting, rebuilding, and modifying Eaton Superchargers