Long story short my dad's ex wife wanted me to find her a Bonneville that my dad and I could do some work on and be a good car for her. I found these for her for $1,900 for the pair one local and one about two hours away. She will get the black 2002 SSEi when it is all done and my dad and I get the rest of the 2000 SSEi to do whatever with. Not quite a steal, but a good enough deal that we will make money of parting and scrapping the 2000 out after she gets the 2002
We will also end up with her '95 PAU with less then 100,000 miles on it. It was a great running and driving car then it was in a minor accident and my dad put on some LeSabre parts for now to get her by. That car will either be fixed and sold or driven or parted out.. who knows
Either way we will make out good on the deal.
The 2002 (Black) needs a dash harness (ribbon cable looks to be gone / cut for aftermarket stereo), shocks, struts, tires (she is keeping the 16" GP wheels) and overall a good cleaning. It runs and drives, but the engine smokes a lot so if it isn't something that can be a simple fix it will get swapped with the engine from the 2000 SSEi.
The 2000 (Blue) was a running / driving car but the guys I got it from bought it for the transmission for another job, we got the whole car minus the transmission. Engine looks way too clean compared to the rest of the car to be original. Underside is rotted and beat to hell so this car will get parted out then scrapped.
It will likely be till around Christmas before the 2002 is done and ready to go, but pics will be posted of the progress along the way.
_________________
Ryan
Check out my detailing page on facebook! -->
Next Level Detailing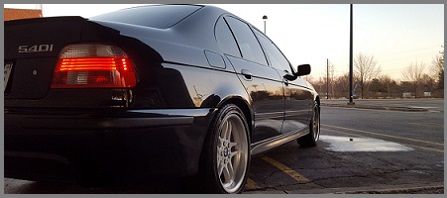 2003 Bonneville SSEi
- The Black Mirror
SOLD!
2002 Bonneville SE
-
The Mutt
Complete 2004 SLE interior, drivetrain, and body harness swap, ECC swap, HUD swap, black GXP wheels, GXP headlights and tinted tails - SOLD
2003 BMW 540i M Sport
,
2001 BMW X5 4.4i
,
2010 GMC Acadia
,
2017 Grand Design Imagine 3150BH
1982 Cutlass Supreme
- The fun one
MattStrike wrote:
It was the worst week of my life! *pause, drinks beer... smiles* But I'm better now!