It's been a while since some have seen pics. Basically the car is camera shy.
Yes, it's hiding an ugly bumper cover
Under hood (fuel lines have been straightened since
Some track rubber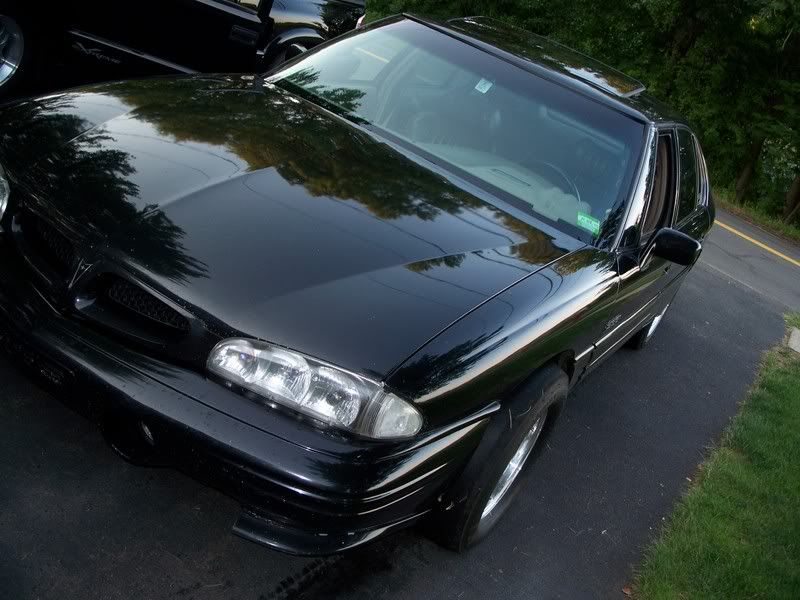 Specs: 97 SSEi
Exterior:
Swoopies for summer
Torque stars in winter
35% tint
Light up Pontiac tail
Dual outlet SS exhaust tips
Hella angel eyes fog lights
Clear corners
Interior:
In trunk retractable 20' light
Homelink custom map light
Fog light switch relocated and changed to a GP switch
SSE cluster
HUD panel 3 gauge pod (Aeroforce (soon to be dual), boost gauge, timing commander)
MPH/KM capable HUD via CCR switch
Two extra cig lighter sockets on side of console
Heated seats w/GP buttons
Wheel speed sensor defeat button
Regal rearview mirror with map lights and autodim
Park Ave visors with pull out tab
Deeper drivers door cupholder
2000 Bville shifter handle and boot
Kenwood CD player w/HUMount lit up mount
PAC SWI to retain steering wheel controls
Alero custom sunroof switch
Coming soon, unbreakable oh sh*t handles.
Drivetrain/Engine bay:
Mezier electric WP
2000 Alt tensioner w/sense wire hookup
2000 Alternator
2000 ps pump bracket
SLP Headers
3" cat
Res delete
3" Race cutout
Custom front trans mount
4" FWI
Modified washer bottle
LQ4 maf
NorthStar TB
PDM P&P Gen V SC w/MPS (3.4"-2.8")
Innovative Wideband O2 (hooked to HP Tuners and Aeroforce)
Intense and Grant built trans (3.29 gears and all updates, 15/16's chain etc etc)
S1X cam
105# springs
2000 aluminum oil pan and filter adapter
Intense oil pressure kit
Relocated PCM box
Oversized radiator
Intense 180 t stat
PRJ fuel rails
PRJ plug wires w/protective boots and wire numbering
Braided SS fuel lines with AN fittings
42lb injectors
TRE 255lph fuel pump
Air Lift drag bags
Parts on hand :
Shiftview
titanium retainers
lightweight pushrods
Nosedrive turn down tool
42.5 injectors
Intercooler
IC pump 20gpm
1999 wiring harness and pcm