I'm shipping my welder out to Cali next week so it was crunch time to get this hole buttoned up. With afternoon thunderstorms, rain all day tomorrow and a potential commitment Sunday, today was the day.
When I started digging into it again I realized the inevitable H-body subframe rust issue was starting to rear it's ugly head on the rear passenger uni-body mount. It was rusted and cracked. Given the time crunch, I did some what of a mickey mouse repair, grinding out some rust and welding where I could. The good news is the front rear mount location still looks ok.
When I got back into the front rocker I grinded out all the rust in the last pic, cut out a small piece of the middle layer sheer metal to replace, then made the new a new outer skin. Not a few mins after I popped open the POR-15 to coat it, the sky opened up and I had to literally throw everything into my garage. If I had more time it would have looked like nothing had ever been replaced but at this point I'm just working with the time I have. I still have to strip the rocker and POR-15 it like I did to the other side. Nothing beyond what I replaced seems like it's more than surface rust, similar to the other side. I also have to cavity wax this through the sunroof drain hole and cavity wax the drip rail fix a couple posts back.
I did realize after the fact that the aft recess for the fender mount wasn't as high as the forward one so I trimmed that up before I put the outer skin on.
With the rain, I decided to finish an interior LED light conversion I started. I did the doors a while back which were B8.5D/T5 but the contacts needed to be bent to mimic the stock bulbs. I did the grab handle and map lights tonight which were DE3175 and 561 respectively. The 561s aren't the exact same bulb but they fit without issue.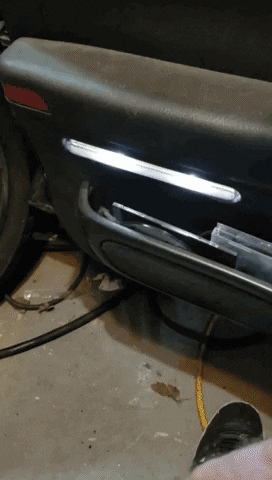 _________________
95 SLE... a keeper. 241k miles. Low and Slow.
97 BMW 528i
98 Infiniti vq35'd i30: 13.3@104mph, 30MPG Hwy (RIP)
02 Jag X-type
03 BMW M5
07 Infiniti G35s 6MT (Sold)
07 Ducati Monster S2R 800 with DS1000 swap
83 Yamaha IT175K
72 Yamaha DS7: '74 RD250 swap, JL chambers
Info on dropping a 92-99:
Here.