Well, I tore into my first ever Northstar engine this weekend. On the docket for work was intake gaskets, starter motor rebuild, spark plugs, throttle body and MAS cleaning, throttle body gasket, etc. 0171 and 0174 are the main two codes I'm hoping to kill off. We'll see if any others go too.
Other than breaking a few plastic clips (3D printer is already busy with replacements) everything seemed to go well. I didn't find any damage other than rotted out rubber. I did have to replace the vacuum lines to each valve cover, they just crumbled apart when I tried to remove them. Other fun findings: none of the intake manifold bolts were torqued down... None. They were less than finger tight. So, I want to say, I found the problem. Also the fuel injector O-rings were as hard as rocks and cracking, managed to get them out without casualties but it was close. The brake booster hose seems a little loose, like a hose that's gone soft from soaking in oil. So I'll have to replace that soon but for now it's going to have to work.
Well, here it is, freshly washed under the hood as much as I cared to do:
And it's out! Took me maybe 45 minutes (going slow), I would say getting to the starter on this was actually not much harder than a 3800 is. And don't worry, I cleaned all that nasty out of there:
A picture of everything getting put back together. Seems like the intake coupler is something like 3.75", but I managed to get a 3.5" silicone coupler on. The rubber one hadn't failed yet, but it was not in the best of shape either.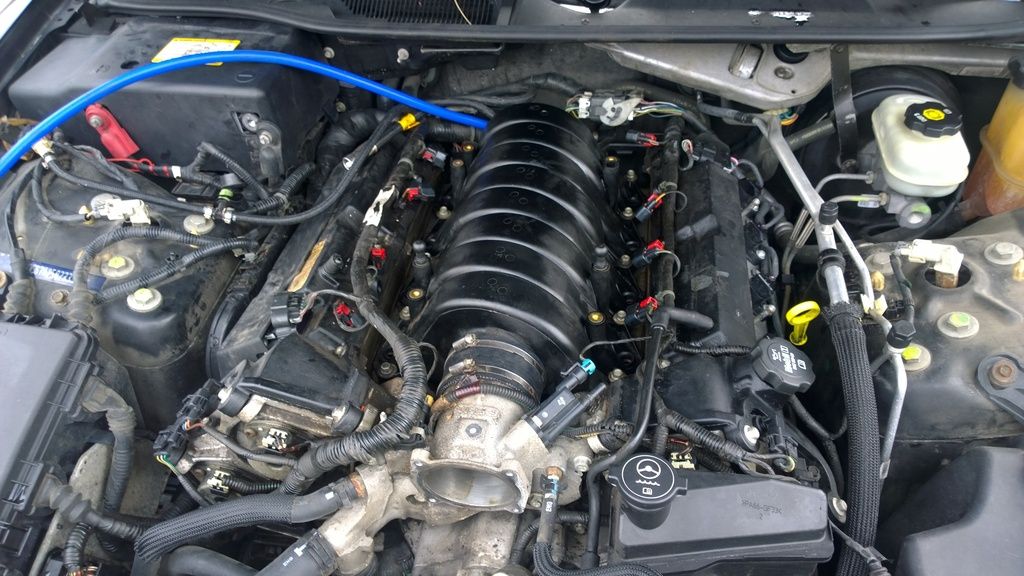 Whoa!
The spark plugs have me a little annoyed. I'm told the AC delco 41986 is the OE plug. That's what I bought to replace mine. The 41986 is a heat range 16 plug with a .040" gap. It's a really nice plug, appears to have a stainless steel shell, which is an appropriate application for a fastener into an aluminum thread. The plugs that were in the motor are obviously not original. They were the 41950, which is listed for use in this application, but it's far from the same plug. Heat range is 12 and the gap is .050", and the shell is just plated steel. I soaked them in PB blaster before trying to remove them, luckily I didn't have any stripped threads, but I measured an average of .070" gap and one plug had heavy white deposits on it (drivers side rear-most plug).
Now, I'm not an expert, but I know enough that dropping heat ranges is not something you normally do with an un-modified engine. To me it looks like there were issues with the plug being able to self clean in this case. This is the first time I've found plugs to be wet like this.
But after all of this, I got it back together and took it out for a spin. The engine seems to idle a lot smoother, so we'll see what happens next!
For arguments sake. If the GXP is a size 10 engine in a size 4 dress, is the STS a size 10 engine in a size 7-1/2 dress?....
_________________
Blow all the things! Wait, I meant boost. Boost!

Runs:
'93 Pontiac Bonneville SSEi - Twincharged, manual, and lots more! Build thread
'97 Chevy Camaro - 3800 supercharged, T5, T-tops
'05 Cadillac STS - V8, AWD, her DD
'92 Olds Trofeo - Fair weather DD
'84 GMC Sierra Classic - Twin turbo 3800
'97 Buick LeSabre - L67 winter DD
'92 Pontiac Bonneville SSE future project

Doesn't run:
'87 Buick LeSabre T-type - future victim
'67 Buick LeSabre - future victim