Just a few options it shipped with: 4WD, dual exhaust, full size bed, quad front shocks, 8600GVW, antenna integrated in windshield, a 160hp/250tq 350ci v8, HD cooling system, tow package, power windows, power locks, chrome bumpers, dual gas tanks, 4.10/4.11 gears, 14B semi-floater rear differential, blue on blue exterior with blue interior.
No center mount brake light in that list...
Anyhow it's paid it's dues over the years. But now it's time to start paying it back. Currently has over 300k miles on it - hard miles that include towing in tandem a camper and 38' travel trailer. Since the original 350 died, it's had an Olds 455 and two Buick 455 motors under the hood. It's on it's 4th or 5th trans and second transfer case.
Long term goal for this project: Full restoration with a Northstar V8 and some turbo love. With any luck that will happen later this year. Parts for this truck are still mostly available, so should limit the amount of welding that needs to happen.
What I'm going to be doing now: 3800 swap, exhaust repairs, body mount rust repairs, new ball joints and tie rods, new fuel tanks and lines, new brake lines, and rear disc brakes. This should get me back on the road for winter.
What I'm starting with:
455 not looking so hot:
3800 drivetrain: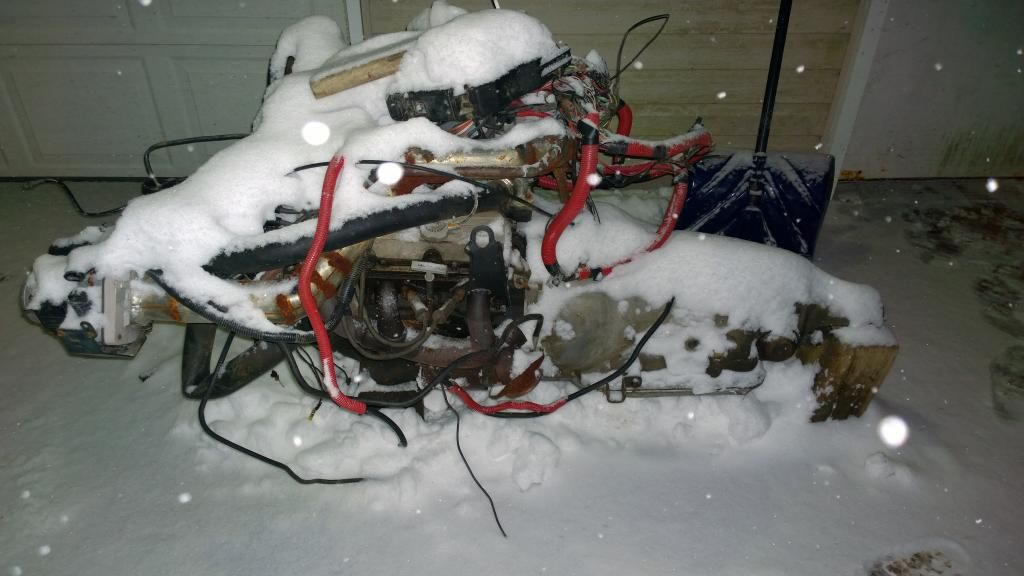 A little history on the 455: It was bought in 2013, reconditioned, and replaced the 455 that my wife ran in 1st gear at 45mph for about 2 miles before that one spun a bearing (she knows I'm never going to let her live that one down). I'm pretty sure with the gearing it had that was around 6400rpm on a motor that normally redlines at 5000. It has the high compression heads and a late Olds 455 Q-jet. I did all of the recommended oiling mods and it was running fairly well other than the secondaries on my Q-jet sticking shut all the time. Then one day it started randomly misfiring for a short duration, corrected itself shortly thereafter, and was fine the rest of the day. Next day did it twice. Third day I headed off to replace the cap, rotor, coil, all of which were years old, and it started misfiring and wouldn't recover. It got worse, and started making a random metal on metal clanking noise. Of course, the ignition components didn't correct the issue, so I called it quits and towed it home. Further inspection revealed metal in the oil.
The 3800: Started life out in a '91 Regal that we picked up for $600. That car had the typical rear-end sag due to rusted out mounts for the rear swing arms. It was poorly bondo'ed everywhere and a true beater of a car that pretty much everything worked perfectly on. Coupe, sunroof, and the euro cleared tail lights, concert sound with steering wheel controls, and the most comfortable seats ever. A few years back, somebody pulled out in front of my brother while he was driving it and he rear-ended them. At that point it just wasn't worth the money to fix it up. We pulled the motor and trans, scrapped the car. The drivers seat is still in use to this day, setup as a computer chair with all the power functions still operational. The trans, 3.06 FDR, was donated to my LeSabre prior to the L67 swap, and this 3800 was converted to RWD for my brothers G-body Grand Prix. It was mated to a S10 700-r4 that we picked from a junkyard. He didn't get to use it much before deciding to have some real fun with that car, and stripped it down last summer. Motor has somewhere near 160k miles on it, so plenty of life in it still.
_________________
Blow all the things! Wait, I meant boost. Boost!

The Fleet:
'93 SSEi - Twincharged + manual Build thread
'97 Camaro - Top swap
'05 STS - V8, AWD, her DD
'92 Trofeo - Fair weather DD
'97 LeSabre - Top swap
'99 Montana - top swap 3800

Current project:
preparations for L67 Cavi

Upcoming projects:
'92 Bonneville SSE
'87 LeSabre T-type
'67 LeSabre

Gone to greener pastures:
'84 Sierra Classic - Twin turbo 3800

RIP:
'86 LeSabre - pictures
'93 SE - L67