*Blows the thick layer of dust off the caked on layer of crud that now coats the frame of this bike*
OK, well, this happened...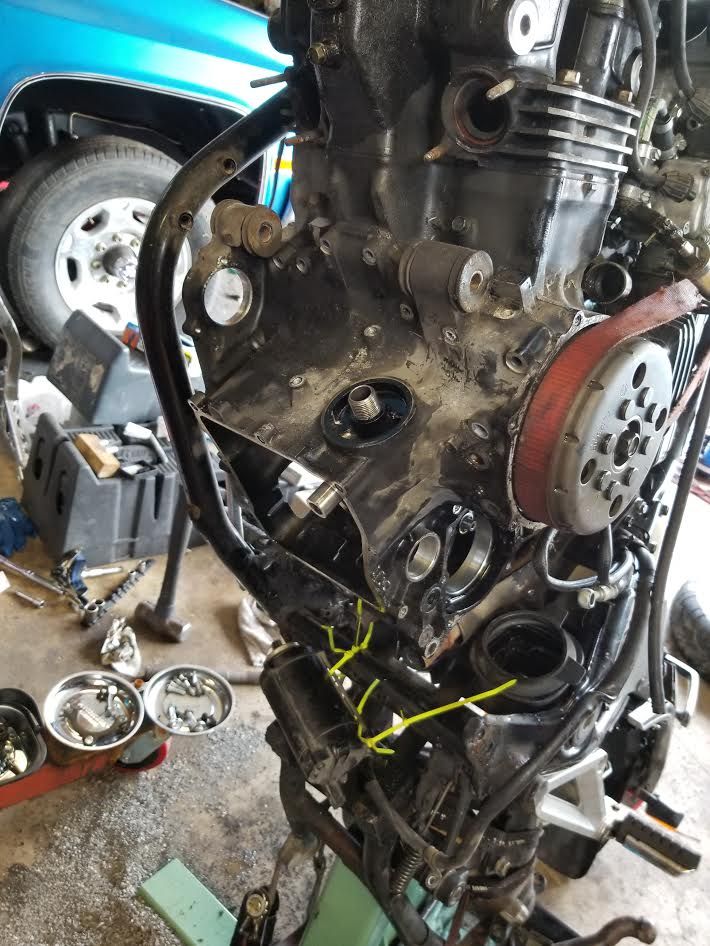 My '84 Sabre needed a clutch, 2nd gear, and a clutch slave cylinder rebuild. So I welded up a stand that can hold it at any angle up to vertical with the rear end removed. After fudging around with some method of pulling the trans without splitting the crank case and pulling the motor, I decided I'm not doing it that way, it's cramped and stupid. The amount of time I wasted fidgeting with cramped conditions and tight-fitting gears I could have had everything stripped apart by now. sure, it's like 10 more gaskets that I'll have to replace, but this way I get to P&P the heads and cleanup and re-do some things I don't like, like my fuel lines.
So I decided this weekend I wanted to ride again this year, two years ago the clutch went out for good, and second gear was on it's last leg. I've started a mini-project to restore the bike. In addition to the issues above, it's getting a small rust spot repaired, a dent in the tank pushed out, a dent in the frame water line repaired, new paint and a good polishing, upgrading the fuse box to use blade fuses instead of glass tube fuses, new plugs and DIY belden wires, fixing the seat leather, replacing gravity feed fuel with a universal fuel pump and regulator (hopefully fixes my fuel starvation issues), re-mounting my windscreen directly to the frame (it's on the handle bars now..), and possibly a 3D printed LED tail light with integrated turn signals and an LED headlight and some fancy ambient lights.
Yes, I know I should be working on the truck, but I'm waiting for the Waterjet at the local techshop to get fixed. I'm taking my extended weekend to get most of this done. Sounds like a lot, but I've got a lot of pent-up energy from being on launch and I don't feel like working on the truck exhaust just yet, so I should be able to bang this out in a few days.
_________________
Blow all the things! Wait, I meant boost. Boost!

Runs:
'93 Pontiac Bonneville SSEi - Twincharged, manual, and lots more! Build thread
'97 Chevy Camaro - 3800 supercharged, T5, T-tops
'05 Cadillac STS - V8, AWD, her DD
'92 Olds Trofeo - Fair weather DD
'84 GMC Sierra Classic - Twin turbo 3800
'97 Buick LeSabre - L67 winter DD
'92 Pontiac Bonneville SSE future project

Doesn't run:
'87 Buick LeSabre T-type - future victim
'67 Buick LeSabre - future victim