Joined: Mon May 19, 2008 5:06 pm
Posts: 12215
Location: Powell River BC - 7 time WCBF Survivor
Year and Trim: 2000 SSEi, 79 Firebird, 88 Jeep, 11 Yukon Denali
For my 88 Jeep. Same 235/75R15 size Yokohama A/T's as my Toyo Open Country's. A complete set of 5 wheels in my favourite gold crosslace design.
Rubber is about 50% tread and wheels are not perfect but for $160 I think it's a GREAT deal!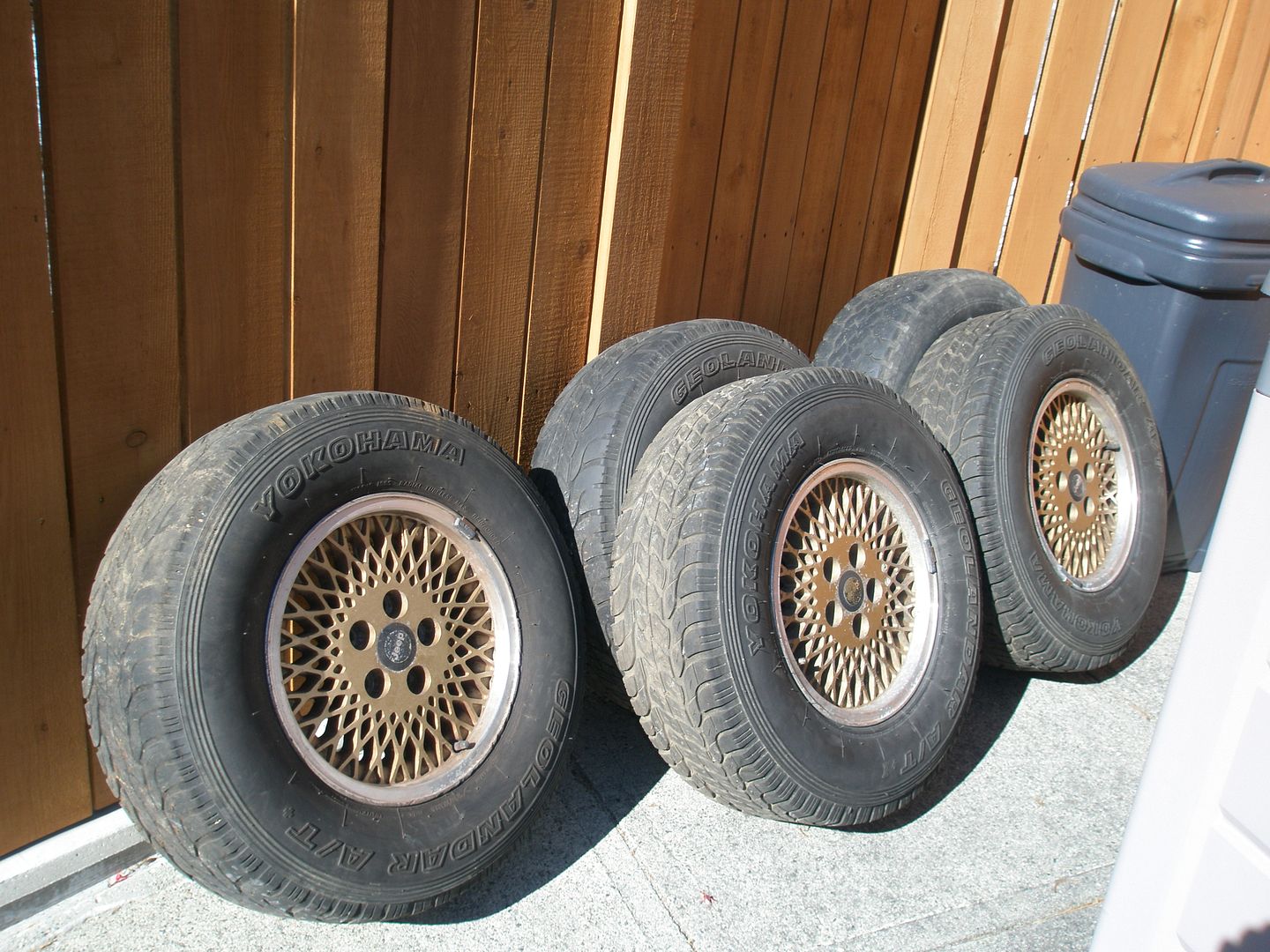 _________________

2000 SSEi - SilverBullet - 73,000 kms, 4" "straight shot" custom headlight ram air inlet, TOGs, 1.9's, Lsd, 2.9-3.4"MPS 10-15 psi, Ported GenV, EGR eliminated, OR pushrods, oil volume kit, trani cooler & shift kit, Titanium retainers, 90 lb springs, 160 Stat, 42# injectors, Fuel pump voltage increase, Wideband O2, 3" to dual 2 1/2" Magnaflows, Snow Meth/water injection, after SC temp gauge, 255/50WR17, timing commander set 15-18*@WOT, 2 speed Fan over-ride, disabled DRL, Solid motor mount, Meziere Electric water pump, adjustable fuel pressure regulator, Drilled & slotted rotors/ceramics, GXP sway bars and STB, Upgraded and rebuilt transmission, Pioneer Bluetooth stereo with sub and 800 W amps, PB 13.5 quarter, (April 2014 car of the month)