I have seen this car running around St. Cloud. It made me sad to see it in such rough shape. The person you got if from must not of owned it for to long. The dealer, Williams Auto advertises as the dealer with reliable "higher miles, but lower priced vehicles."
_________________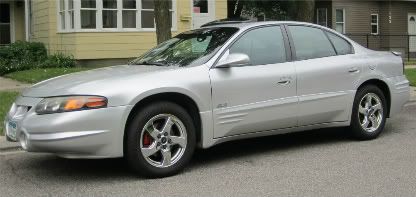 2009 Ford Flex 63K
[/u] My DD & super utilitarian vehicle that we call the White Bus.
2006 Honda Accord EX V6 Coupe 73k
; Wife's hot rod & highway ride.
SOLD: 2002 Bonneville SLE; 230K
, Mods: Solid hockey puck front mount, Intense FWI intake, 180 degree thermostat, Magna Flow high-flow cat, ZZP O2 emulator: Nothing major but maintenance and what it takes to keep the dash lights off and the mileage up..
2004 Bonneville SLE 201k,
Pearl White (Old man's ride)