Ended up making my own for about $25. No fooling, $25. All the hardware was $20 at Lowe's, and the master cylinder cap was $5 at Advance.
Hardware:
Mostly complete:
You can guess how the cap went together with the help of some RTV silicone. There's also a little groove in the cap you have to smear with RTV. It's easy, took 30 minutes for my problem-riddled self to do.
Also picked up 5 feet of 1/4" ID tubing to run into a 2 liter bottle to use as a catch can.
Testing will happen later this week when I have more time.
_________________
2012 Chevrolet Cruze Eco - Current car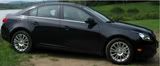 1999 Buick LeSabre Custom - Former car
Learn from the mistakes of others, that way when you mess up you can do so in new and interesting ways.