Remove Harmonic Balancer (without impact wrench)
95 SE. others similar
Disclaimer: Working on automobiles can result in damage to property, personal injury, and/or loss of life. The author is not responsible for any losses incurred as a result of the use of these instructions.

Persons using these instructions do so at their own risk!
These instructions are for those that do not have access to an impact wrench or whose impact wrench is unable to loosen the large crankshaft pulley bolt. I have used this method successfully on the most stubborn crank pulley bolts.
What you need
Hydraulic jack or car jack
Three jack stands
Harmonic balancer puller
Three M6 x 1.0 bolts and washers, 70-90mm long depending on puller
Lug wrench: ¾" socket
Splash shield sockets: 10mm, 5/16"
Crank bolt socket: six-point 15/16" or six-point 24 mm at least 1/2"-drive
Bolt about 10" long (old head bolt works swell) or big, phillips head screwdriver
Socket extensions: ½" drive extensions totaling about 24"
Handle: ½" breaker bar (stronger than a flex handle)
Cheater bars: strong pipe, or strong hollow steel stock that fits well over the breaker bar or flex handle
Bolts for the HB puller
You will probably need to buy these bolts at a hardware store or a well-stocked auto parts store. Do not assume the correct bolts will come with the puller that you buy or rent. The bolt size you need is 6mm diameter by 1.0mm per thread. Do not be tempted to substitute 1/4" fine thread (24 threads per inch) bolts. They may thread into the holes but the chances are great that you will damage the threads in the HB and cause yourself much more work. The length of the bolts depends upon your puller. For my Craftsman puller, (see Figure 1) I use 70mm bolts (measured from under the bolt head to the end of the bolt) with two hardened washers under the head of each bolt totaling 5mm in thickness. The arms on my puller are 13mm thick - this leaves 52mm of bolt past the underside of the puller arm and 42mm of bolt beyond the thickest center portion of the puller. See Figure 2.
PLAN A
Loosen lug nuts on right front wheel.
Jack up car under center of front cross member.
Place jack stands under sub-frame so front of car remains level and tires are just off the ground.
Make sure car is stable – you will be applying 600 - 800 ft-lbs of torque to the engine.
Under front of car, remove plastic splash shield with 10mm & 5/16" sockets.
Remove two plastic flywheel covers with a 10mm socket. Twist and pull the front plastic piece to remove.
Slip the big bolt or heavy screwdriver through closest hole in flex plate to the front bottom edge of engine block.
Slip the big socket fully onto the crank pulley bolt and attach the breaker bar or flex handle. Turn the engine counter-clock-wise until the bolt or screwdriver jams against engine – this will hold the crankshaft still.
Slip a cheater bar over the handle and try to break the bolt free.
Can't get the socket and handle on the bolt or can't get the bolt to break free? Go to Plan B.
PLAN B
Remove RF wheel.
Remove plastic splash shield inside fender exposing crank pulley bolt.
Set up jack stand as shown below
except
place the jack stand nearer to the end of the extension closest to the handle to minimize the vertical leverage when force is applied. Check that the extensions are level and in line with axis of crankshaft. See Figure 3.
Slip 4-foot cheater bar over handle somewhere around the 9 O'Clock position, so that you can firmly and safely apply your entire weight near the end of the bar.
Make sure the six-point socket fits tightly, is fully on crank bolt and the extensions are perfectly straight in line.
Do not attempt this with a 12-point socket or any socket that does not fit tightly - if you do, you will likely strip the head of the bolt.
Position your body so that if the bolt breaks loose suddenly, (or one of your tools fails) you will not injure yourself with the handle, or fall and hurt yourself.
Remove any objects on the ground around you that could hurt you if you were to fall.
Pull down on the end of the cheater bar, bouncing if necessary to break crank bolt free.
Won't come free? Get a longer cheater bar and try again.
Break the extension? Use impact extensions or rent ¾"-drive tools.
Remove crank pulley bolt.
Install 3, 6mm x 1.0 bolts and washers through puller into HB. See Figure 4.
Pull HB off
Figure 1 - Sears Harmonic Balancer Puller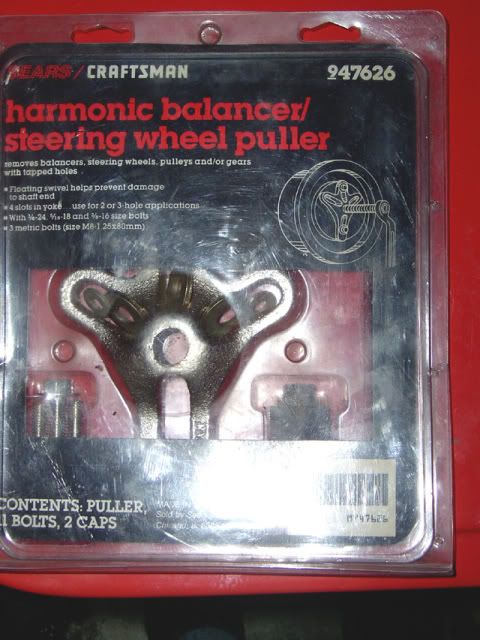 Figure 2 - HB Puller bolt and washers
Figure 3 - Jack stand position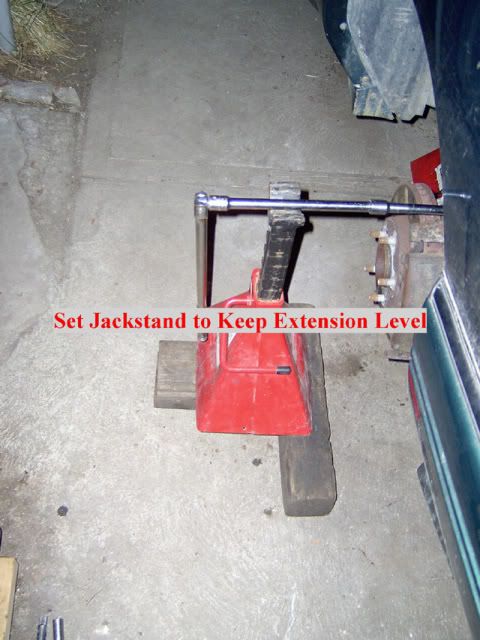 Figure 4 - HB puller attached
Thanks to the Gearheads and Administrators for their helpful suggestions.
_________________

1998 3.8 Dodge Caravan 214K
2000 3.3 Dodge Caravan 175K
1949 Plymouth Special Deluxe 4-dr sedan 25K (needs some work!)