Author : Willwren
This can apply to all years/trim levels. Even something as simple as adding a performance PS pump or Alternator can affect the belt path length. Want to keep the stock belt and increase wrap diameter around the smaller performance pulleys while helping to prevent belt slip?
Tensioner pulleys. We all know we can buy the 3.5" at various places online like
www.pulleyboys.com
,
www.zzperformance.com
, or
www.INTENSE-racing.com
right?
http://www.zzperformance.com/grand_prix ... php?id=195
http://www.pulleyboys.com/gms1idler.html
http://www.intense-racing.com/Merchant2 ... ry_Code=BE
What about a local source? Yup. I found 'em. In various diameters, too.
I recently diagnosed my Accessory belt tensioner as failing (FYI, on the Series 1 L67 this is only for the power steering and alternator, the AC, SC, and WP are on the other path).
So I picked up my new tensioner assembly at the local dealer this morning when it came in, and started thinking about the smaller diameter pulley on my 160-amp alternator. A 3.5" Tensioner pulley in place of the stock 3" may be too much, but a 3.25" might be nice to put the tensioner back into it's normal operating range.
So lilpooky and I drove around the corner to NAPA with the AC-Delco brand spankin' new tensioner with 3" pulley.
I spent less than 10 minutes at the counter with the book, and looked at a few pulleys they had in stock, measuring diameter and bearing/face offsets. Here's what I found:
Stock diameter is 3".
NAPA stock number 38027 is a plastic OEM-style replacement in 3.25". This goes on my accessory tensioner today. This might be a choice for L67's that don't make extreme steps on SC pulley diameter. Anyone with a performance alternator with smaller pulley should consider this. Also perfect for a 92/93 L67 running a 2.3" or 2.4" pulley, or 94/95 L67 running 2.6 or 2.7" pulley.
NAPA stock number 38020 is a 3.5" steel pulley for those with the smaller SC pulleys on L67's. This is not the same design as the steel pulleys we've had a couple failures with recently. I like the design much better from NAPA.
Pics of the 3", 3.25", and 3.5" to be posted later today.
While the NAPA pulleys are slightly more expensive ($27) than the ZZP or PB, and slightly cheaper than the INTENSE, you don't have to pay shipping and you can pick these up locally off the shelf. You also now have the choice of a pulley in between stock and the readily-available 3.5" oversized.
Pictured: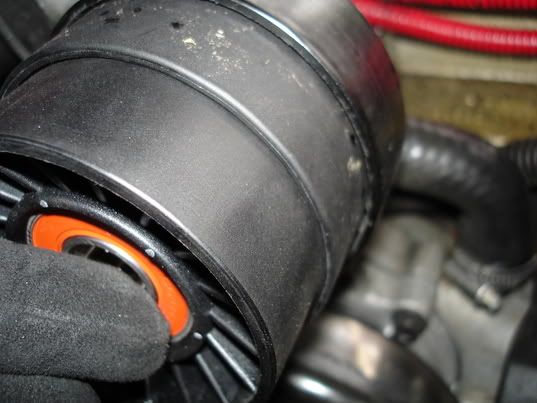 3" stock idler, 3.25" NAPA idler, 3.5" ZZP Idler
Author : Willwren