ScanGauge II is MUCH easier to wire in than an aftermarket fuel gauge. It plugs into your OBDII port, and is pretty accurate. Mine's within half a gallon of fuel used. $150 thereabouts. Same price as a new sender.
http://www.scangauge.com/
It's an option if you don't want to address the problem itself.
_________________
2012 Chevrolet Cruze Eco - Current car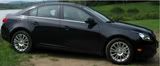 1999 Buick LeSabre Custom - Former car
Learn from the mistakes of others, that way when you mess up you can do so in new and interesting ways.