I wetsanded the area this morning with 2,000 grit. I figured I would start off higher to be careful. I was able to feather the edges of the letters flat, so that they no longer catch your nail when you wipe over the area. The ever so slight difference in the OEM clearcoat underneath and the top clearcoat that peeled is there when the panel is wet, but after buffing, sealing, and waxing, you really have to be about 3 inches away from the area to tel that the indentations are still there.
It's not perfect, but it will get by for the time being until I can call around to body shops about having the panel re-sprayed, and then save up for that.
I've been planning to get an OEM front lip for the car anyway, so it may make sense to pull the trunk lid off and bring that and the lip to the shop and have them both painted together. The issue will be $$$$ though. It's a lot harder to justify why I need to re-paint parts of my car to the wife lol, especially when I've barely had it 2 months.
Here's the same area of panel that's in the photo in the first post, and then an overall shot of the rear trunk lid now.
If you look VERY closely, you can see the ghosting where the letters were, but at least it isn't flaky now. Hopefully keeping up with sealing and waxing the area will get me by for a while.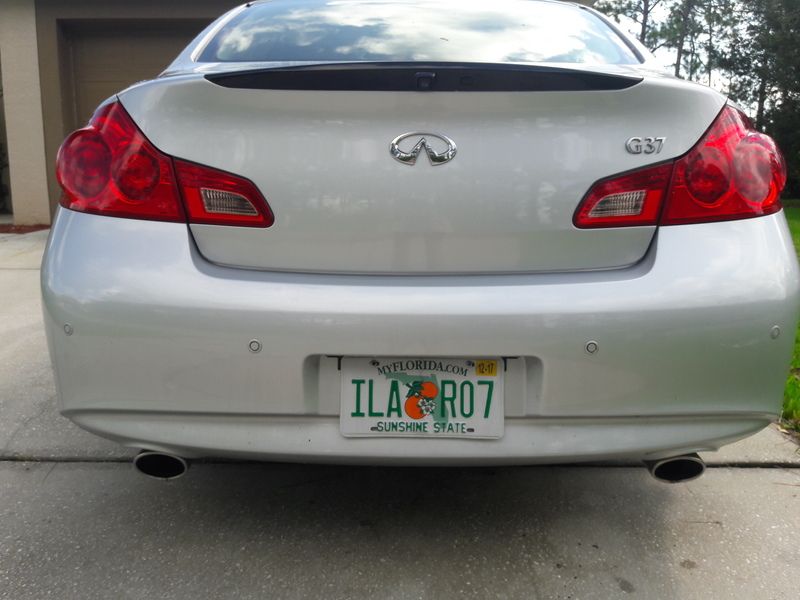 I'm also in the process of wrapping all of the chrome trim in gloss black, and the OEM trunk finisher where the backup camera is was first on the list. It looks so much better than all the chrome.
Tail overlays will hopefully be on in the next few weeks.
_________________
Joseph
Current: 2013 Infiniti G37 Journey
1999 Infiniti G20T - Sold
1999 Buick Lesabre - Race Couch - gone but not forgotten