This is for a 93 and I am not sure if it is the same on later years, etc.
Input? I was thinking of posting in Tech Info, since this comes up all the time. Changes? Adds? Deletes?
=============================================================
General Info:
The
Throttle Position Sensor (TPS)
is a potentiometer, mounted on the throttle body (TB) w/one end at ground via the computer, and the other at 5VDC via the computer reference source voltage. The third, middle wire feeds a signal voltage to the computer, to provide the throttle position and is used with other inputs to calculate and regulate fuel injection. The most notable symptom of a failed TPS is usually intermittently or constantly, fast engine idle speeds.
LOCATION: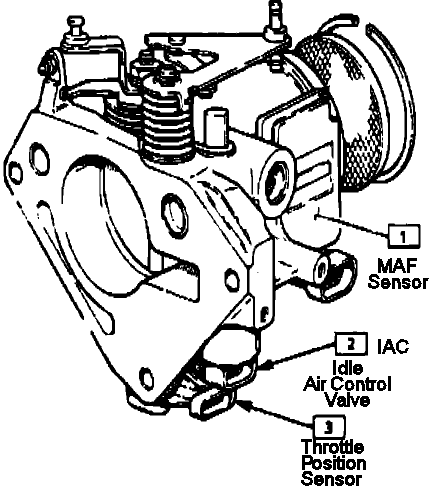 Testing:
Volt Meter required.
A. Verify wiring to TPS plug.
1. Ignition on, motor OFF.
2. Meter set on DC volts, scale set to read 5v.
3. With harness connected, black meter lead on (good) engine ground, red meter lead at socket pin A should read 5V DC. Red meter lead at socket pin C should read 0v (ground).
If either of these varies by more than a fraction of a volt, check wiring.
B. Verify TPS
TIP: As long as wiring passed the verification above, you may use engine ground for connection of black test lead of meter, though manual reads from pin C of socket.
1. Ignition ON, motor OFF, connect black meter lead to ground or pin C and red meter lead to center pin (B) of TPS connector (with harness connected).
2. Note voltage displayed at idle.
3. Move throttle to wide open and note voltage displayed.
Compare to the specifications below. [1]
VOLTAGE SPECIFICATIONS:
[2]
Throttle Position Sensor (Closed Throttle) 0.33 to 0.46 Volts
Throttle Position Sensor (Full Throttle) [1] 4.1 to 4.2 Volts
[1] Typically, accelerator pedal travel only yields 4.1 to 4.2 volts maximum, but full throttle rotation at the throttle body should be about 5.1 volts.
[2] On newer models, i.e. 2000, voltages are less critical: Less than 1 volt for idle; More than 4 volts for Full Throttle. If it's less than approx. .1 volt at idle, or above 4.9 volts, a code will be set.
After '92, The throttle position sensor on this engine is not adjustable. If sensor output is outside of normal range (0.33 - 0.46 volts W/closed throttle), replace sensor.
REMOVAL:
1. Disconnect the TPS electrical connector.
2. Remove the two TPS attaching screws and retainers. [2]
3. Remove the throttle position sensor.
[2] This may require any of various tools or methods, as it may be difficult to get a tool on the head of the screws. Some have replaced them with hex head screws, allowing the use of end wrenches or small sockets for future service.
INSTALLATION
:
1. With the throttle valve in the normal closed idle position, install the throttle position sensor on the throttle body assembly, making sure the TPS pickup lever is located ABOVE the tang on the throttle actuator lever.
2. Install the retainers and two attaching screws. DO NOT tighten the screws until the TPS is adjusted (1992 and earlier only).
ADJUST:

1992 and earlier ONLY. NO ADJUSTMENTS on 1993 and later
3. Install three jumper wires between the TPS and the harness connector or use a "Scan" tool.
4. With the ignition ON, use a digital voltmeter connected to terminals "B" and "C", adjust the TPS to obtain 0.38 - 0.42 volts (middle of the operating range) with the throttle valve closed.
5. Tighten the screws, then recheck the reading to ensure the adjustment has not changed.
6. With the ignition OFF, remove the jumper wires and connect the harness to the TPS.
_________________
1993 Red SSE
- Bone-Stock except for High Perf. (LOL) Power Antenna-Original Owner. Pushing 140K - It's the love of my wife.
'05 Magnum Hemi R/T "Great White" -
Classic VW Beetles