I am going to go out on a limb here and guess you are referring to the O2 Sensor behind that cat? If so, it is located behind the heat shield. You have to drill out the rivets to be able to see the sensor. You should be able to see a little bit of the wires sticking out from the heat shield.

You will need some sheet metal screws to put the heat shield back in place. Don't leave it off. It serves a purpose. FYI: You will be screwing the sheet metal into the floor of the car. I put some waterproof silicone on the screw and the hole before attaching it to prevent any leaks in the future.

EDIT: Searching the forum is a great way to find out how to do things. You won't be forced to sit and wait on a response. Remember, people have busy lives and don't spend their time sitting on the forum.

One adverse effect to finding things via search is you will have a low number of posts.
_________________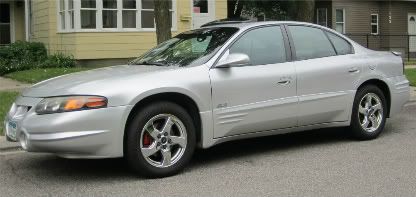 2009 Ford Flex 63K
[/u] My DD & super utilitarian vehicle that we call the White Bus.
2006 Honda Accord EX V6 Coupe 73k
; Wife's hot rod & highway ride.
SOLD: 2002 Bonneville SLE; 230K
, Mods: Solid hockey puck front mount, Intense FWI intake, 180 degree thermostat, Magna Flow high-flow cat, ZZP O2 emulator: Nothing major but maintenance and what it takes to keep the dash lights off and the mileage up..
2004 Bonneville SLE 201k,
Pearl White (Old man's ride)