I swapped on the Grand Prix rims/tires that I picked up for the Regal that didn't end up fitting. Not only do I feel better about not rolling on 13 and 14 year old tires (according to the DOT markings), but they are also 16" wheels with 225/60r16 tires, so it spends less time driving on the sidewalls and more time on the treads, that is, assuming you are not dragging the outside doorhandles on the pavement, because it is still an absolute creampuff. Liners rub about half a turn from full lock. Normal driving seems just fine so far.
At any rate, more pics!
A look up her skirt, just to annoy you rustbelters
If I'm honest, I wasn't expecting to see the rust that I do under there, but I suppose it is a product of being parked on dirt for so long. Nothing looks threatening at all from what I can see however, but if I am wrong on that, please point it out. Rust is not my area of expertise, given where I live.
The walkaround, with the sun at a poorly chosen angle:
Interior cleaning is still on the todo list:
And the usual 2 in the driveway, only because of the lighting concerns in the walkaround
If I'm honest, I am absolutely captivated by what the rims did for the look. I couldn't imagine how the car could look any better then it did with the old wheels, but it has been topped, and I think the pics don't do it any justice.
I refuse to put the Pontiac center caps back on however, because OCD. I am looking for suggestions on that. So far however, these are some front runners, assuming they fit: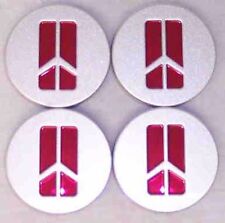 I am still trying to find a good one though. I feel it should be black center caps with the red rocket, but I am not sure if I want to jump eras with the logo. I am still looking though, I do have all 4 center caps however, so stickers may be an option.
_________________
~Randall~


1993 Buick Park Avenue - 197k - Some odds and ends done - Simply won't die
1994 Buick Regal - 78k - Bone stock - Always ready for a good kicking
1990 Oldsmobile 88 - Gone to a better place