While an aftermarket intake system (FWI or TRUE CAI (shielded from the engine bay) may be the best option, it's not uncommon for the budget to play into the decision. This article will show how to get more out of the Series 1 L67 airbox, which is already a better starting point than the Series 2.
The first thing to know is what's what. We're concentrating on the FORWARD half of the airbox and the 'accordion' delivery tube. IN the picture below, the parts are seperated by generation. The magenta arrows point out the resonators, and the green points out the ADDED air tubes. Resonators are intended to acoustically cancel engine/supercharger sound, but are bad for airflow/performance: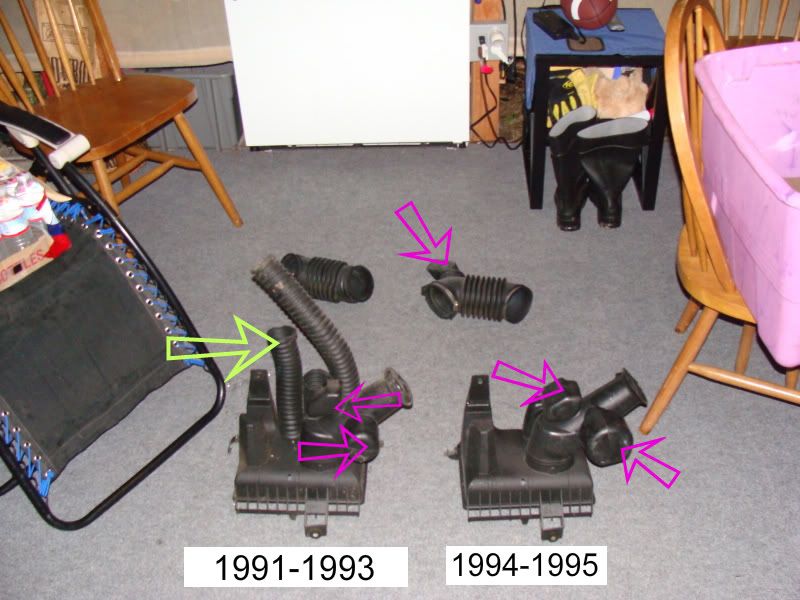 Here's another view (top of the boxes as they're installed in the engine bay, 91-93 on the left, 94/95 on the right):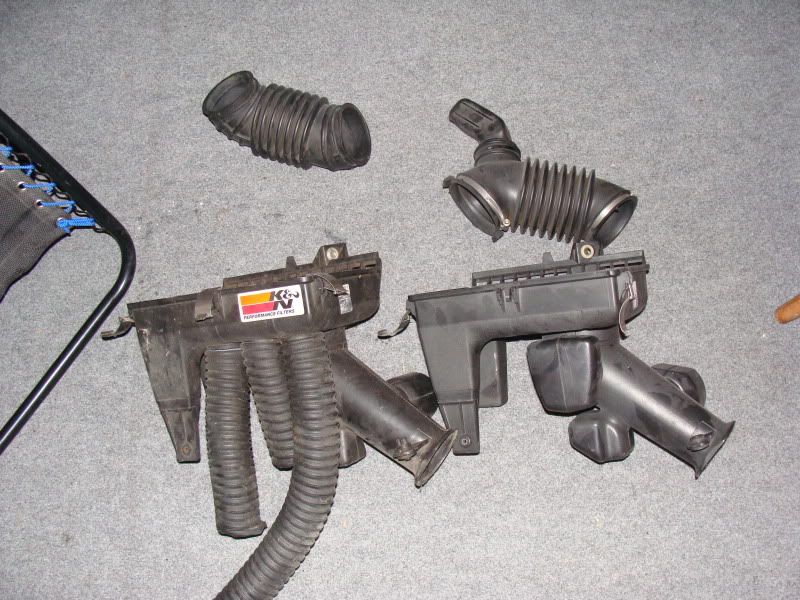 Here's the inside of the boxes, looking towards the front of the car. See how the 93 (91-93) airbox on the left has more than double the intake surface area after adding the three 2" diameter tubes? The factory 'snorkel' actually has a restricted opening in the fender smaller than this oval area inside the box. This setup works well with a quality (new) paper filter, but works best with a K&N (or equivalent) drop-in performance filter.
With regards to the resonators, those on the box can be left alone IF the added delivery tubes are added. The turbulence they cause will be a moot point with the added flow (added 2" tubes are routed behind the headlight to cool intake points isolated from the engine bay heat). The resonator on the 94/95 accordion delivery tube between the airbox and throttle body should be removed, capped, and sealed by whatever method you choose. Ultimately, this corrugated tube is bad for airflow (laminar) performance, and should be replaced with a smooth tube, make it flexible, and do NOT use PVC. Each small part of this upgrade gives more and more efficiency and power, and the net effect of doing MOST of this is a noticeable improvement, very obvious in the seat-of-the-pants dyno.
WARNING:
Adding more air is the key. Let the engine pull as much un-restricted air as possible and you'll feel the difference. The factory installed airbox was designed to mute the engine noise, not for performance. But if you pull HOT air, you're not helping. More hot air is NOT better than factory amounts of air. Only COOLER outside-the-engine-bay air is better when it's added to the combustion mix.
_________________
Click here for mod list for both cars
93 SSEi, 95 SLE (supercharged) 97 Buick LeSabre Limited
PontiacDad at WCBF '04: Cruise control? That's like surrendering!
Comprehensive guide to troubleshooting, rebuilding, and modifying Eaton Superchargers