Installing Yella Terra 1.8 rockers into a 3800 series 1 NA engine. Super charged valve cover removal will be different but similar.
Parts needed:
1.8 rockers and reusable bolt kit purchased from Intense (or elsewhere if you prefer)
Valve cover gaskets
Valve cover grommets (if needed)
Cam lube (or similar)
Silicone sealant.
Because of the total lack of pertinent instructions that come with the kit I'm writing up this "how to" article. Despite the lack of pictures, I hope to make installation easier for those who follow.
Skill level is minimal, if you can change spark plugs and change your own oil, you should have no problem installing these rockers.
Tools necessary:
10 mm 3/8 drive socket
13 mm 3/8 drive socket
Hex socket (I forget what size ¼ inch maybe) for the reusable bolts.
short extension
3/8 ratchet
3/8 drive torque wrench
Small hand held mirror
First thing is to wash as much dirt as possible from the engine, especially from around the valve covers.
While the engine is drying, soak the rockers in oil to make sure everything is well lubed, it takes a few minutes of running the engine to get oil up to the new installation.
I did # 1-9 in the following order, you may choose to do it differently.
1. Remove spark plug wires # 2,4, and 6 from the coil pack and pull the wires to the firewall and hang them out of the way. No need to pull them off the plugs unless you want to.
2. Remove nuts from engine lifting bracket behind rear valve cover and drop bracket out of the way. 13 mm heads.
3. Remove accessory belt from power steering pump.
4. Remove the 2 bolts holding the power steering pump (use holes in pulley to put socket and extension through) and pull forward far enough that the valve cover can clear the hose on the rear of the pump.
5. Remove all the valve cover hold down bolts (10mm heads) and check the condition of the grommets. Replace if needed.
6. Front valve cover should just pull straight up without any problems, the rear will need to be wiggled around a bit to clear the fuel lines.
7. Now would be a good time to spray engine cleaner on the covers and let it soak for awhile.
8. Remove the rocker bolts (10mm heads), rockers, and alignment plates.
9. Clean gasket surface as good as you can.
10. Snap the new pedestals into the new alignment plates. New plate has "yella terra" stamped on one side. Position the plate and pedestals so that you can read the "yella terra" on the front bank while standing in front of the car. The rear bank will have the writing so that you can read it through the windshield. Well, you can't see it through the windshield but you get the idea.
11. Install one rocker at a time, making sure that the flat spot on the fulcrum is at the top. Snug the new bolts down finger tight.
12. Check to make sure roller tip is centered on the valve stem. Use a mirror, it takes all the guess work out of it.
13. Tighten the rocker bolts to 10 ft. pounds, then check tip alignment with mirror.
14. Tighten the bolts to 15 ft. pounds, then check tip alignment with mirror.
15. Tighten the bolts to 25 ft. pounds, then check the tip alignment with mirror.
16. Clean valve covers inside and out, then dry thoughly.
17. Put a dab of silicone sealant on each corner of the cover possibly a dab in the middle also. You will need this to keep the gasket in place on the rear cover while wiggling it into place. Install new gasket and let sit for 10 minutes to let the sealant set up.
18. Use a 5/16 socket to disconnect the ICM and turn the motor over for about 30 seconds, have someone watch for proper movement of all new rockers.
19. Check for proper torque on rocker bolts (25 ft lbs)
20. Check for proper alignment of roller tips on the valve stem with a mirror one last time to make sure the roller is centered on the valve stem.
21. Install valve covers and bolts. Snug bolts to about 10 ft lbs, no more. Then check with mirror to make sure gasket stayed in place, you should be able to see a nice even line, either red or blue depending on brand of gasket.
22. Re-install power steering pump, accessory belt, and engine lifting bracket.
23. Re connect ICM and spark plug wires.
24. Make sure there are no left over parts besides the ones meant to be left out (old rockers, alignment plates and bolts.)
25. Start up the engine and let it idle for several minutes or until you can see some indication of oil getting to the top end. Look through the oil fill hole for this. Note the very slightly rougher idle and just try to keep the huge grin off your face.
26. Once you have confirmation that oil is indeed flowing where it should, put the cap back on, check for oil leaks around valve covers, close the hood, and take the car for a drive. Big huge grin will appear no matter how you try to keep it off.
After a 500 mile drive home, I changed the oil and filter. Usually this probably wouldn't be necessary but it was past due. I think I would have done it anyway just for piece of mind.
Front bank: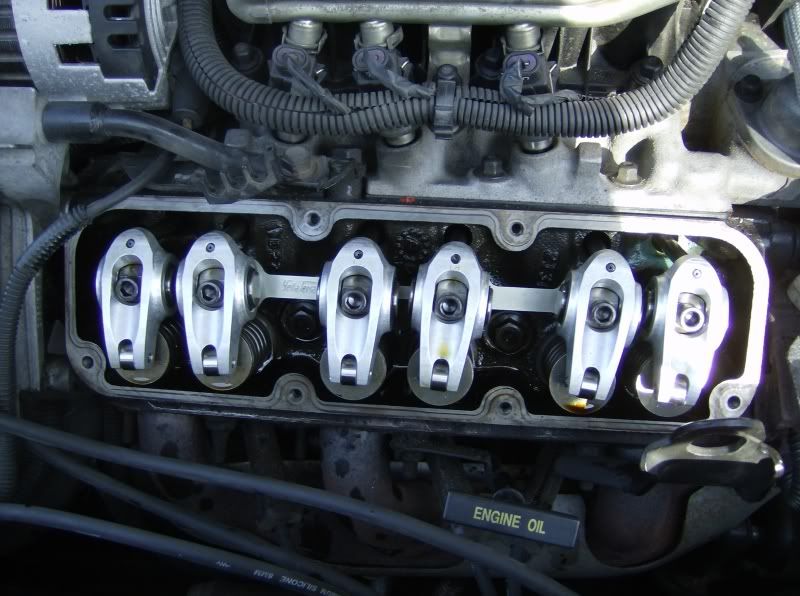 Rear:
Parts soaking up cam lube (supplied by ZillaMotorsport)
We didn't have the chance in this case to soak the parts in oil (overnight would have been ideal) as the car came from Canada for a mini-meet in Oregon. Instead, we used GM cam and lifter pre-lube (available from a dealer or INTENSE) to pre-soak all moving parts. Best practice would be to slightly rotate each rocker counter-clockwise before initial torquing. This way, as the rocker is torqued, it naturally drops into the pedestal and centers on the valve. John's use of a mirror is critical, as a rocker off-center will damage itself rather quickly. You MUST make sure they are centered on the valve before you finish. Using a mirror and flashlight on the rear bank especially, is very important. The same technique is helpful to make sure the new (or re-used old) valve cover gasket is properly seated by looking at the gap between the valve cover and cylinder head.
Stage-torquing (lower to higher values) is a safety procedure to make sure things seat properly. John's kit was a little more unique from my own, as some of the pedestals didn't seat into the base bracket easily, and had to be swapped around for proper fit by 2000SilverBullet until it was a good 'set'.
No removal of the PS pump bolts is necessary on the L67, but you may find moving a wiring harness or disconnecting your alternator will help.