I've been through this a few times now.
I too have seen that the rear mount points where the cage nuts as high risk of failure.
A full, proper repair of this rust issue involves cutting out the rotted frame corner as well. To do this you need an access hole inside the footwell another access hole in the wheel well so you can weld in a patch panel, and also weld in new weld nuts (which means ditching the metric hardware in favor of 1/2" bolts and weld nut). I don't have any pictures of this part.
The cheapest way you can do this job, and have a properly functioning bushing, is the way I did it on my '97.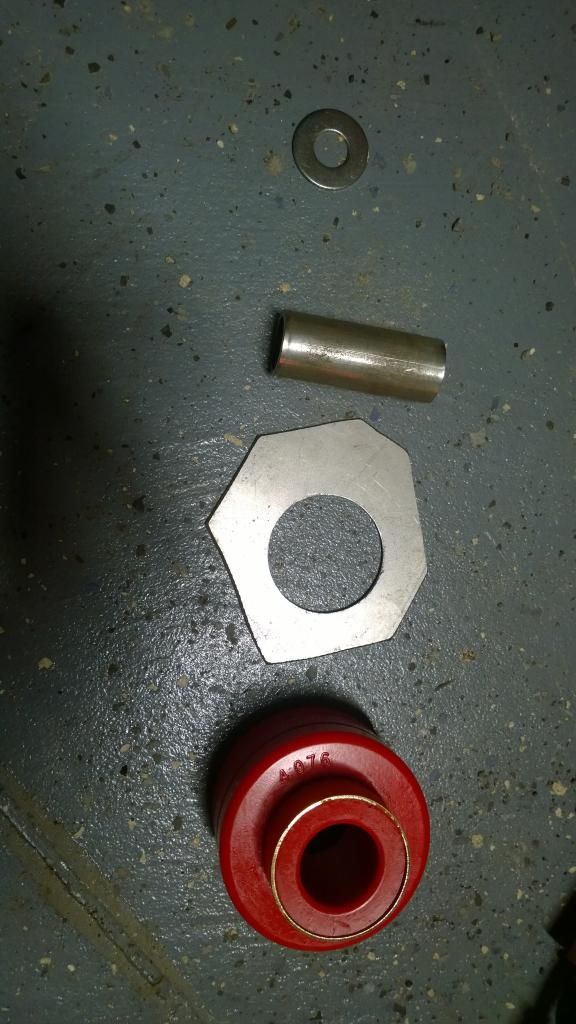 The basic setup is the lower washer from the suburban (1/2 the cost of the H-body washer) although the H-body washer will work if yours can be re-used, a 3/4" stainless pipe nipple 2.5" unthreaded, a 1/2" stainless washer, and some 1/2" ID high pressure rubber hose to act as a bushing inside the pipe and keep the bolt centered. The bushings fit exactly the hole made by a 1-7/8" hole saw.
I got the bolts, pipe, washers from McMaster, the lower washer from GMpartsdirect and the bushings from ebay. All in I spent less than $200, and maybe 3 hours welding (you have to hang the subframe on the car so everything is centered properly before tacking everything in place). The benefit of this is the bushing kit comes with enough parts to do two vehicles. That's also a negative, if you only have one vehicle...
_________________
Blow all the things! Wait, I meant boost. Boost!

Runs:
'93 Pontiac Bonneville SSEi - Twincharged, manual, and lots more! Build thread
'97 Chevy Camaro - 3800 supercharged, T5, T-tops
'05 Cadillac STS - V8, AWD, her DD
'92 Olds Trofeo - Fair weather DD
'84 GMC Sierra Classic - Twin turbo 3800
'97 Buick LeSabre - L67 winter DD
'92 Pontiac Bonneville SSE future project

Doesn't run:
'87 Buick LeSabre T-type - future victim
'67 Buick LeSabre - future victim