Seconded. Get the supercharged PCM in there ASAP. It has the right tables to run your engine.
_________________
2012 Chevrolet Cruze Eco - Current car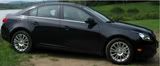 1999 Buick LeSabre Custom - Former car
Learn from the mistakes of others, that way when you mess up you can do so in new and interesting ways.