Thanks for the post. I'd like to learn more, can you post links? The MSDS's and product info sheets I've run across say that in our case, PSF and ATF pretty darned close in physical properties. In my mind, that means that they are pretty inter-changeable. For something like VW, Honda, Mercedes or other makes that use far different AT and PS fluids, I would not recommend swapping ATF and PSF.
Using Pennzoil ATF and PSF as an example, the viscosities are similar, the specific gravities are similar, and the pour points are similar. The PSF does have fewer viscosity improvers (155 PSF vs. 204 ATF), so it is a bit more shear-stable.
Pennzoil ATF:
http://www.pennzoil.com/documents/Multi ... %20ATF.pdf
Pennzoil PSF:
http://www.pennzoil.com/documents/Power ... gFluid.pdf
From observation, the PS pump was much quieter with synthetic ATF in it than the mineral PSF I installed the new pump with.
I'd like to learn more, and will change my recommendation if need be.
_________________
2012 Chevrolet Cruze Eco - Current car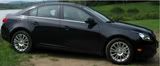 1999 Buick LeSabre Custom - Former car
Learn from the mistakes of others, that way when you mess up you can do so in new and interesting ways.