Search is your friend, as well as checking out Techinfo and the Performance section. All this is well-documented, and lots of folks have posts about what to do, and what not to do.
_________________
2012 Chevrolet Cruze Eco - Current car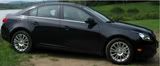 1999 Buick LeSabre Custom - Former car
Learn from the mistakes of others, that way when you mess up you can do so in new and interesting ways.