Today while driving I look down when the engine doesn't respond accelerating slowly from a light. I look down, and see 17* of KR on the scanner. I push the gas a little more to give it more gas to combat the KR, and it jumps to 21*. The car's up to maybe 15 mph with my foot most of the way to the floor. Thankfully nobody was behind me as I let off the gas, then stabbed it. A big fat 0 shows in the KR display as the car rockets forward.
I swear, this light-throttle KR is enough to drive a guy to drink, or to buy HP Tuners to mess around with my PCM. Drinking sounds cheaper and easier.
_________________
2012 Chevrolet Cruze Eco - Current car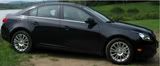 1999 Buick LeSabre Custom - Former car
Learn from the mistakes of others, that way when you mess up you can do so in new and interesting ways.