Tue Apr 29, 2008
OK, so I'll go through the book step-by-step, with my inspection notes and pics on the dismantle.
(I did not get a picture of
everything
, so if anyone wants me to go back and snap a photo of something, let me know)
Torque converter
: JTFM 258mm TC. Looks OK on the outside and in the teeth, but the bearing has some nicks in it. Probably best used as a core for a reman.
Reverse Servo
: OK.
Forward Servo
: OK.
Pan
: OK; cleaned up great. May investigate getting a drain plug welded into it. Two M6 bolts missing, but threaded holes in case all OK, and can get $2 replacement bolts from Intense. Pan Gasket in excellent shape after cleaning, and can be reused.
Oil filter
: No alarms; see previous post(s).
Accumulator assembly and 2-1 Band Servo
: OK. After I get new piston seals out of an Overhaul kit, I'll probably swap this unit in it's entirety into the current trans and swap in the current trans' unit with Thrasher shift kit already installed.
Control Valve Body Cover (Side Cover)
: OK. Very grimy, but cleaned up fine. Gasket in great shape after cleaning, and can be reused. Had a W-body specific mount bolted to it, will probably give away or sell mount.
Wiring Harness
: Screwed that puppy up; all the little plastic retaining clips to the solenoids were very brittle, and as careful as I tried to be I broke every last one of them:
This harness will find use as part of a solenoid test apparatus. I bought a replacement used 14-pin harness for $15 shipped from an EBAY seller I have bought good parts from before; it checks out OK.
Oil Pump
: Removed but not yet disassembled for inspection: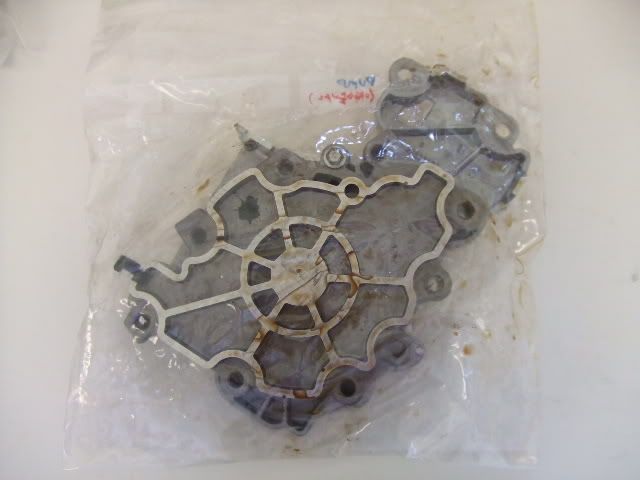 I bought a spare pump for $15 shipped off ClubGP, and will use whichever looks better inside.
Control Valve Body Assembly
: Removed and prepared for inspection: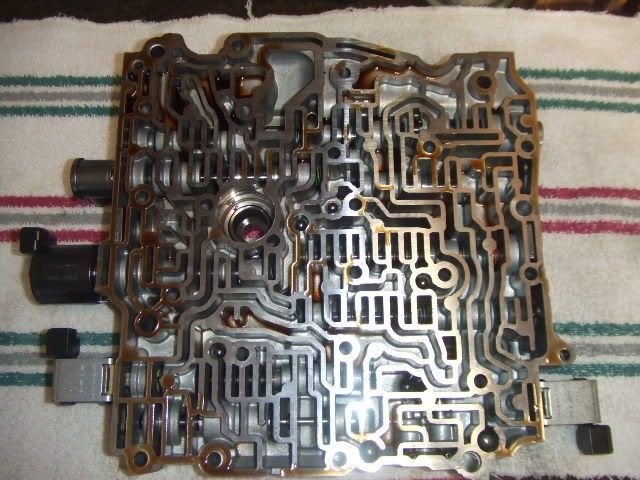 Checkballs, case cover pin, separator plate, pressure switch, etc. bagged and tagged.
NOTE: The valve body
can
be a potential budget-buster, depending what I find inside…stay tuned.
Oil Pump Drive Shaft
: Teeth at pump end OK, but teeth at TC end are badly worn: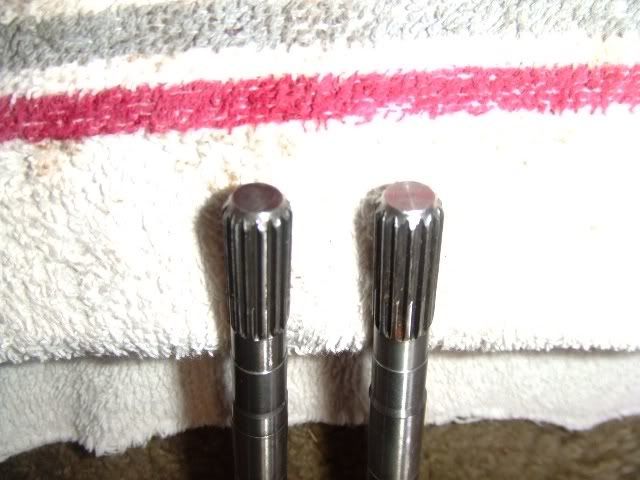 Shaft on right from this trans; shaft on left cost me $10 as part of a batch of parts I bought used off ClubGP. Both are actually not so good; will probably buy a $40 shipped new stock oil pump shaft from GMPD (p/n 24209284).
Vehicle Speed Sensor
: OK.
Output Shaft / Differential / Extension Housing
: OK; discussed in earlier post.
Manual Valve Link, Oil Dam, Input Speed Sensor
: OK.
Case Cover Removal
: Rounded off one of the bolts (note this pic not my trans; lifted from internet and Paint-ed):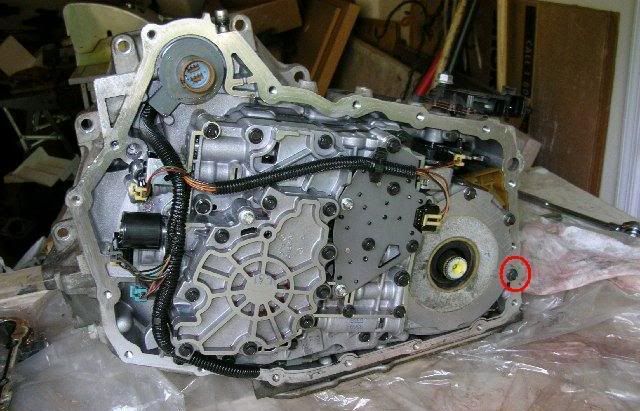 But got it out with some reverse drill bits: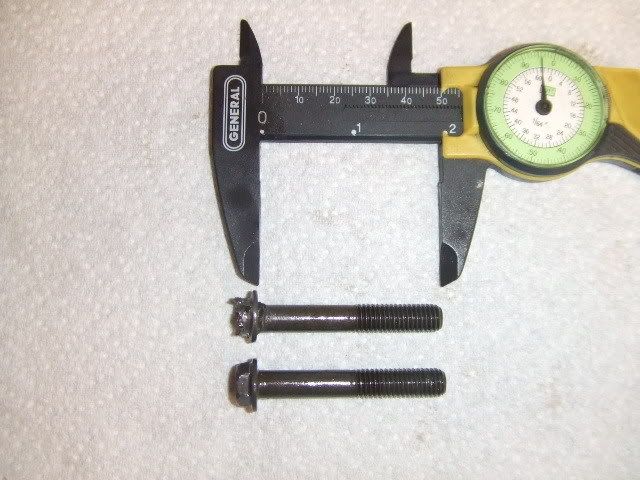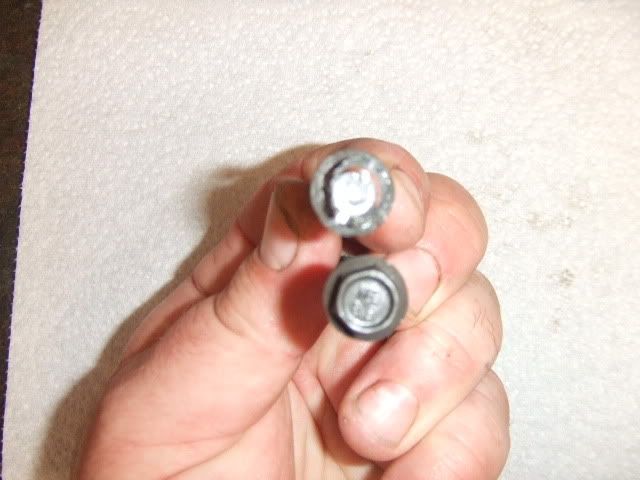 Found replacement M8-1.25 50mm grade 10.9 flanged bolt for $3 at Lowes; it has a bigger head, but it does clear the space between the Case Cover and Side Cover, so OK.
Fourth clutches and thrust washers came out with the case cover: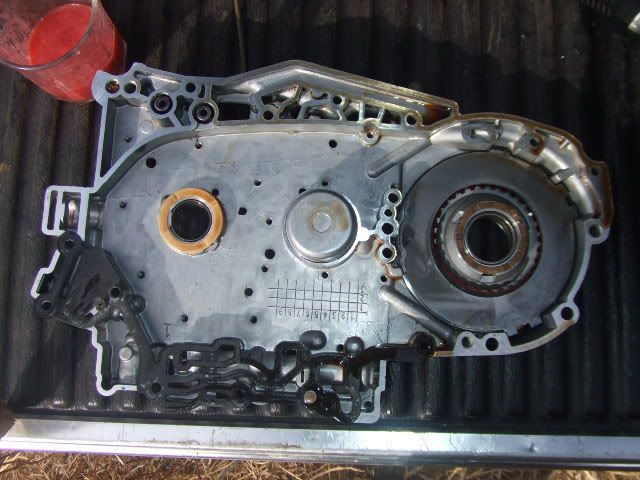 Two locating pins: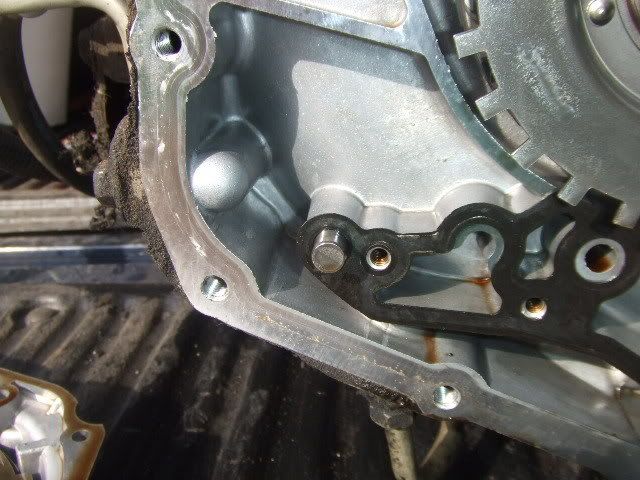 Manual valve OK. Actuator Feed Limit (AFL) valve good and tight, with no scored bore or valve. (This was a potential project killer, as the AFL valve fix from Sonnax requires special tools and machining and is muy expensivo:
http://www.sonnax.com/part_summary.php?id=3793&pl=3
.)
Drove Left axle oil seal out from behind with hammer and screwdriver. Axle bearing looks good. Pump shaft sleeve looks good.
TC relief ball valve seat is a bit chewed up: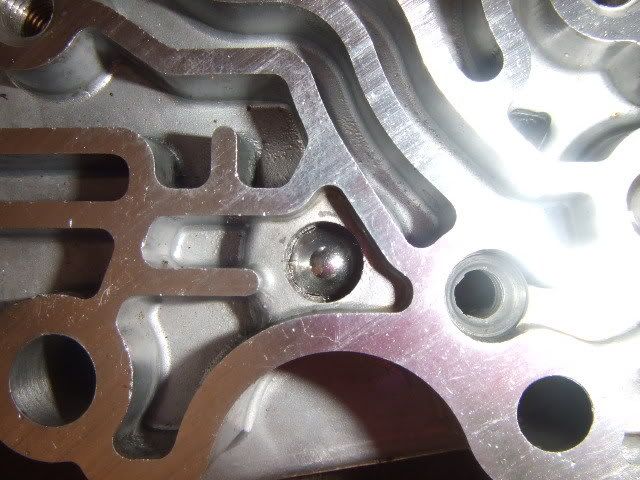 Sonnax makes a $5 fix for that:
http://www.sonnax.com/part_summary.php?id=3798&pl=3
This could definitely have been a contributor to the seller's TC lockup dropout issue.
Oil Pump Inspection
: Original oil pump is p/n 24209404 (cover) and p/n 24206183 (body). This is '97 to '98 style pump, based on my research.
Taken apart.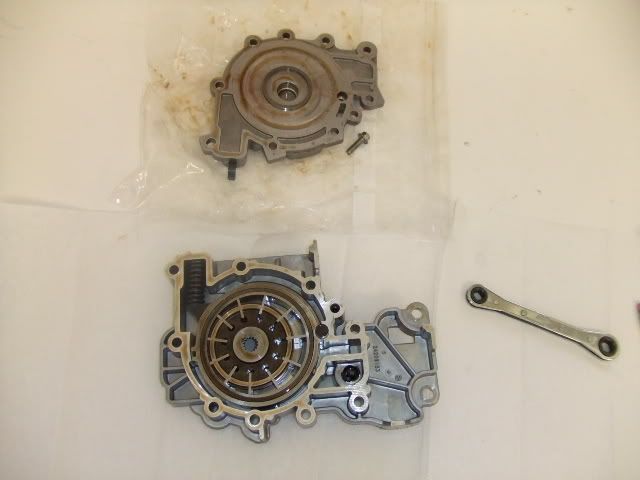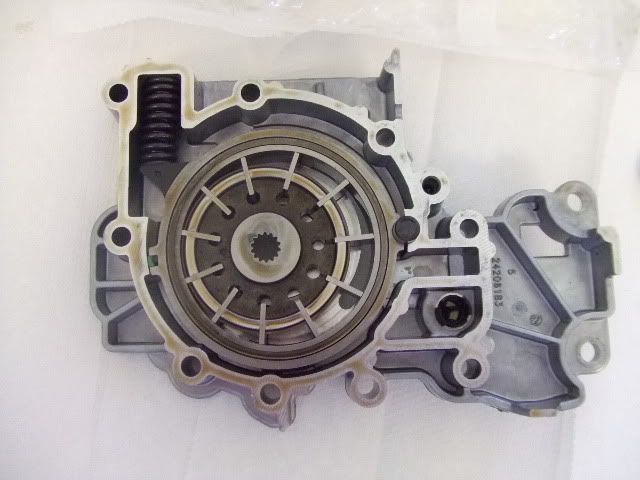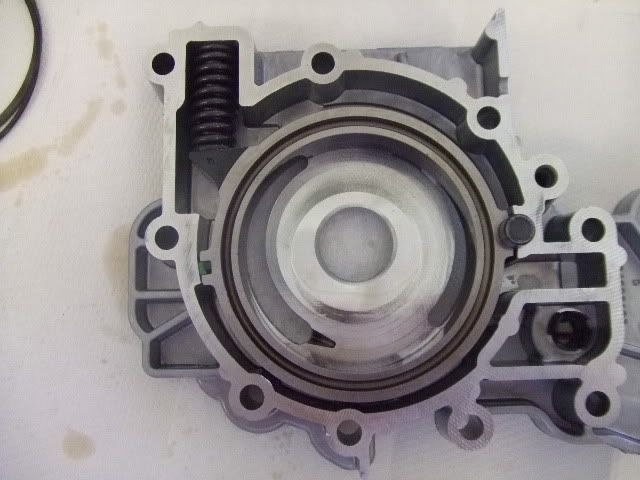 The vane rotor with my cryptic Sharpie marks to make sure reassembly is right: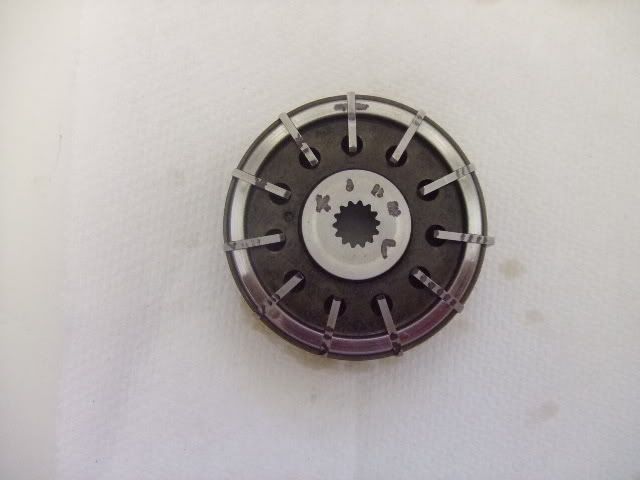 Pump slide has some concentric grooves in it: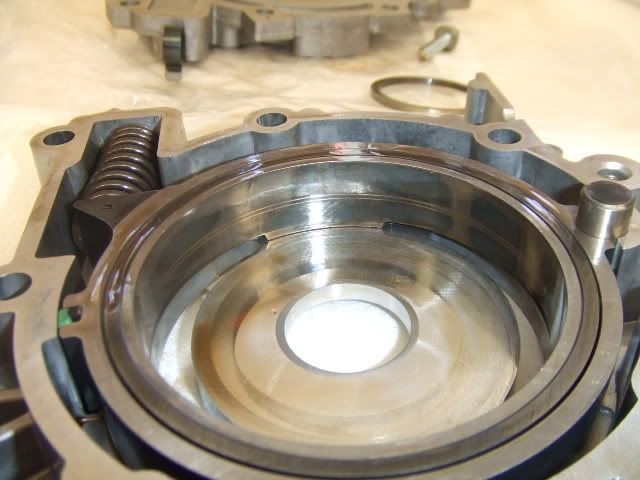 Vanes have corresponding ridges: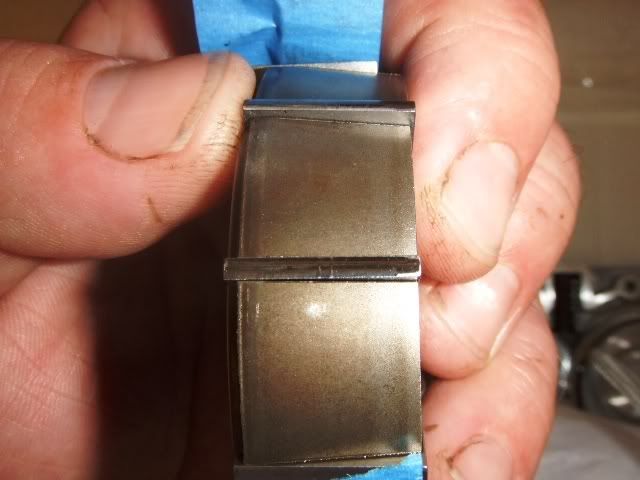 I don't like the looks of this.
Spare pump I bought is p/n 24213197 (cover) and 24210098 (body). My research indicates this is the mid-98 to '02/'03 style pump update, before GM went to some kind of 3-piece pump.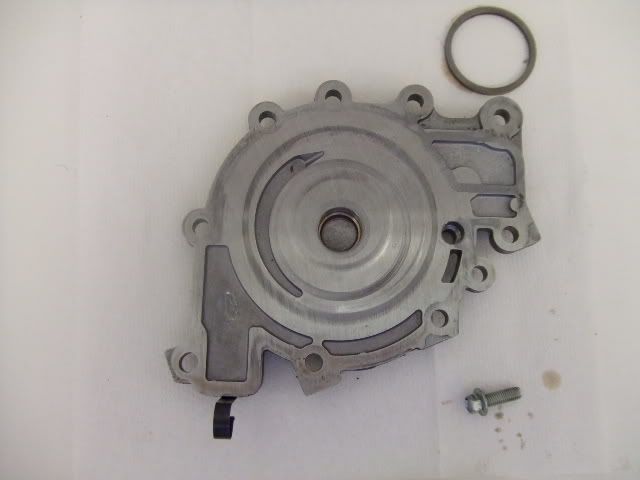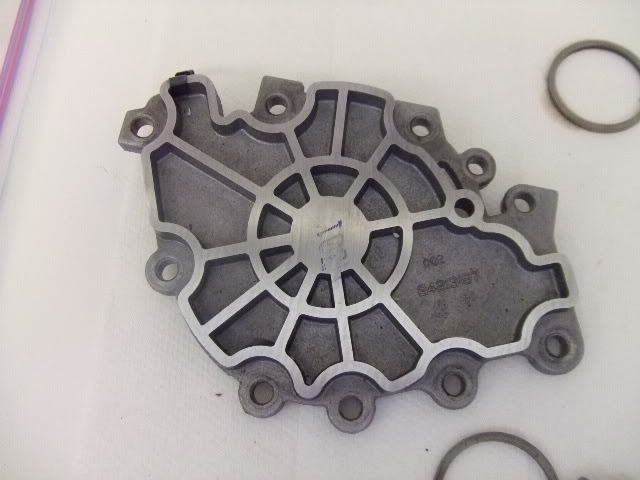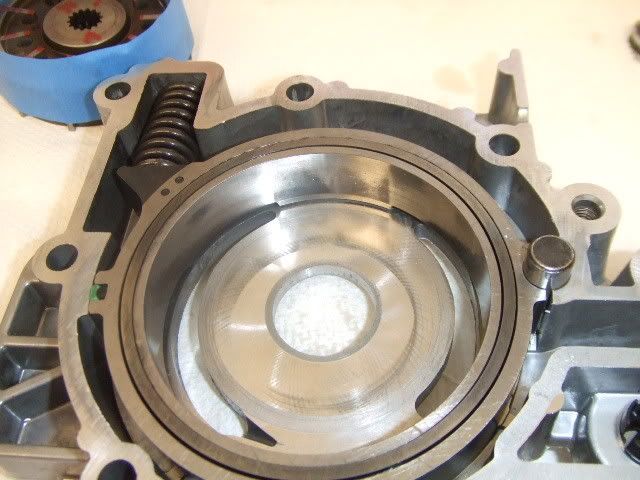 I note that the pump slide in the spare pump does not have any grooves, nor do the vanes have ridges. I also note the newer pump cover has a "bypass" groove cast into it, which I like.
I can interchange pump covers; however, pump slides/vanes/rotors are not interchangeable because they are factory matched to the depth of each pump body coming off the assembly line.
These pumps seem to be worn similarly otherwise. I'll likely go ahead and use the spare pump.
Valve Body Inspection: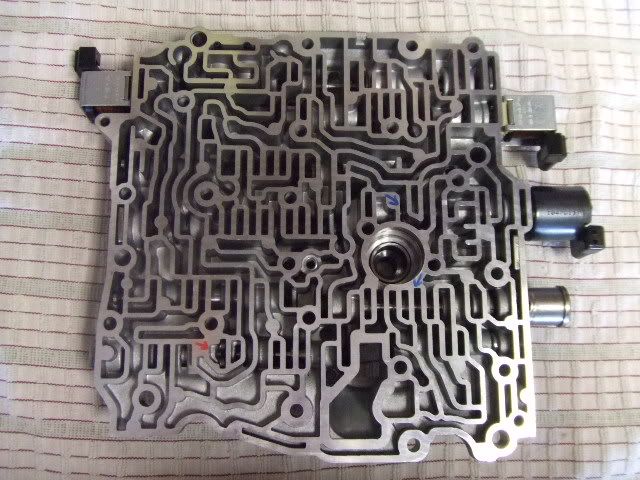 There are 11 separate bores for solenoids and/or valves.
1. Line Boost Valve and Pressure Regulator Valve: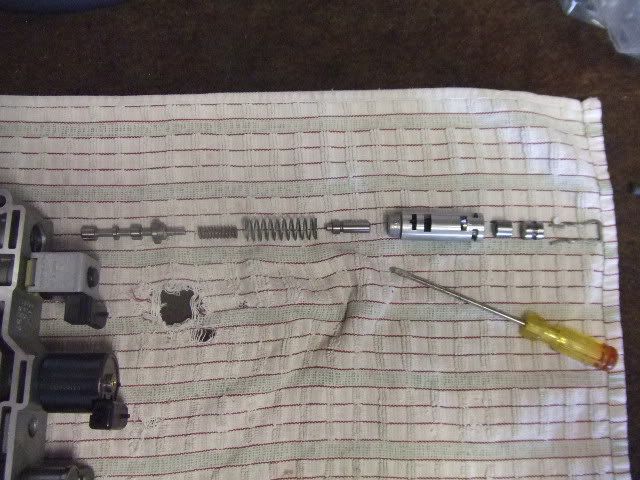 The line boost valve and reverse boost valve ride inside the boost valve bushing: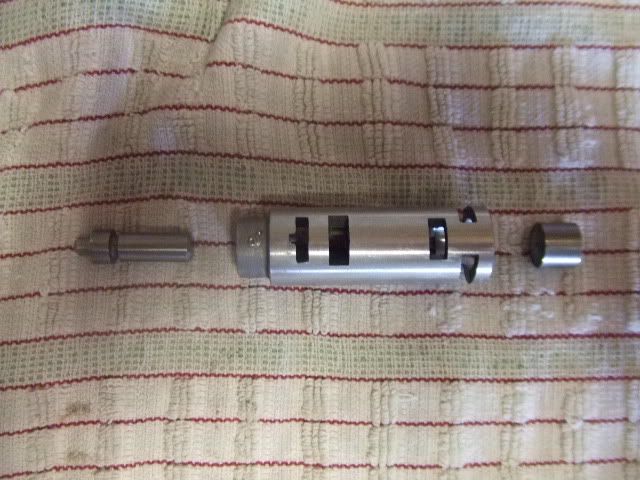 The inner bore of the aluminum bushing is clearly worn, and these valves are rattling around inside too freely. This is a common problem, and leads to slow / sloppy shifting. Sonnax makes a drop-in fix (about $45):
http://www.sonnax.com/part_summary.php?id=3794&pl=3
2. 1-2, 3-4 Shift Solenoid and 1-2 Shift Valve
: Solenoid clicks when 12v applied; will probably replace anyway (about $20) to be safe. Shift valve and bore OK.
3. Electronic Pressure Control (EPC) Solenoid and Torque Signal Regulator Valve
: This solenoid clicks, too; however, it is always recommended to replace this one (about $50) on a rebuild. This solenoid is year specific (97-02, or 03+). Regulator valve looks good and the bore is fine.
4. Line Pressure Relief Valve
: All OK.
5. Torque Converter Control / Pulse Width Modulator (TCC/PWM) Solenoid and Torque Converter Control (TCC) Valve
: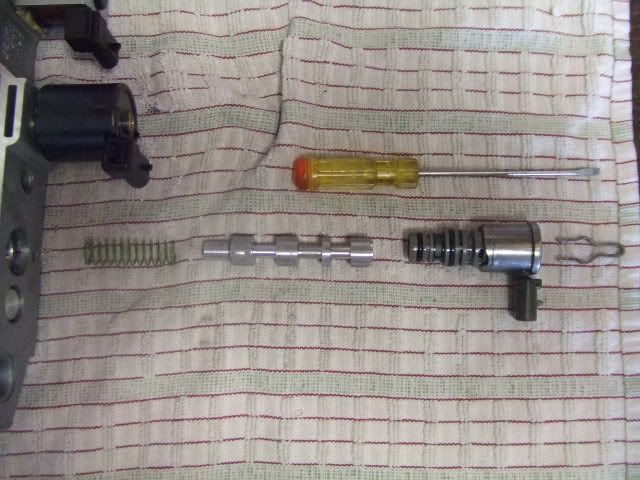 Solenoid clicks, but again, always replace this one on a rebuild (about $40).
TCC valve is quite worn and loose in the bore (though the bore looks OK):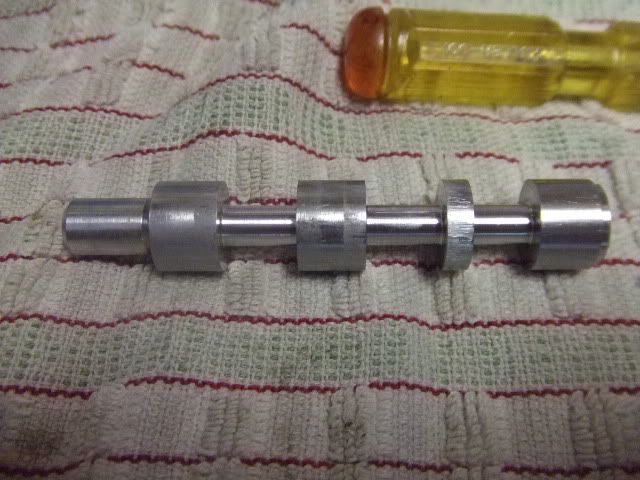 This is a common problem also, and could be the cause of the TC lockup dropout issue. Sonnax TCC valve drop-in fix (about $25):
http://www.sonnax.com/part_summary.php?id=3796&pl=3
6. TCC Regulator Apply Valve
: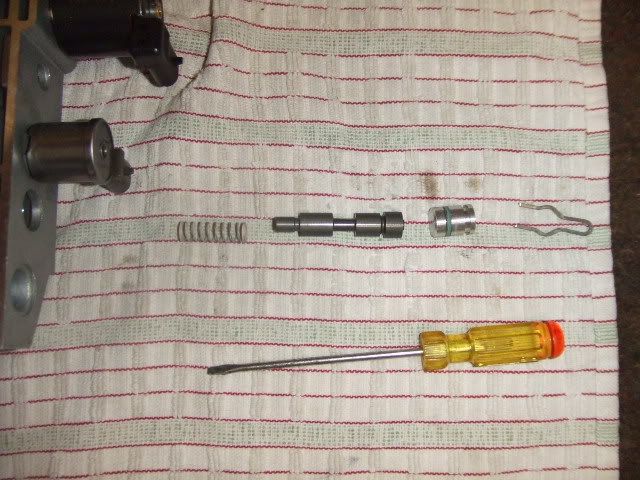 The valve and bore are OK; good thing, because the Sonnax fix for this require special tools and machining and would be a budget buster:
http://www.sonnax.com/part_summary.php?id=3795&pl=3
The end plug looks worn on one side, as if it was being "canted" somehow: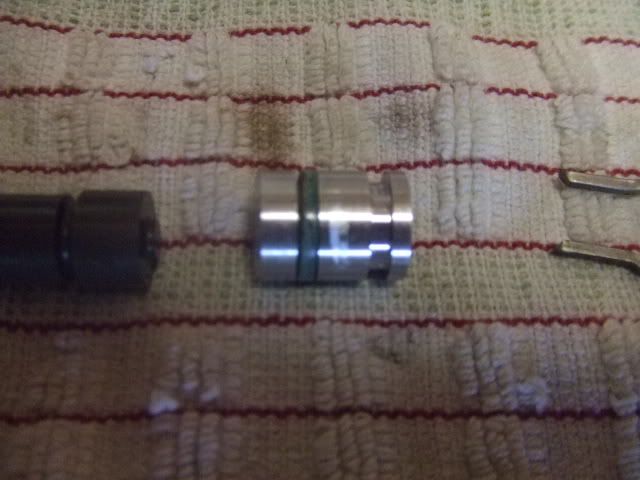 The Sonnax TCC valve fix referenced above includes a new teflon sealing ring for this end plug. Also, I could order a whole new end plug (p/n 24208635) from GMPD for about $5.
7. 2-3 Shift Solenoid
: Solenoid clicks when 12v applied; will probably replace anyway (about $20) to be safe.
8. 4-3 Manual Downshift Valve and 3-4 Shift Valve
: All OK.
9. 3-2 Manual Downshift Valve and 2-3 Shift Valve
: All OK.
10. 1-2 Accumulator Valve
: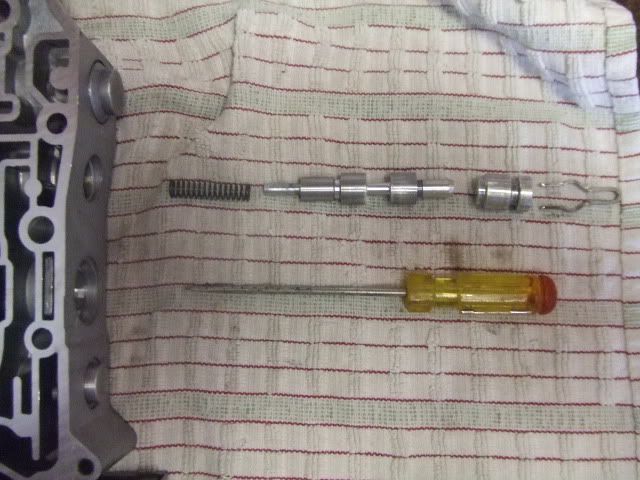 The valve is slightly scored, but seems tight in the bore: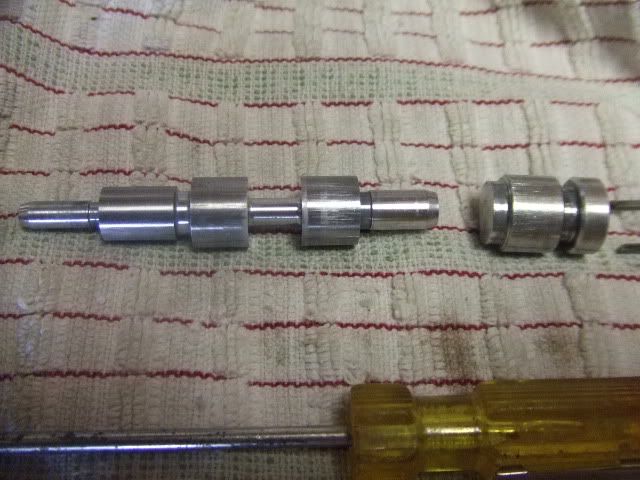 If I can find a p/n for this valve, I'll consider replacement, but I think it's OK as-is.
11. 2-3 Accumulator Valve and 3-4 Accumulator Valve
: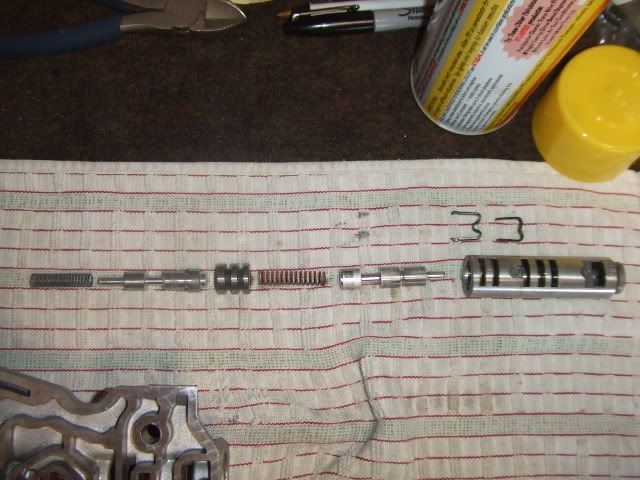 Like the 1-2 accumulator, these both show some light scoring: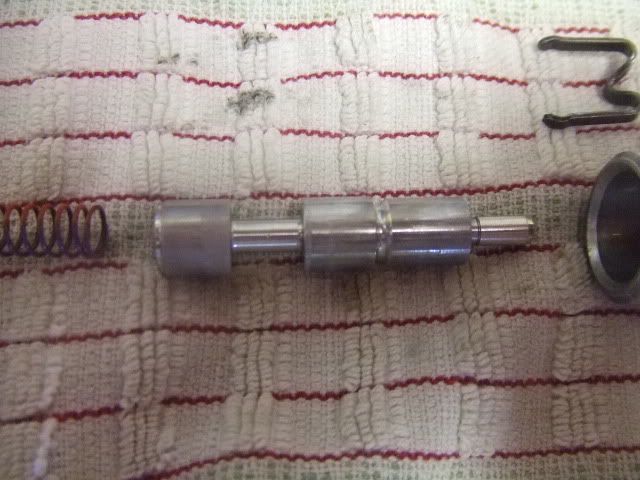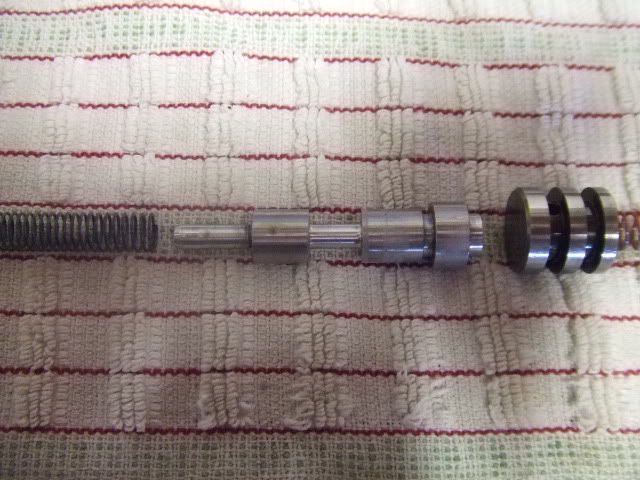 But both are tight in their bores. The bushing the 2-3 rides in looks fine, and is tight in its VB bore. Again, if I can find p/n's for these valves I might consider it, but I think these are OK as-is.
----------
Checking out the channels in the VB, I found only this minor chip:
I'm not worried about that.
----------
I found three "mystery clips" like this one: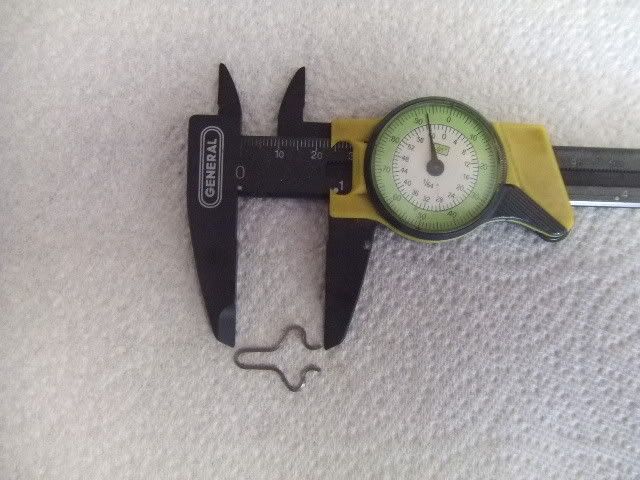 That are not referenced in the manual. They are smaller than any of the valve or solenoid end / retaining clips.
One was found in this location on the torque signal regulator valve (blue arrow):
One in this location (blue arrow) on the TCC control valve: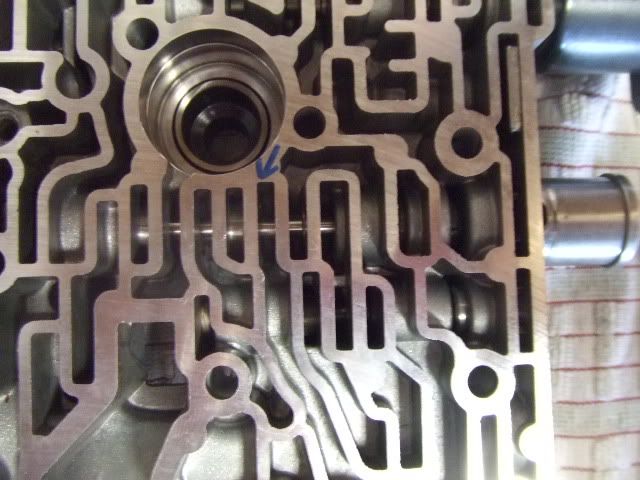 And the third
I think
was in this location (black arrow) on the TCC regulator apply valve:
I have discovered via TSB and from forum discussion that these "extra clips" were used to temporarily hold in valves during manual assembly (to keep the springs compressed while the end caps / retainers were installed further down the assembly line). Their locations
do not
affect the operation of the given valves.
Perhaps they were supposed to be hand-removed at the factory after the VB was assembled, but were not. Or were not removed because they don't affect operation.
In any case, they do not need to be reinstalled.
-----------
All in all, I didn't see anything in the valve body that I'd consider a project killer.
On to other things.
Case Cover Inspection
: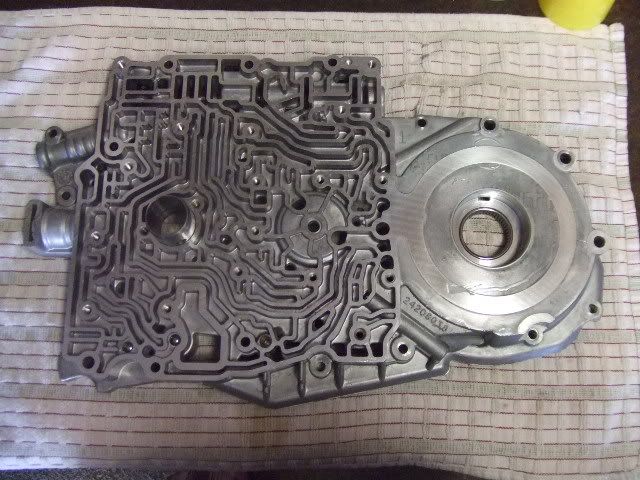 I found only one small nick in the fluid channels: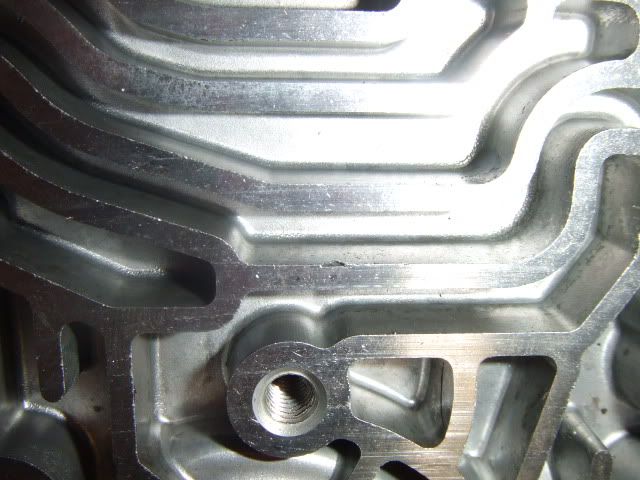 Nothing to worry about.
The area near where the axle goes in had a gouge in it, looks to me from maybe a prybar or something used to remove the axle. I filled it with epoxy: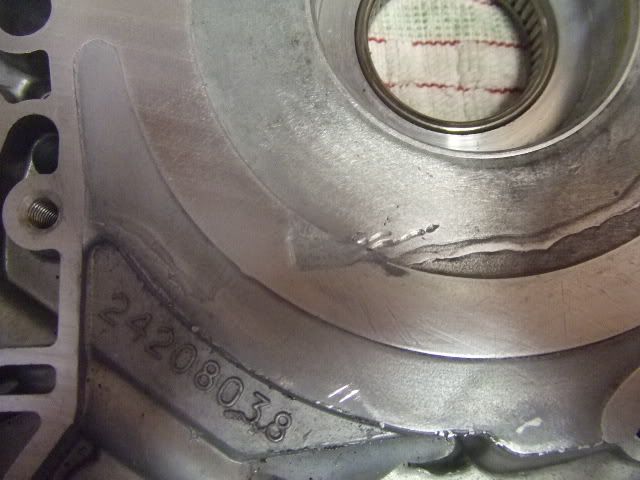 At the same spot, where the side cover goes on, there is a chip in the cover:
It's outside where the sealing ring is, so I'm not worried. I filed off the sharp edges of the chipped area.
3-4 accumulator looks OK.
So, overall the case cover checks out OK (once I take care of the TC relief valve fix).
More inspections:
Transmission Range Switch
: This is the one that sits on top of the trans case, right where the shifter cable attaches. Took it through all the gear positions and it checked out according to the signal matrix in the FSM; OK.
Transmission Manifold Fluid Pressure Switch
: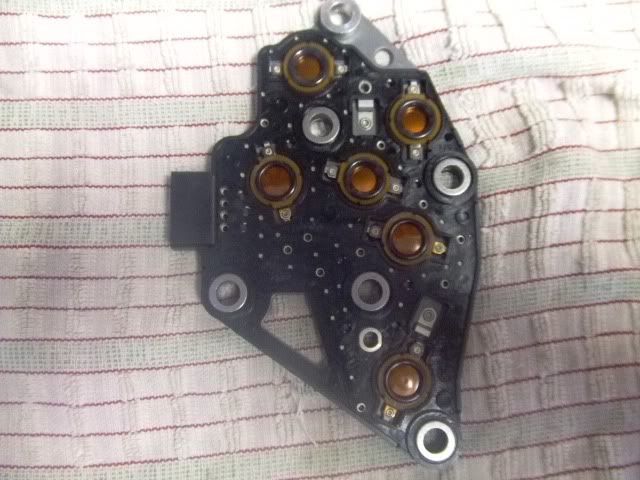 This funky thing has 6 separate pressure switches. It bolts to the top of the valve body and monitors whether the fluid is actually in the channels the PCM thinks it's in
The FSM has a signal matrix based on what combo of these pressure switches are pressed.
Three of these switches are "normally open." These functioned flawlessly.
The other three are "normally closed." I found these to respond (i.e., open/close) to press/release
very
slowly. So I pried off their sealing rings and membranes: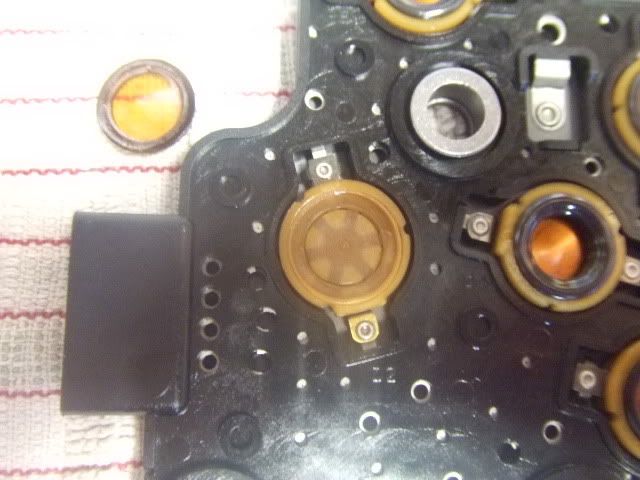 I found there was trans fluid behind the membranes. I'm guessing some gunk (clutch mud?) got in between the contacts. Some contact cleaner:
And replace the membranes and these switches are now as fast as the normally open switches. I read somewhere that the Overhaul kit comes with new sealing rings for these pressure switches...I hope so.
So, after cleaning, the manifold switch checks out versus the FSM matrix; OK.
POST Thu May 01, 2008
Getting back to the mechanics of the transmission...
Drive Link Stretch Check
:
The book says to replace the chains if the clearance between the chains and any the case (along the bottom) is less than 1/8" when the chains are pushed down taut with a fingertip. I measured a hair over 1/4" (and close visual inspection of chains saw no problems) , so I plan to reuse them.
Fourth Clutch Components Removal
:
Drive Link Lube Scoop
: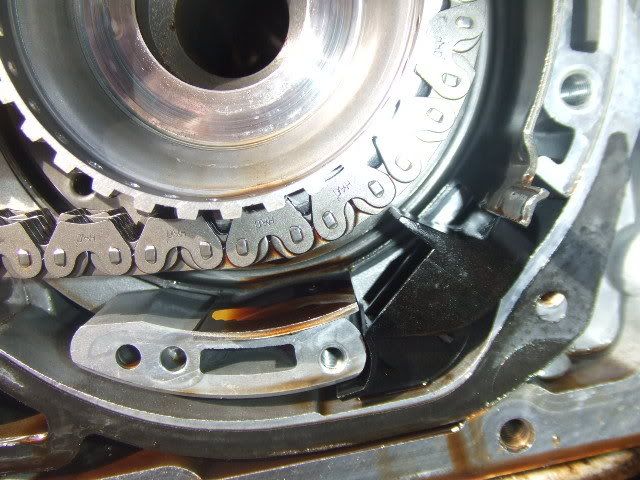 This scoop is color-coded and gear specific based on the driven gear's diameter (33, 35 or 37 teeth). I'll be going from a 33 to a larger-diameter 35 tooth driven gear, so I'll just grind about 1/8" off the lip of this scoop to fit.
4th Clutches
: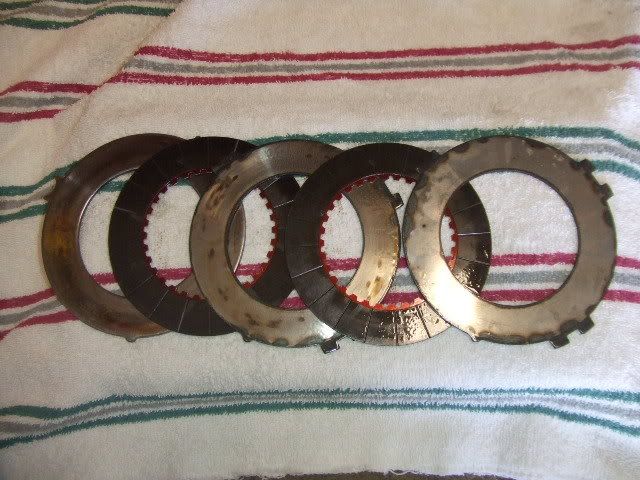 While the frictions actually look pretty good, these steels show significant "leopard spotting" due to overheating. This is apparently pretty common on factory 4th clutches. I'm told Borg Warner newer-style "OEM quality" 4th clutches put many more of the radial fluid channels in the 4th clutches and help prevent this overheating. All these clutches and steels will come with the Master Kit.
Fourth Clutch Shaft
: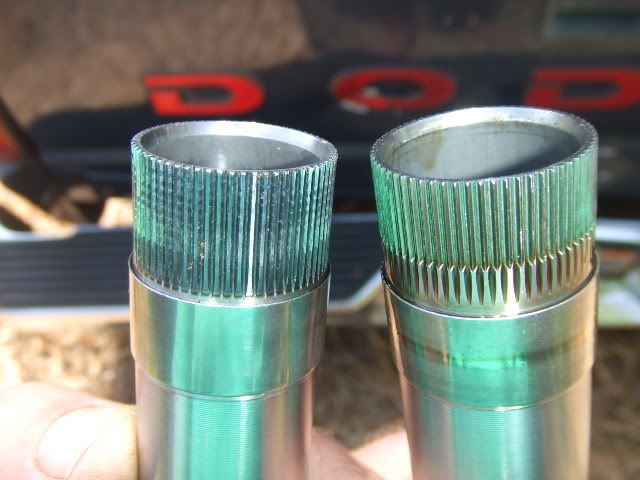 The shaft on the right is the 102k mile shaft out of this trans; on the left a hardened 2003+ replacement shaft I got for $30.
Once those teeth on the non-hardened pre-2003 shaft wear down completely, no more 4th gear. This is a must-replace on any pre-2003 4T65E.
Drive Sprocket, Driven Sprocket and Drive Link Removal
:
The turbine shaft looks good, and with my anticipated power level I do not see the need for a high-dollar aftermarket upgrade. Sprockets look good, too; but I'm going to replace the 37 drive / 33 driven with 35/35 stockers (like from a GPGT or n/a H-Body) to wind up with 3.29's. I expect to spend $75 to $100 for these sprockets; and I don't see the need to spend big $$$ on a single-chain "race" setup here.
Speed Sensor Reluctor wheel
: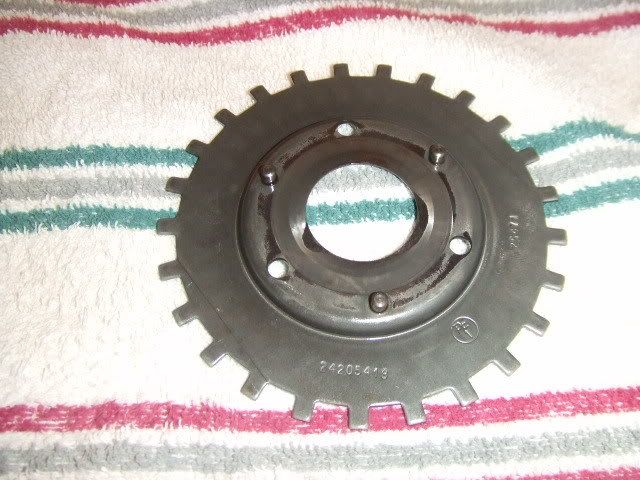 The pins are good and tight. Important thing to check, because if this comes loose off the drive sprocket, it can ruin chains, sprockets, and/or the case cover.
Here's the driven sprocket support assembly:
Driven Sprocket Support / Fourth Clutch Piston Assembly, Second Clutch Assembly, Input and Third Clutch Assembly, and Input / Third Sprag
were pretty tightly attached to each other and all came out together. I'll get more pics of these parts as I inspect them, but here's what it looks like after these are out:
Reverse Band
looks good and can be reused: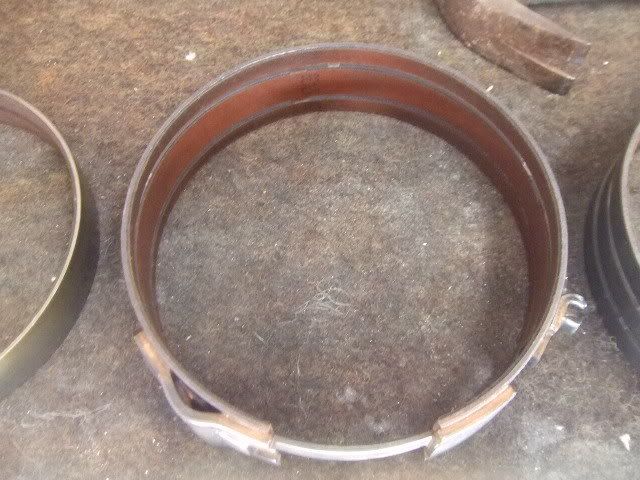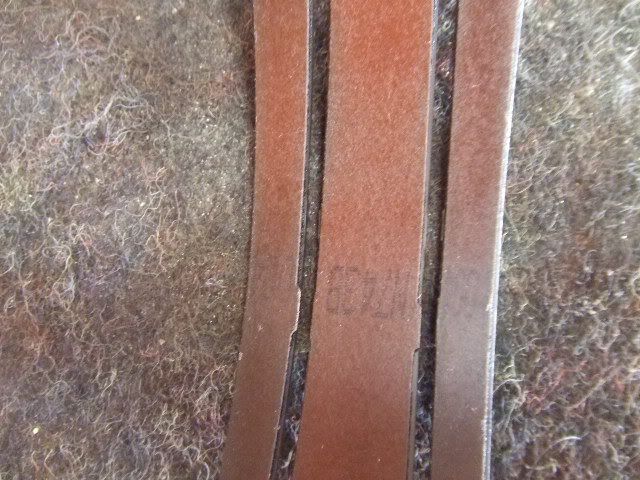 Reverse Reaction Drum
also OK.