Oil Pressure Switch Replacement
2000+ Bonneville
The intention of this tech article is to provide step-by-step instructions for replacing the oil pressure switch on a 2000+ Bonneville.
Liability Statement:
Perform this task at your own risk! Neither the author nor anyone associated with this article accept ANY liability if you damage your car, hurt yourself, or otherwise screw something up. This is a guideline designed to help you perform the tasks described herein, therefore the risk is yours and so is the responsibility.
Application Note:
The following procedures were performed on a 2003 Bonneville SSEi. They should, however, be applicable to all vehicles with a similar arrangement.
Skill Level Required ~ 1.5 - 2
On a scale of 1 to 5 where
1 = What's a wrench?
1.5 = I've seen a wrench before.
2 = Got me some tools!
2.5 = Got me some tools, and I know how ta use 'em.
3 = Decent mechanic, but some things scare me.
3.5 = Good mechanic – ain't skeert.
4 = Highly skilled in the mechanical arts.
4.5 = Mechanical wizard.
5 = Automotive god…don't try this at home.
Tools Needed –
Jack (floor jack is best)
Jackstands
Large Crescent (adjustable) wrench
"Channel Lock" pliers
Light (flashlight, drop light, etc.)
Rag or paper towels
Oil & Filter (optional)
Drain pan (optional)
Oil Pressure Switch (Airtex 1S6772 from Rockauto, AC Delco PN# 213-1650, GM PN# 12584940 are some part numbers for reference)
So, has your oil pressure gauge pegged on max while your car's running, but goes to 0 when the engine's off? No other adverse indications? Plenty of oil in the engine? No reason to think you're NOT getting any oil pressure? Chances are your oil pressure sensor has bought the farm and needs to be replaced. While this may sound like an ominous task left only to the capable hands of your most trusted auto technician, it's actually not so. Once you locate the offending electronical gizmo and break it loose, it's no worse than changing a spark plug on a '68 Impala.
The first thing you'll need to do is get the car, or at least the front end, up in the air so you can comfortably get to the area around the oil filter. OK, maybe that's the
second
thing you need to do – first thing is to get a replacement pressure sensor. Once you pull the old one out, it's not considered a good idea to drive the car until you've plugged the hole with a new unit. If you were sleeping during your Jr. High class on "reading ahead", and have already jacked the car up, go ahead and lower it, drive to your favorite parts store (or if you ordered it online, go stand by the mailbox), and procure said item.
Assuming you have the replacement part in hand, proceed to raising the car. I was fortunate enough to have a lube rack to raise my car with. If you're not so lucky, get out your jack and jack stands. ALWAYS SUPPORT YOUR CAR WITH JACK STANDS! Don't forget to block the rear wheels. You'll want to get the car up high enough that you can access the area above the oil filter comfortably because that's where the pressure sensor lives.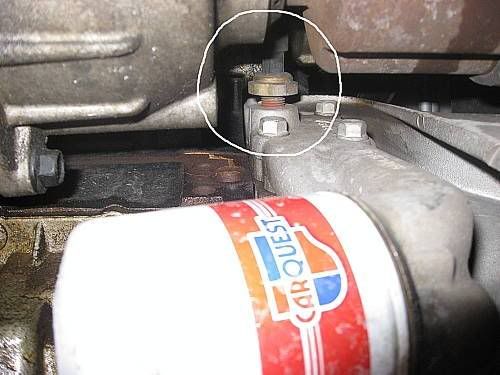 (Looking from under the car, front of car is toward bottom of pic)
As a matter of interest, you probably want to let your engine cool down a bit before reaching around the engine area. Especially if you broke the sound barrier (twice) while fetching your new pressure sensor.
Once it's in the air and properly supported, grab your light and slide under the car. Look above the oil filter and you'll see the pressure sensor up there with an electrical connection on it. Clean the collection of grease off the connector if you need to, then remove the connector. It shouldn't be too difficult.
Now you have a command decision to make. If it's been a while since you've changed your oil, or you're close to being due, now's a good time to do it. The reason for this is that if you remove the oil filter, access to the pressure sensor is improved just enough to make things a bit easier. Lie there and stare at it for a moment and I think you'll agree. If you want to change your oil, go ahead and drain it now and remove the filter. With the filter off you'll be able to get a nice purchase on the pressure sensor and have room to swing the wrench.
Me, I'd just
changed
my oil and being a professional tightwad wasn't about to do it again. So I left the filter in place. The removal and installation of the pressure sensor is pretty much the same either way, just that with the filter gone you don't have to worry about holding your mouth just right to get a grip on the sensor.
If you're among the privileged folks who happen to have a 27mm deep socket and a stubby extension, I'm told you can "spin that sucker out with ease". If you don't have the aforementioned socket and need an excuse to get get one, now you have it. You GO boy! For the rest of us simpletons who don't live on the upper crust or didn't bother to see if they had something in their toolbox that would fit, read on...
I was able to get a Crescent wrench on the old sensor enough to break it loose. It shouldn't be on there too tight, like a freakin' lugnut, but it may take a little effort to start the spinning. After it broke loose I found that I couldn't get that big fat Crescent in a position to turn it more because the oil filter was in the way. To get it loose enough to unscrew by hand, I turned to my trusty Channel Locks. Under normal circumstances I'd never condone using pliers in place of the proper wrench, but this is a special case. If you need to, get up there with some Channel Locks and finish the removal. Before pulling the unit completely off, get a rag or paper towel handy; a small amount of oil may leak out of the engine block when the part is removed. Not much, but enough that you'll want to wipe it off.
Get your new part and compare it to the old one, just to make sure. If they're not the same, punt the cat into the neighbor's yard because it's obviously his fault, then figure out a way to get to the parts store to get the right part. Take your old one with you, just in case. If the parts match, smile knowingly at the cat, then crawl back under the car with your new sensor in hand. There's no need for Teflon tape or thread sealer, the new part should have thread sealer on it already. Reach up there and thread it in place as tight as you can by hand. If you can get on it with a wrench, do it and get it snug. No need to go Hercules on it, just get it snug. If you can't get a wrench on it, like me, carefully grab around the "nut" area with Channel Locks and snug it down. You won't be able to get it super-tight with Channel Locks, but you don't need to anyway. Again, just get it snug.
Reconnect the electrical connector and, if necessary, install the oil filter, drain plug, and add the oil. Don't lower the car yet, though. You need to start the engine and check your oil pressure. Good? Good. Now slide under your craft and look around the pressure sensor and oil filter for leaks. If all is well and there are no leaks, consider the job a success and get your car back on four feet. That's all there is to it.