Author - ddalder
Most of you have probably already figured out that attention to detail is very important to me. One problem I noticed over time is that my Tire and Loading Information decal started to lift at one corner. Of course my first thought was to head over to my local GM parts department and order a replacement. Well guess what... General Motors WILL NOT PROVIDE A REPLACEMENT FOR THIS DECAL. Instead they offer a letter with the information specific to the vehicle that can be kept in the glove box. My response... no thanks.
As you can see in the photo, GM actually did a pretty terrible job with these in the first place. The colours were not applied well and did not line up properly. Then there is the spelling error in the French text. Andrew (harofreak00) actually discovered this despite the fact that he is not French. The first line of text (at the top) should read "INFORMATION SUR LES PNEUS ET LA CHARGE" not "INFORMATION SUR LES
PENUS
ET LA CHARGE". Not sure how that one slipped past the proof stage!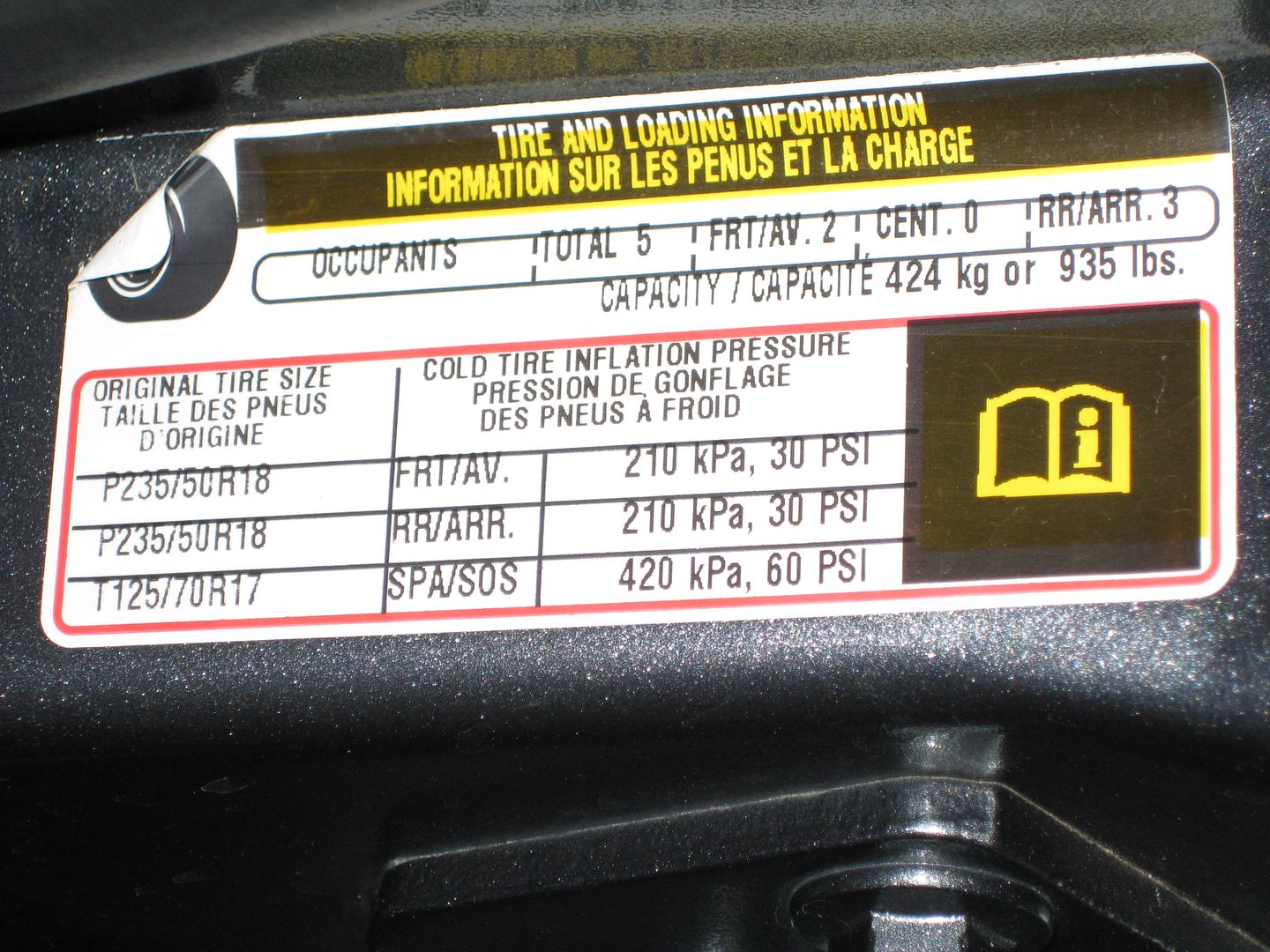 So I had Andrew create new artwork (he does fantastic work BTW) which I had professionally printed. Here's the new one: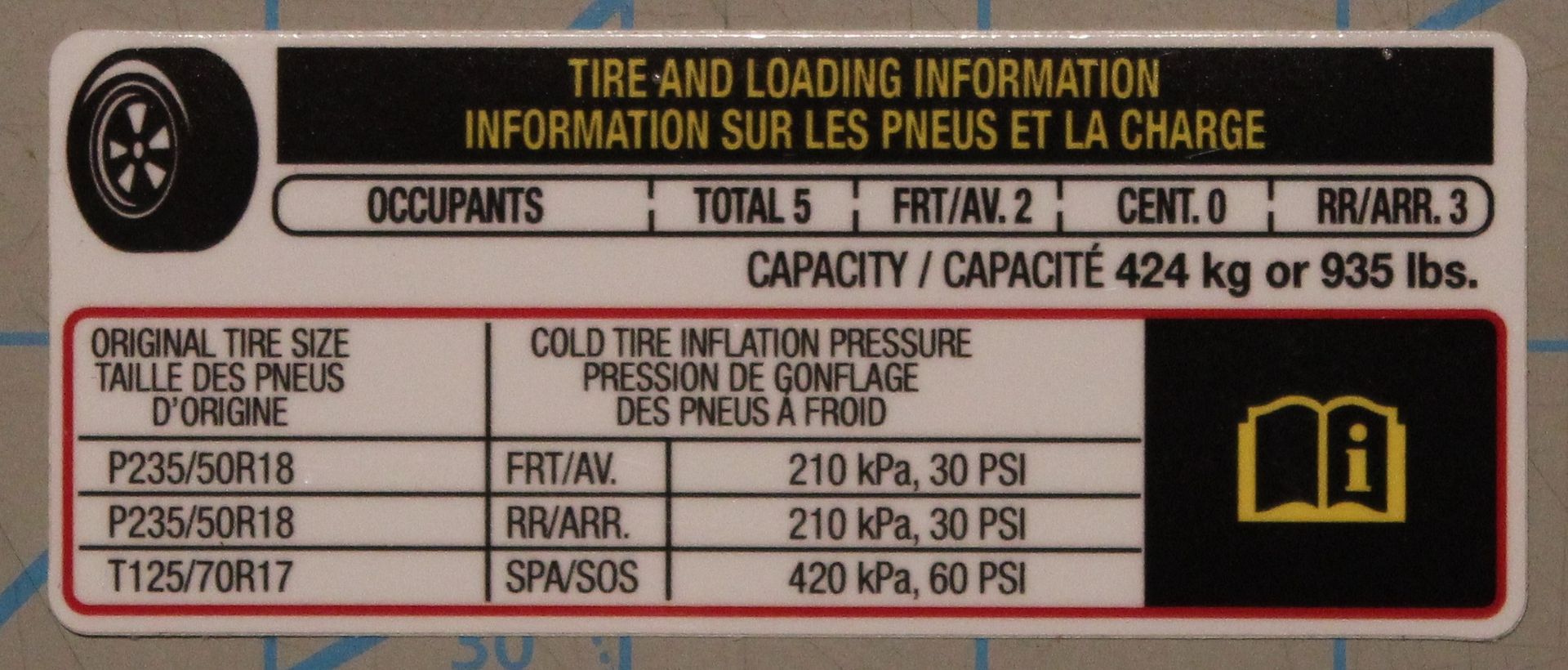 But that was just the start!
Many of you recall all the new options I've added over the years. Each is protected electrically with an appropriate fuse located in either the under hood or rear fuse block. As the final step in completing these mods, I felt it would be a great touch to update the fuse block decals accordingly. I put Andrew to work again and with artwork in hand, I was off to my local printing company. All the new decals are an adhesive backed, laminated product. I even purchased new fuse block covers to apply them to.
Those of you with a keen eye will notice on my under hood decal that I now have Fuse #43 HTD WSHR SYS (60A).
The rear fuse block is where most of my new options have been connected and numerous changes were made here. You'll notice that like the under hood fuse block, each fuse location on the diagram is coloured appropriate to the standard case colour for the amperage rating. I'm not sure why GM did this in the front but not rear. No matter, mine is now consistent. New to this decal are:
Fuse #5 RRCAM (10A) - Rear View Camera System.
Fuse #9 HTDST LR (10A) - Heated Seat Left Rear.
Fuse #28 HTDST RR (10A) - Heated Seat Right Rear.
Fuse #32 TRK REL (5A) - Two Shot Trunk Release Circuit.
Micro Relay #42 RRCAM - Rear View Camera System.
Micro Relay #52 TRK REL - Two Shot Trunk Release Circuit.
Diode #80 - Heated Washer System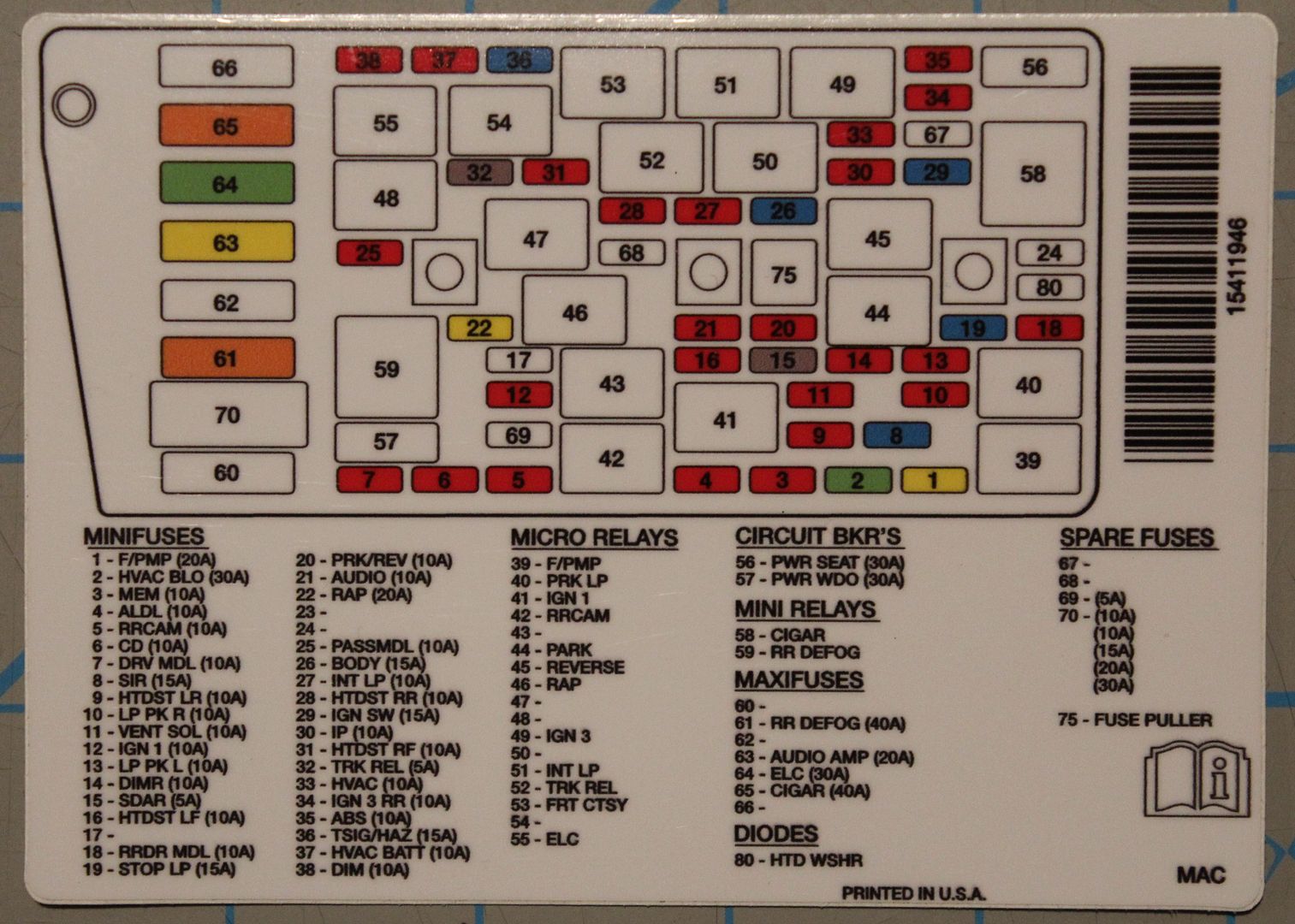 One small inaccuracy... both state "PRINTED IN U.S.A.". This was to maintain consistency with the original decals provided by GM.