I've pretty much completed my 2019 Bonneville Maintenance Blitz!
I reluctantly added up the price of my little venture, and it came to just over $5,000CAN (excluding specialized tools and fluids). I certainly didn't expect it would be quite this much. I've been purchasing and stocking away parts for a few years now and this is the final result. Here is the finalized list of completed repairs:
Front engine cover with 15 new bolts, gasket and crank seal.
Harmonic balancer.
Right engine mount.
Under hood fuse block (after some modifications).
Forward lamp wiring harness.
Engine cooing fan assembly.
Radiator.
Engine oil cooler lines and fittings at the oil filter adapter.
Engine oil cooler line O-rings at the radiator.
Left cam cover, gasket and new bolts.
Water pump drive belt.
Power steering pressure line.
Rear shocks.
Struts, mounts, bearings, bellows, bumpers, upper & lower spring insulators.
"Tire Changing Guide" decal.
New battery.
Serpentine belt tensioner and idler pulley.
Upper and lower radiator hoses.
To start the photo tour, here's a picture of a few of the items. The shocks, struts and their related parts aren't shown.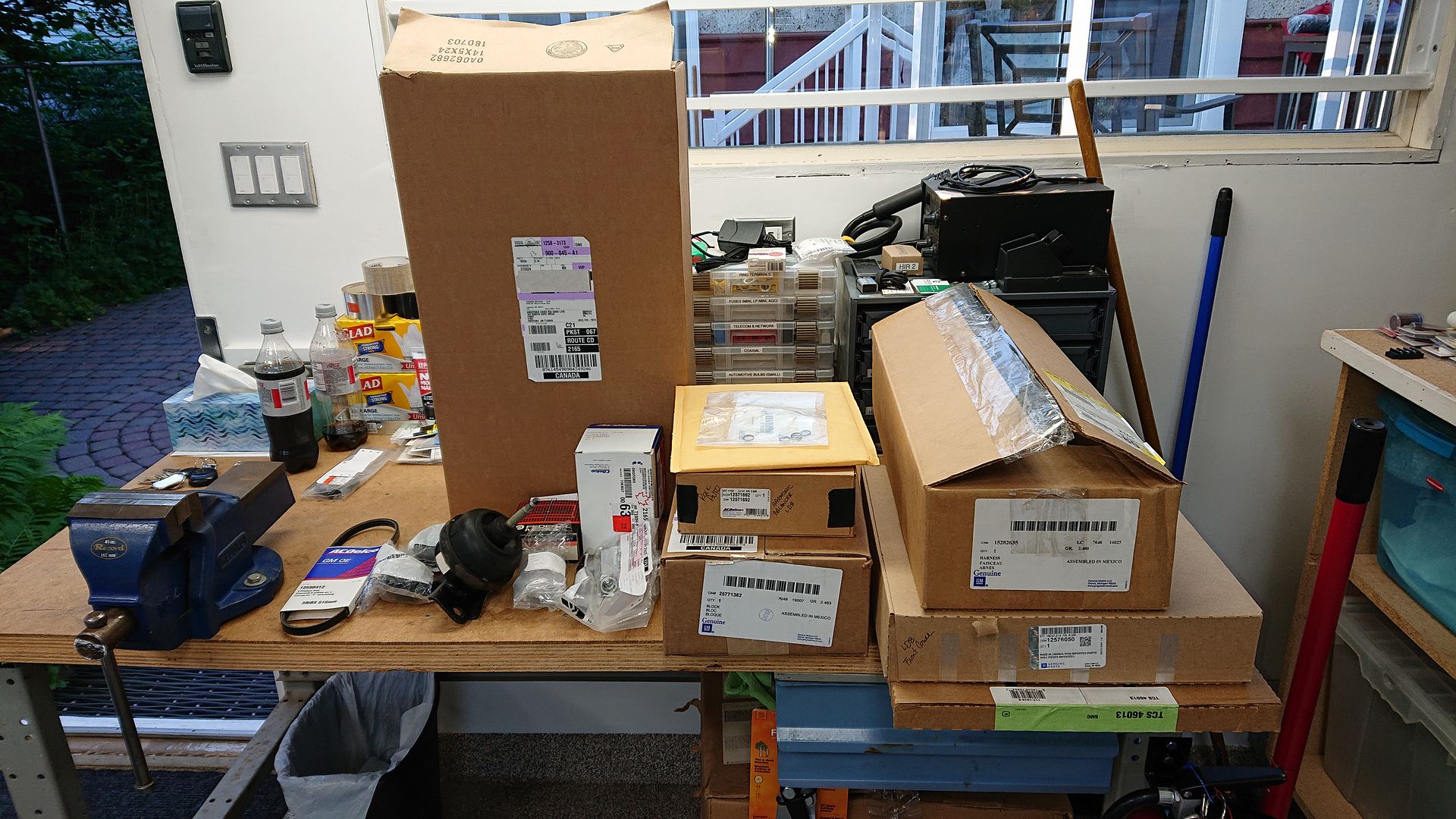 Of course, QuickJacks were a big part of being able to complete the repairs easily.
Here is the front of the engine before the front cover was removed. I had to lower the engine for enough clearance to get the harmonic balancer puller in place. One valuable tool I purchased was a flexplate holding tool. This prevented the engine from turning both while removing and reinstalling the harmonic balancer.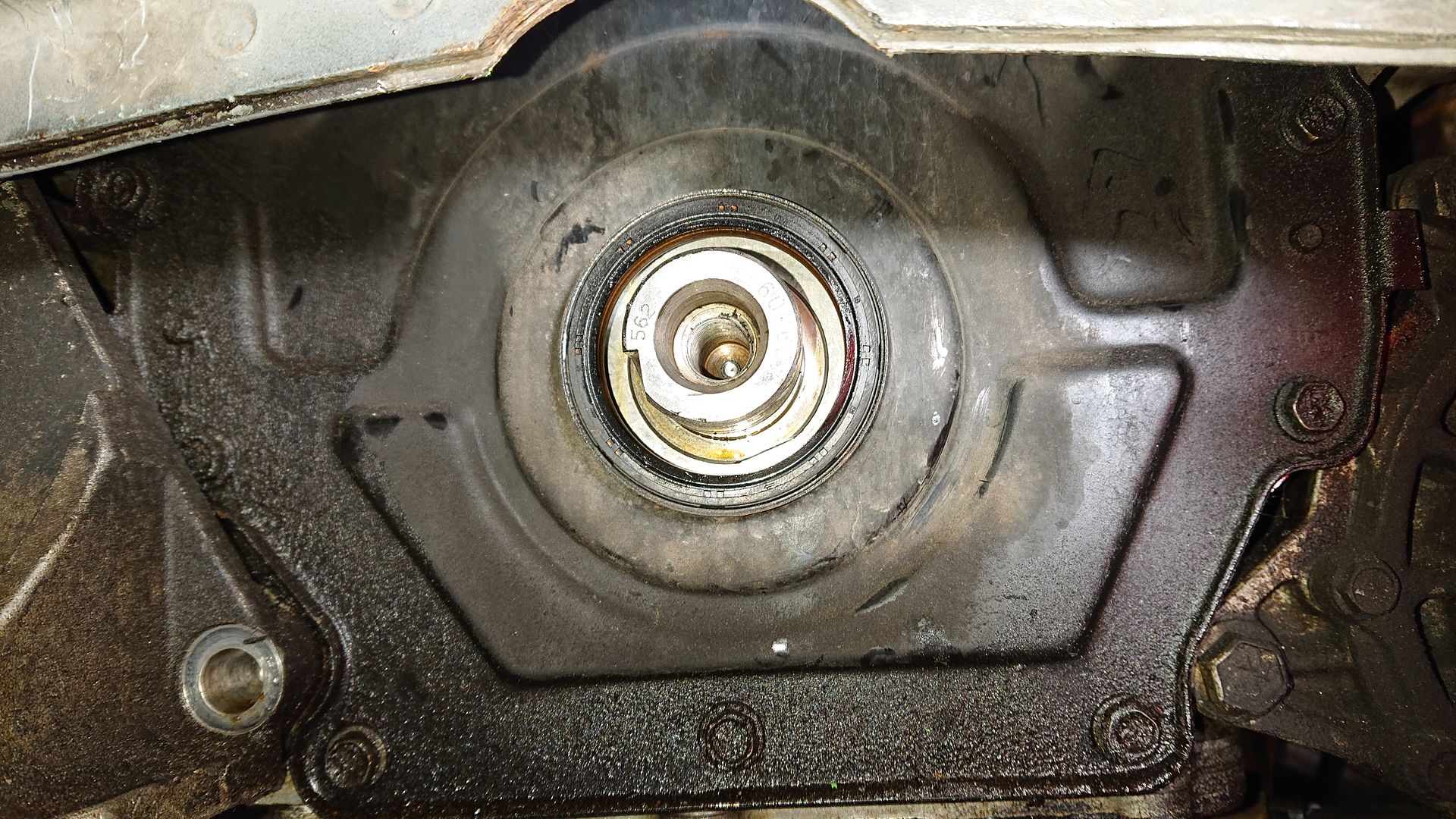 I found the recommended puller on eBay, but I still didn't have enough clearance to get it in place. I bought this one from Amazon and it worked great!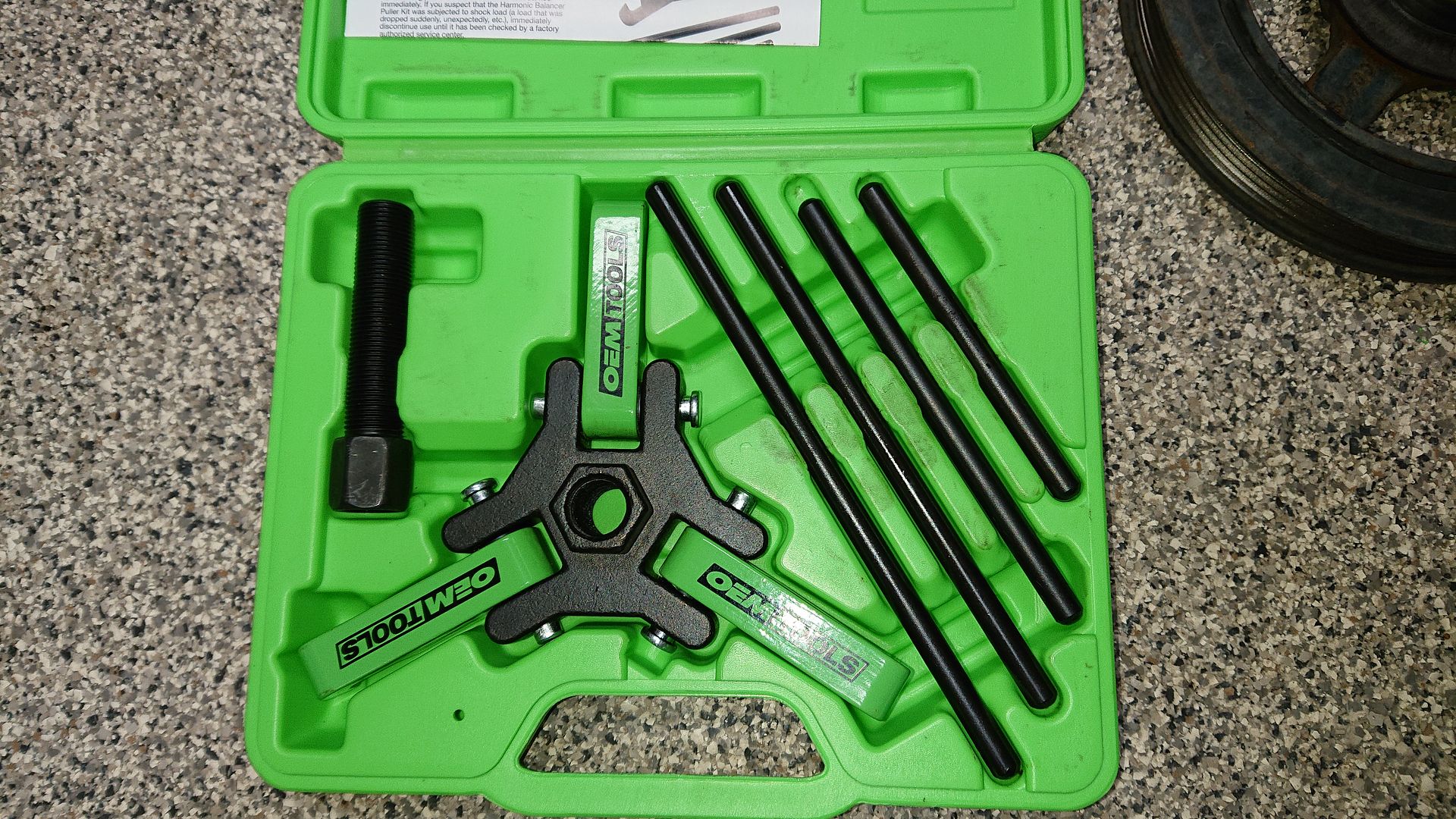 This is the flexplate holding tool. It's really simple to use. Take off the brace between the engine and transaxle, remove the flexplate access cover and use the same bolts to secure it into the holes they came out of. Just make sure the engine has been turned over the correct position so the puller can be attached before installing this tool.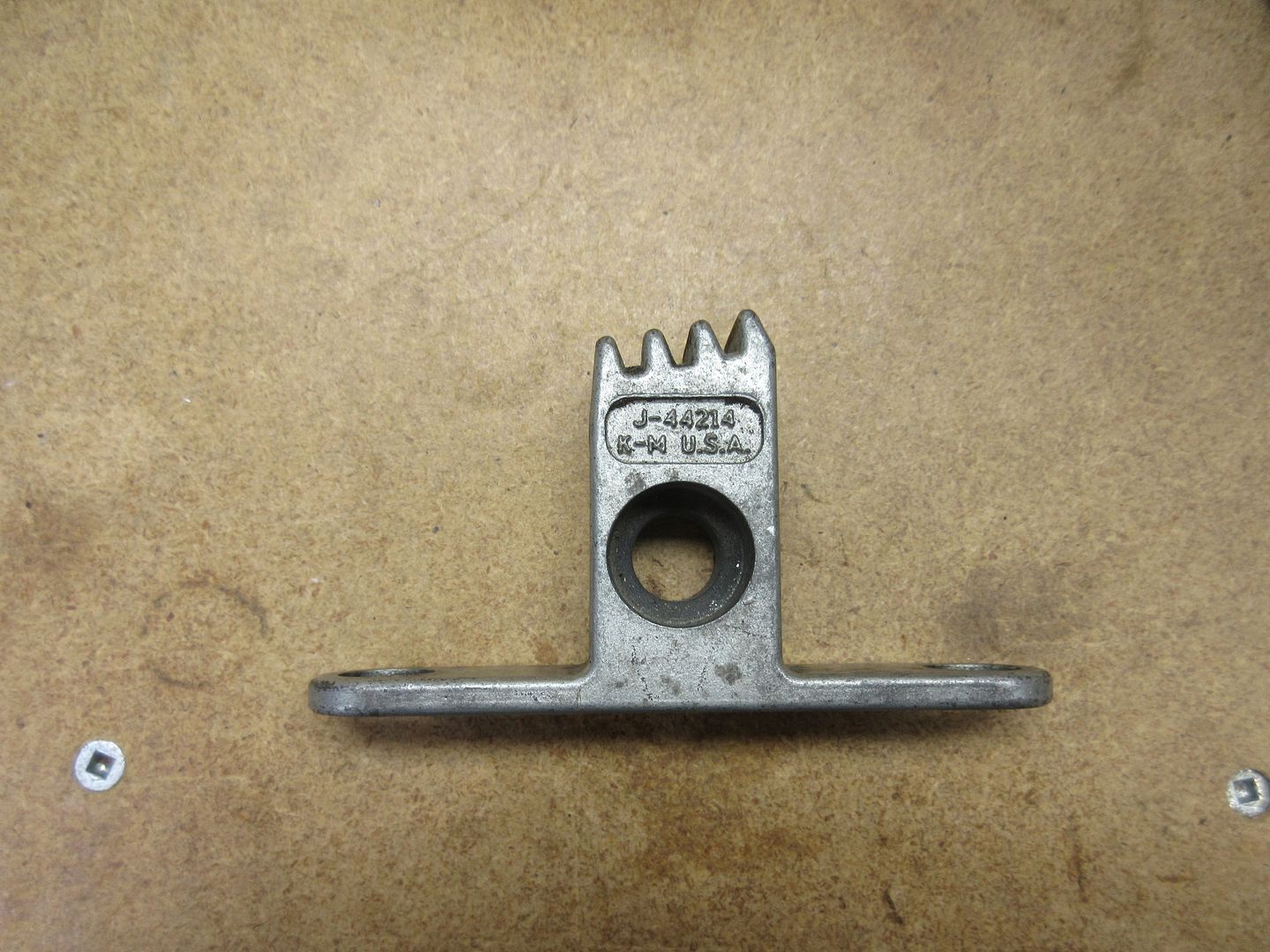 The front cover is back in place, along with the new harmonic balancer and right engine mount. I only replaced the balancer and mount because everything was apart anyway. Correcting the front cover and gasket oil leak was the purpose of this whole endeavour.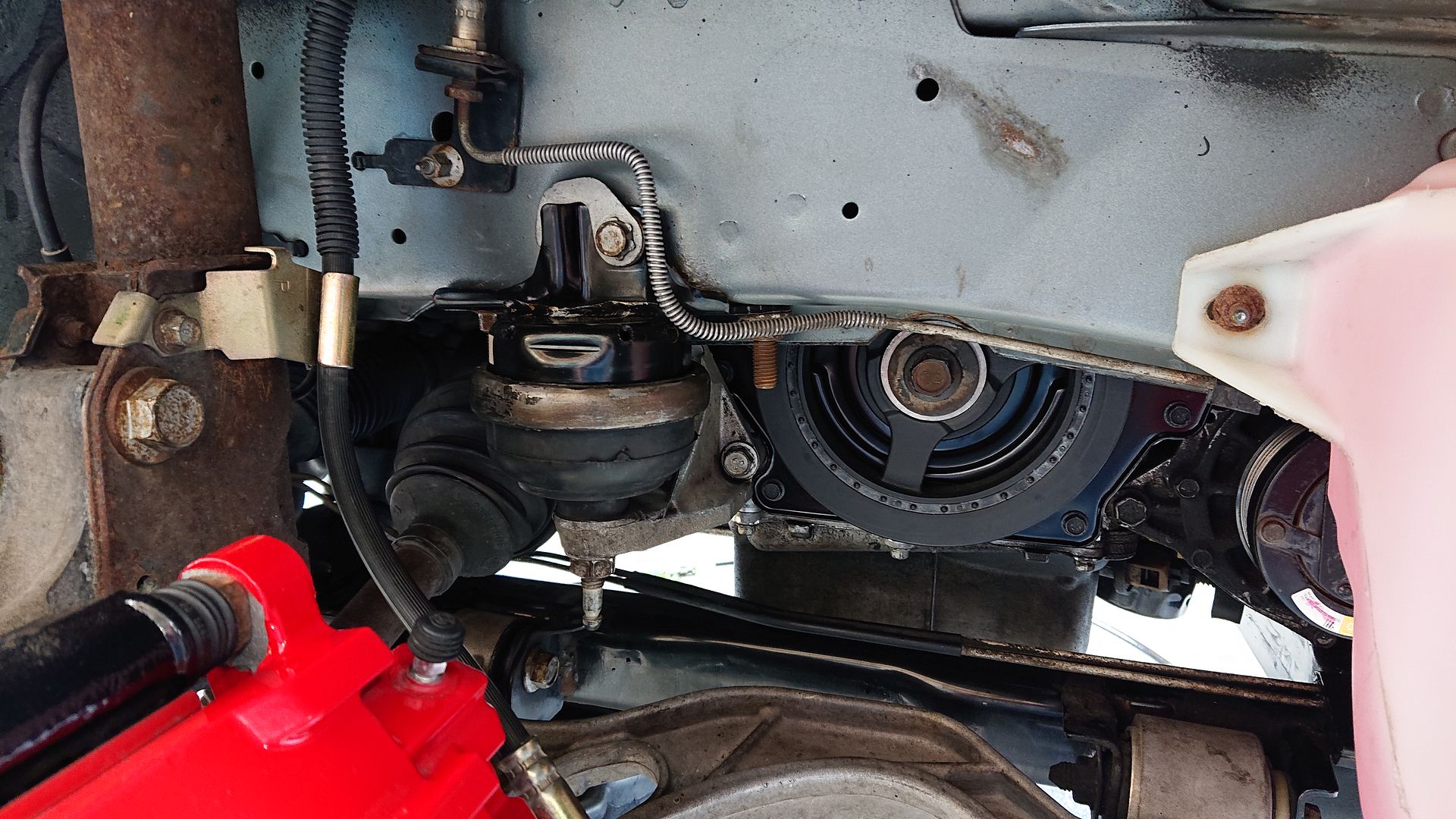 The next task was the left cam cover. This is actually quite easy with the correct tools. I went searching on eBay again and found a used water pump pulley remover as well as an installer tool. The Kent Moore tools are expensive but actually work very well. I had an aftermarket puller I used at the auto wrecker once. It was loose, flimsy and getting that pulley off was quite a task.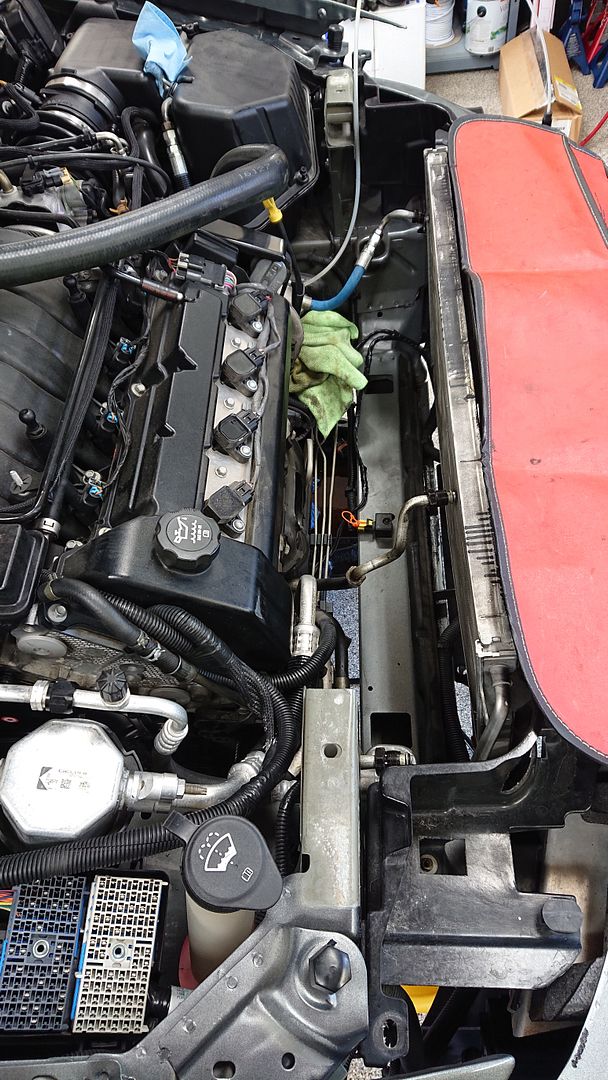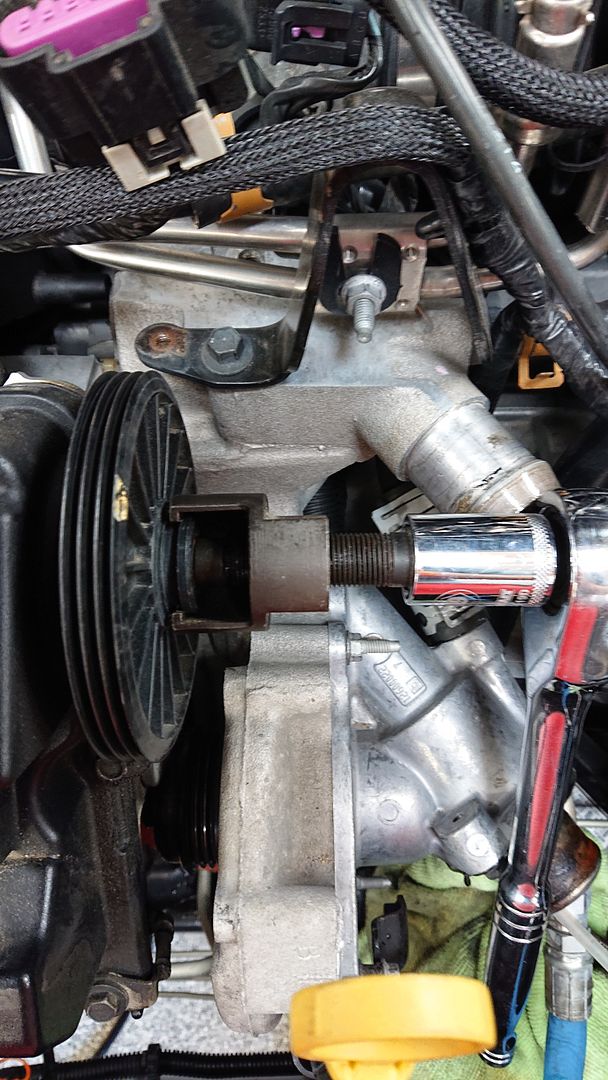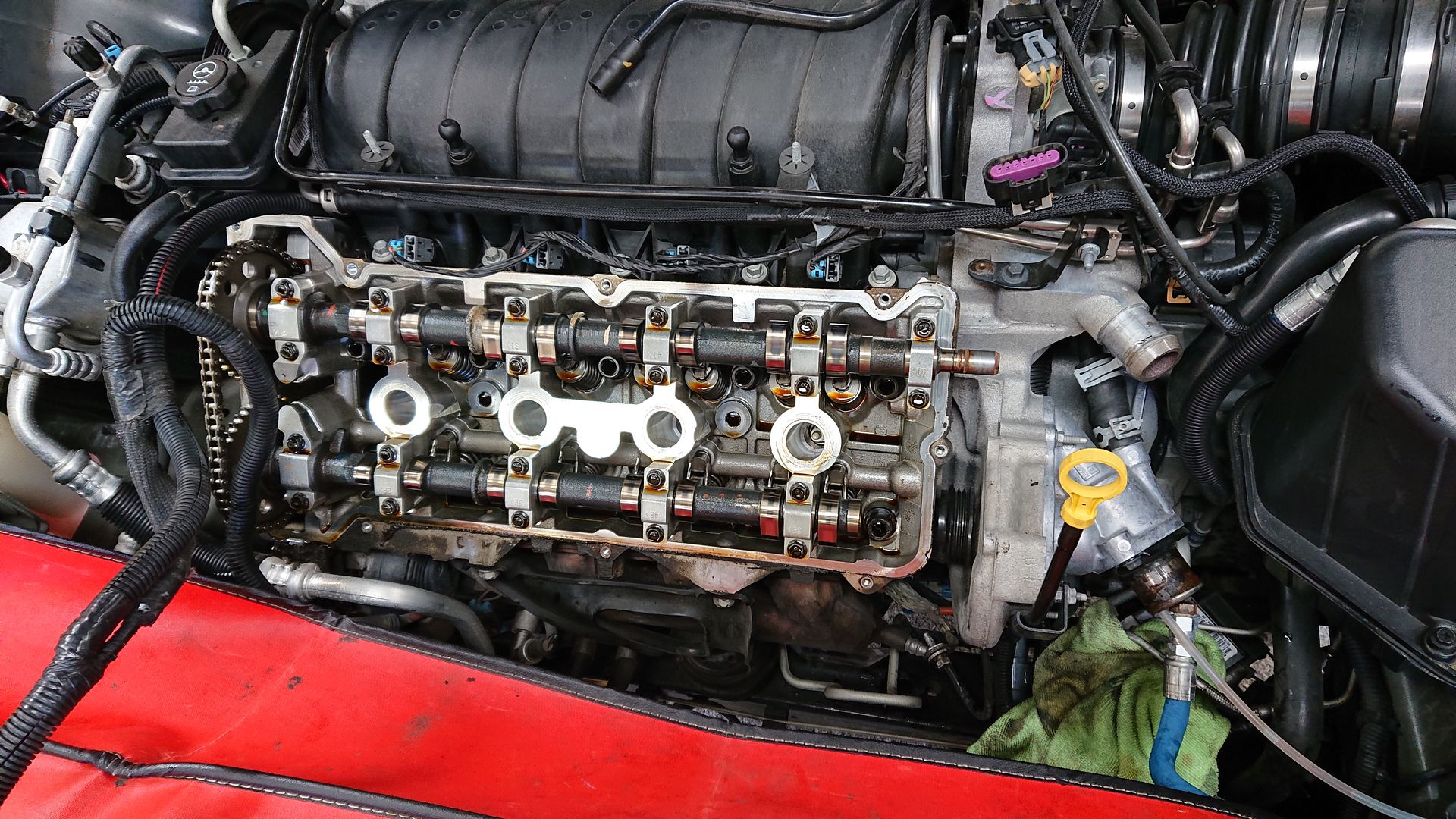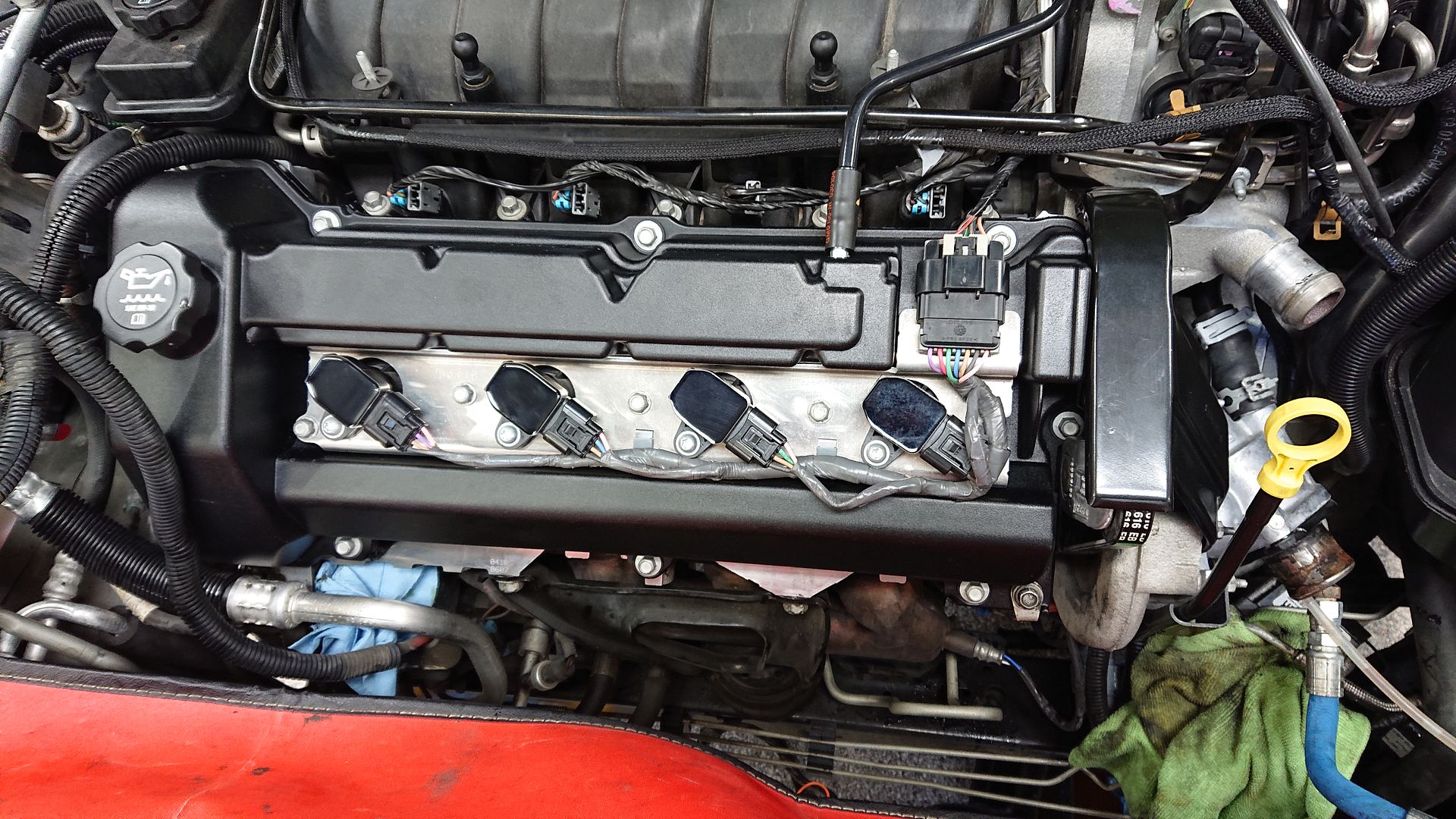 Another big source of oil leaking was my engine oil cooler lines. The saga was that by 80,000km GM was installing the fourth set of oil cooler lines. I really got tired of this, even though they were under warranty. As a result, I decided to buy a new set and have them modified at a local hose and fitting shop. I thought they had done a really great job. They cut out the original flexible hose between the solid steel segments, welded in some fittings and replaced the hose with (what I thought was) a better product. Sadly, I learned over time that the hose they used was a hydraulic line, but not rated for the temperatures of hot engine oil. They broke down over time and I'm surprised they didn't simply burst. These ended up leaking like a sieve. Jump ahead to this year, I took another set of brand new GM lines to a different local hose and fitting shop for round two. This is the same company that rebuilt my transmission cooler lines a few years ago (since GM can't seem to build any line that won't leak). They have been incredibly solid and the hose they used is good to 150C/300F. They rebuilt the new engine oil cooler lines with the same hose. Here are some pictures of the lines made by the first shop...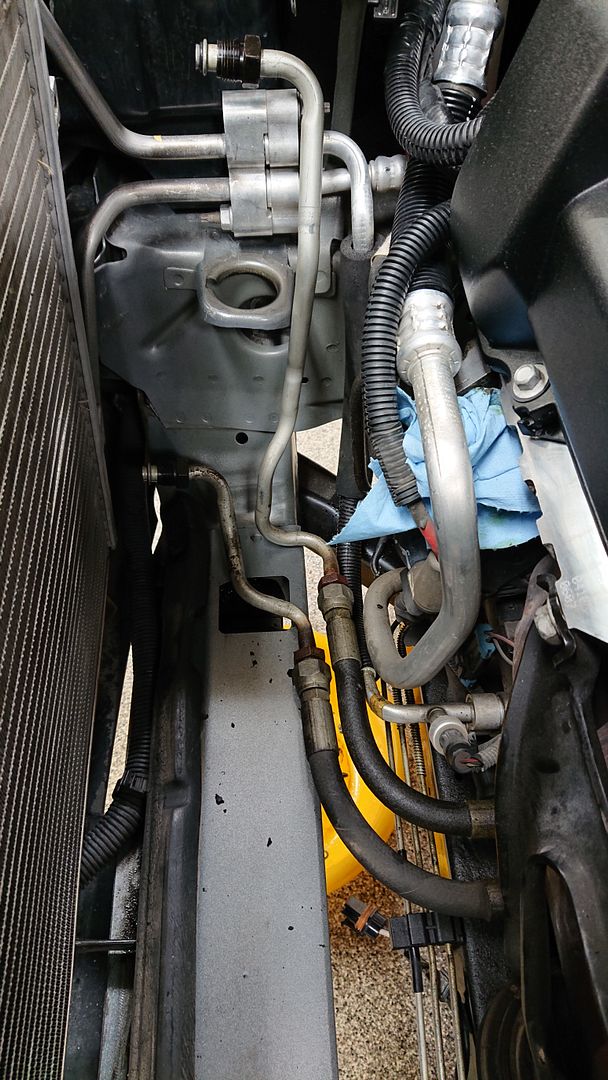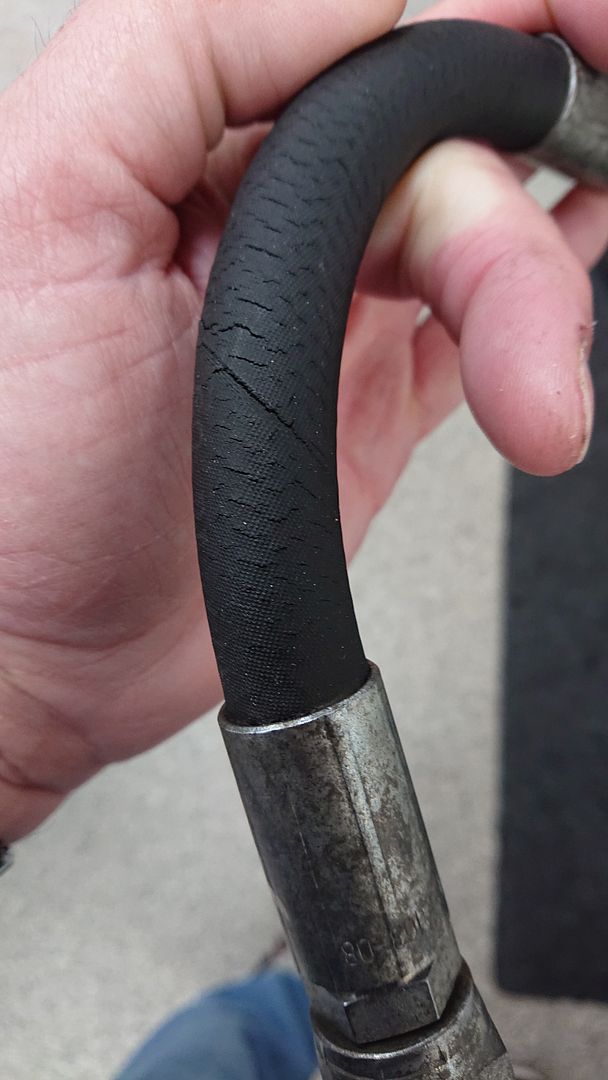 And now the new ones...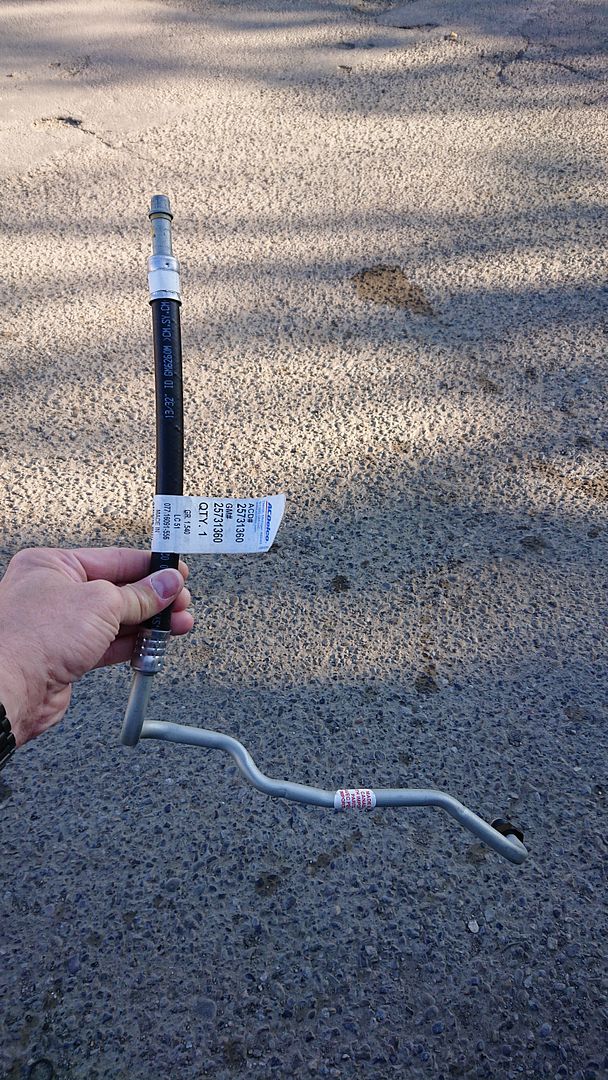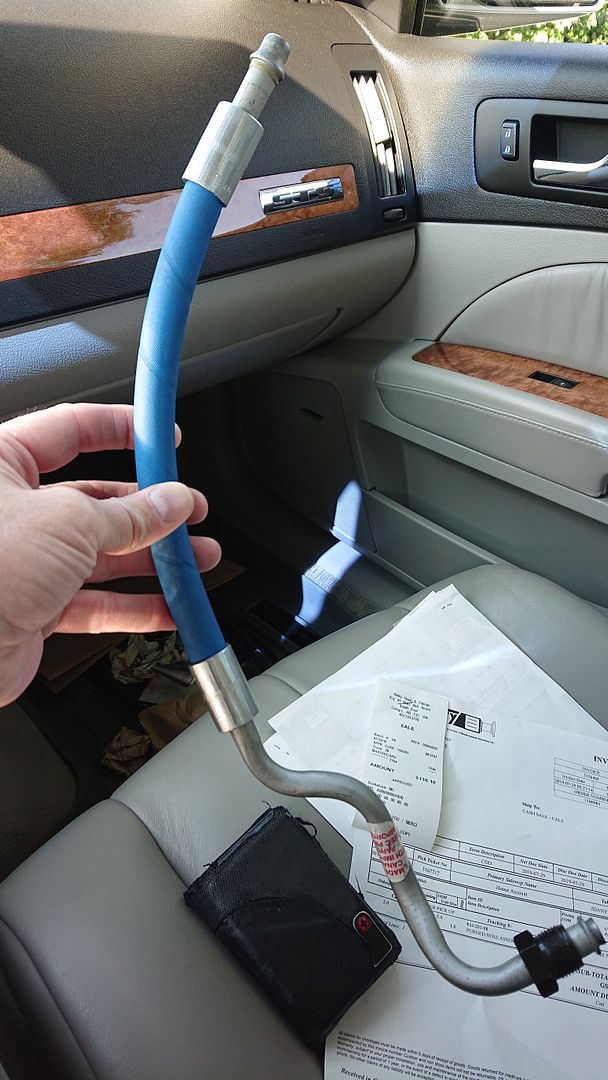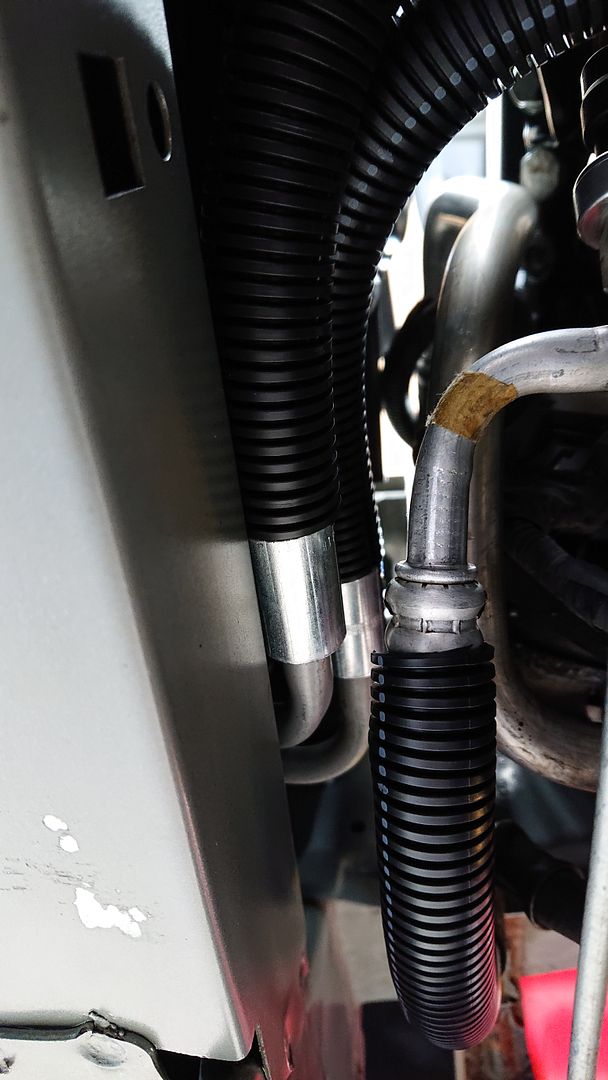 After I finished all of my oil leak related repairs, I spent quite a bit of time doing some under hood detailing. I cleaned virtually everything I could reasonably reach. The amount of caked on oil I got off the cradle and some of the lower body under the radiator and fans was impressive.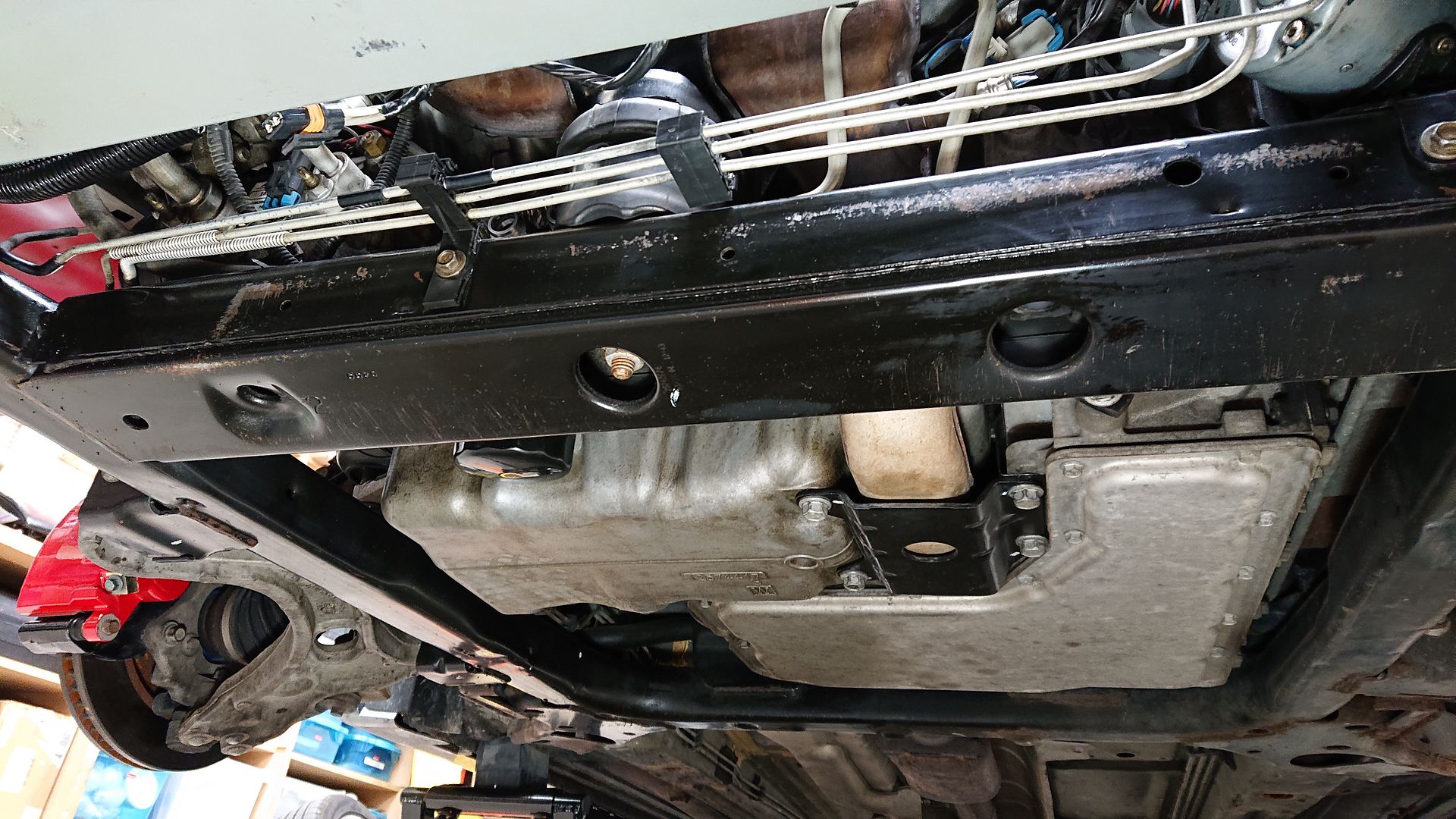 With the radiator and fans still out, my next job was to replace the forward lamp harness and under hood electrical center. Some of you may recall that I tried to replace this harness last fall before my car went into winter storage. I removed the old one and carefully routed the new one into all the tight spaces it needed to go. It wasn't a whole lot of fun! My last step was to plug the fuse block back on the mount and call it done. Unfortunately, the new GM harness I got was made incorrectly. The large 68-cavity connector that plugs onto the bottom of the fuse block was 180-degrees out and the keys would not line up. Because of tight wire lengths and routing, there was no way to fix this. I had to take it back out and put the old one in again. I also had to fix the old one since there was a burnt terminal on the cooling fan circuit. At least there was a Bonneville at the auto wrecker and I was able to get a short segment of the harness to complete a temporary repair. The dealer ordered another harness which had a different manufacturing date and was indeed correct. The whole reason for changing the harness was to upgrade to the newer version which resolves the known fog light issue. It was only by chance I found the burnt terminal. Unfortunately, this also meant I needed to replace the electrical center/fuse block. There was no way to clean up the terminal to my satisfaction, given it's a high current circuit. The pitting was just too deep. Any attempt to use it again I'm confident would have caused another overheated connection.
Here's a picture of the old harness stretched out on the floor...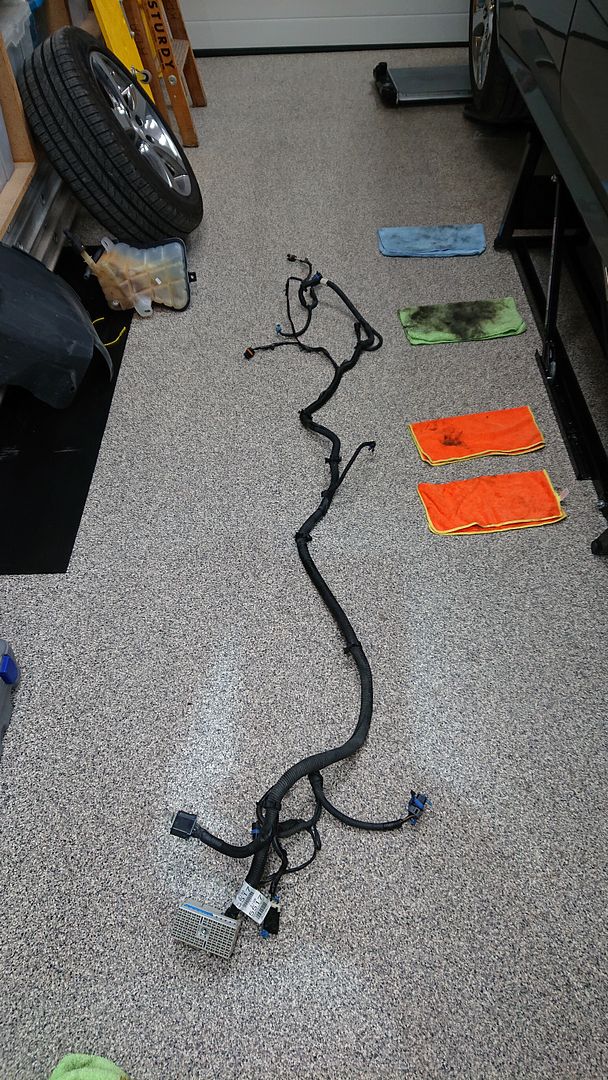 And the new one...
Finally, the new under hood electrical center. I won't go into disassembly and the modifications I made here. These are all the same as the ones covered in my heated washer solvent modification thread.
I had a look over the old one, and there seems to be simple but potentially important change to how the wiring was updated. It seems that they now connect the supply side to the fog lamps through a single circuit coming from the fuse block (each was fed separately before), but more importantly, and I have no idea why they did this, but one lamp was grounded in the engine compartment and they ran the ground for the other lamp all the way into the passenger compartment and back to a ground point in the trunk.
While I fought with the radiator and no end of problems there, I decided to replace the power steering pressure hose. This was another "because it's reasonably accessible right now" and not a need to do item. Not a lot to talk about here, other than it's another GM line made incorrectly. Ugh! Fortunately it was easy to correct. In the photo of the new line below, you'll see an angled metal support bracket close to the end that attaches to the steering rack (brace showing at the bottom of the picture). The problem was the manufacturer attached it about four inches away from the rack fitting. There's nowhere to secure it to the engine cradle in that position. This hose only fits the Bonneville GXP, no other Northstar related cars. There's no reason this should ever have been made wrong.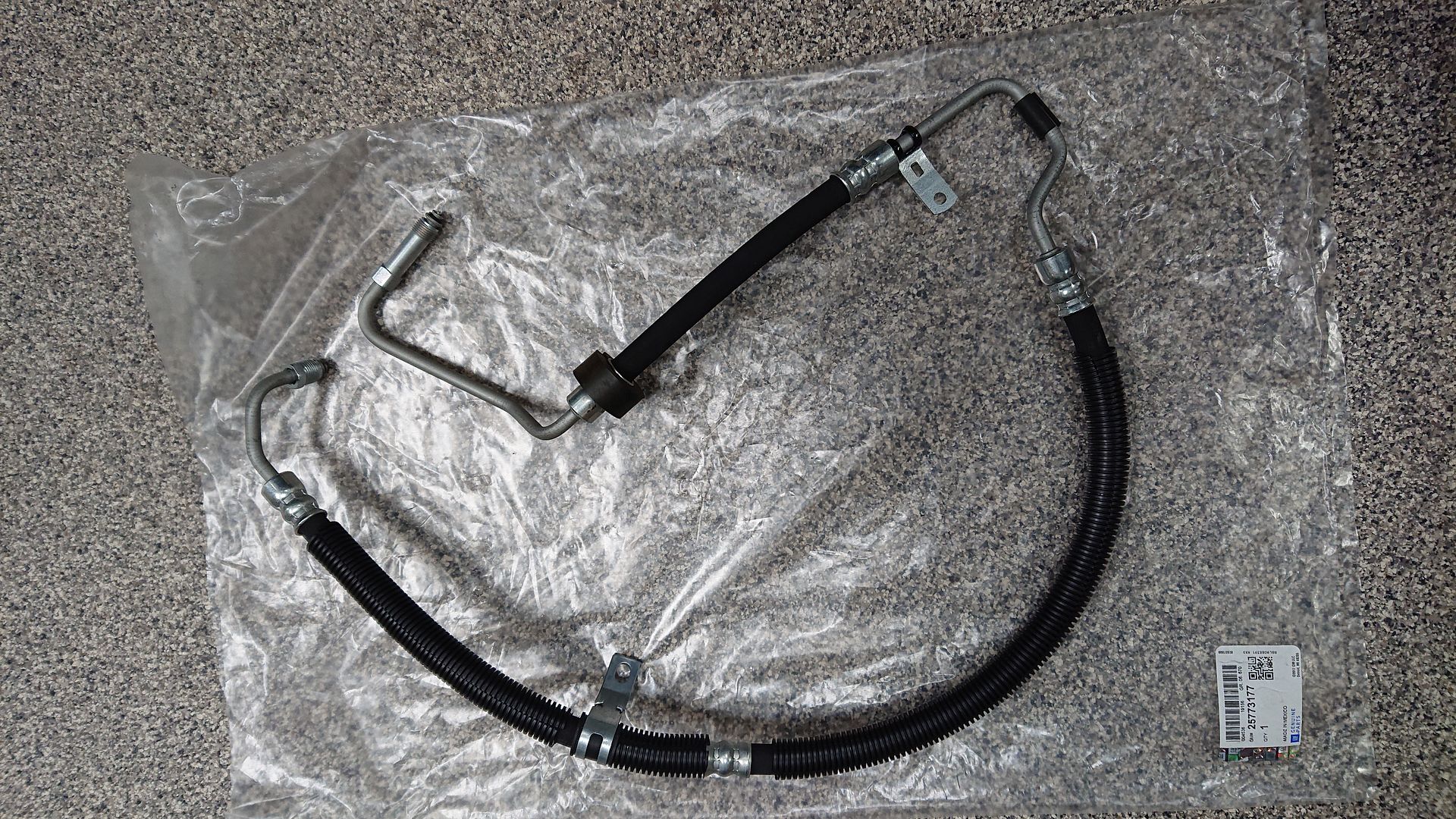 And now the radiator drama (with lots of ranting!)... If anyone had asked me "What's easier to do, replace the radiator or replace the front engine cover?", my initial answer hands down would be "Why replace the radiator, of course.". Well, not so much... The reason I buy OE parts is so I don't need to figure out by trial and error which aftermarket parts are garbage and which aren't, as well as the fact that they work and fit. Usually.
I bought the ACDelco radiator for my GXP, from my local GM dealer. This is touted as the GM recommended factory replacement part. Much to my dismay, ACDelco made two serious flaws with this. First, it was manufactured incorrectly. Second, they changed the fittings for the transmission cooler lines which requires the use of extra parts (not included with the radiator) which no one at the GM dealer seems to have information about.
Flaw #1... This is a photo of the insert included with the new radiator. Note where it says "...and the lower connection will always be a threaded connection.". The problem was, ACDelco installed a snap-in style connector for both the lower and upper fittings. The Bonneville in fact uses a threaded connection for the lower fitting. They were kind enough to include a threaded fitting in the box, in case the upper fitting also needs to be threaded (for some vehicle applications). Since the upper line on the Bonneville is the snap-in type, I figured it was no big deal. Change out the lower fitting, attach the line and I'm off to the races.
But the problems didn't end there... ACDelco did not include a new seal washer to use with the lower threaded fitting. Guess how easy it was to find one of these at 4PM on a Saturday afternoon??? NAPA, nor any of the other big auto part suppliers in a city of just under 1.3 million people had such an item. I have no idea how, but Amazon.ca was able to have this part to my by 10:00 Sunday morning! NAPA and all you others FAIL!!! I would have gone to a GM dealer, but they are all closed by 4PM on a Saturday.
So now it's Sunday morning and I'm feeling pretty good about life! I head to the garage, connect the lower transmission cooler line, complete with a brand new seal and get ready to install my brand new cooling fan assembly. Nope, not gonna happen (complete cooling fan saga later in the thread)! Ultimately, I got together a working assembly and installed it in the car. I connect the oil cooler line on the passenger side and move over to the upper transmission cooler line...
Flaw #2... ACDelco, in someone's infinite wisdom decided to change the transmission cooler fittings to a new "low-profile" version. Guess what isn't long enough to snap into the upper fitting? If you said the transmission cooler line, you'd be correct. Once it's secured to the fan assembly, the end of the line doesn't reach the fitting.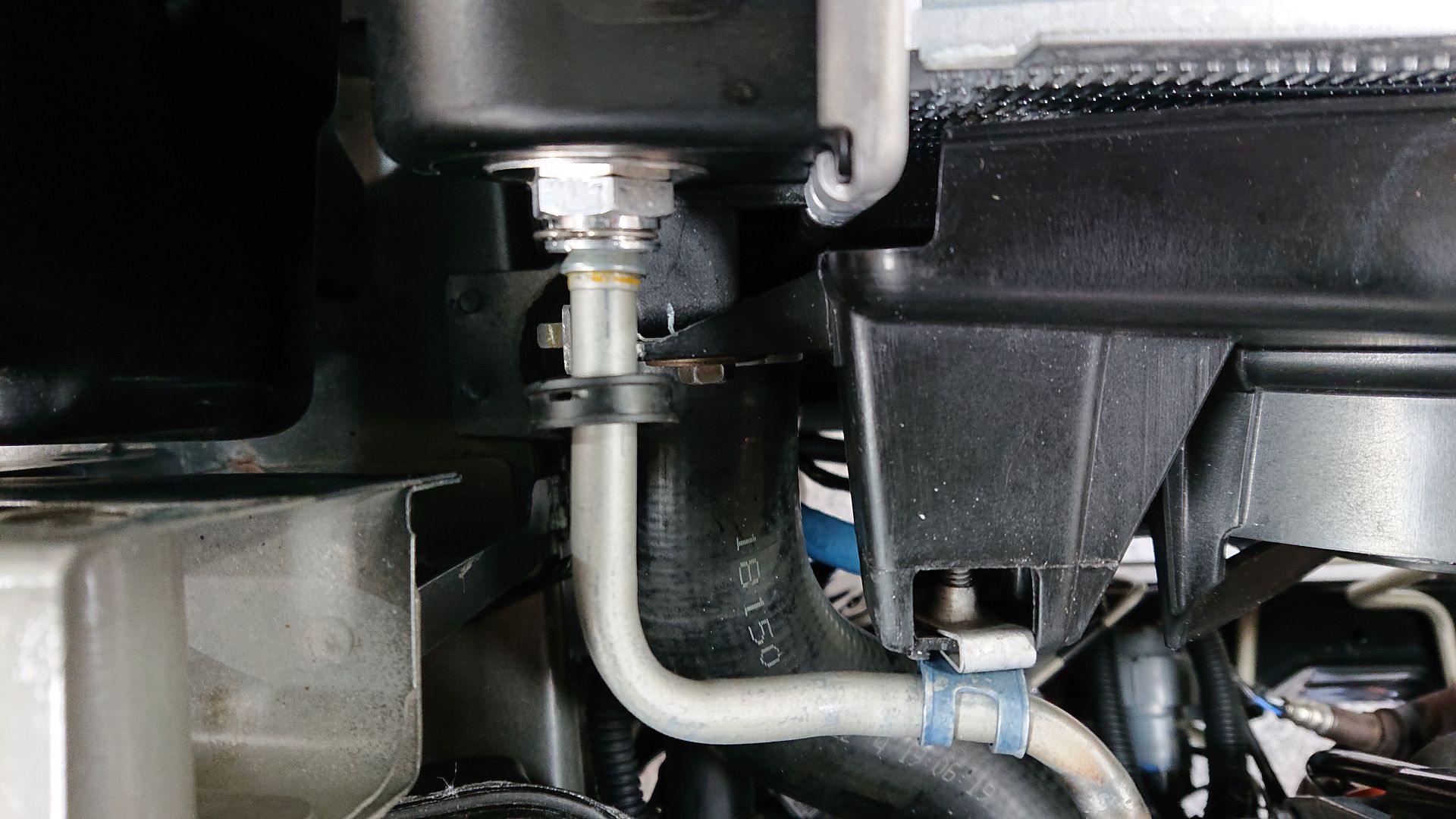 I scratched my head a little to figure this out because it is a "direct OE replacement" radiator. I checked to make sure the fan assembly was installed correctly in case it was too far away from the radiator. I just didn't get it, until I looked at the old radiator with a fitting that extends much further out. Unfortunately, I couldn't use the one from the old rad because it was aftermarket and completely different. I only installed this a couple of years ago and drove less that 10,000km before it started leaking. This supports why I don't like aftermarket parts. Unfortunately, it was all I could get quickly last time I needed one.
I'll admit, I provided the dealer with the part number of the radiator to order, based on research I had done. I thought perhaps this was my error. It wasn't. They verified this part was correct based on my VIN. According to their system, there were no engineering notes talking about changes or other parts necessary when using this radiator. Generally, if there is a change and something else is required to use the updated part, there are notes in their system. I tried to call ACDelco which was futile. Every time I tried to select the option through the phone menu, it would send me off to a fast busy (like you get with a system technical problem). The dealer made contact with GM's internal parts group (ParTech) and was told this is a known issue (of course no one put notes in the parts system). They provided part number 52481097 that's required to extend the one on the radiator. Three days later it arrived from the other side of Canada.
I drove close to an hour to the dealer to pickup the fitting only to learn it isn't going to solve my problem. The fitting they say is required screws into a threaded fitting on the radiator, not a snap-in style like ACDelco installed. Now, you may recall the threaded fitting ACDelco so generously included in the box in case I needed to change one? That's exactly what this new fitting threads into. Only... I had to use it to replace the lower fitting because that one was incorrect from the factory! The parts manager looked up the fitting I need to make this extension/conversion fitting work. It was going to cost another $60+ and they are only stocked in the US. Really?!?!?!?
By the time all was said and done, I had spent over $80 on new fittings to make the OE replacement radiator work. This task alone, sorting out all the problems, waiting for ParTech and ordering all the necessary ancillary fittings took over two weeks. Absolutely ridiculous! Anyway, radiator rant over... Here's a picture of everything assembled at the end of it all.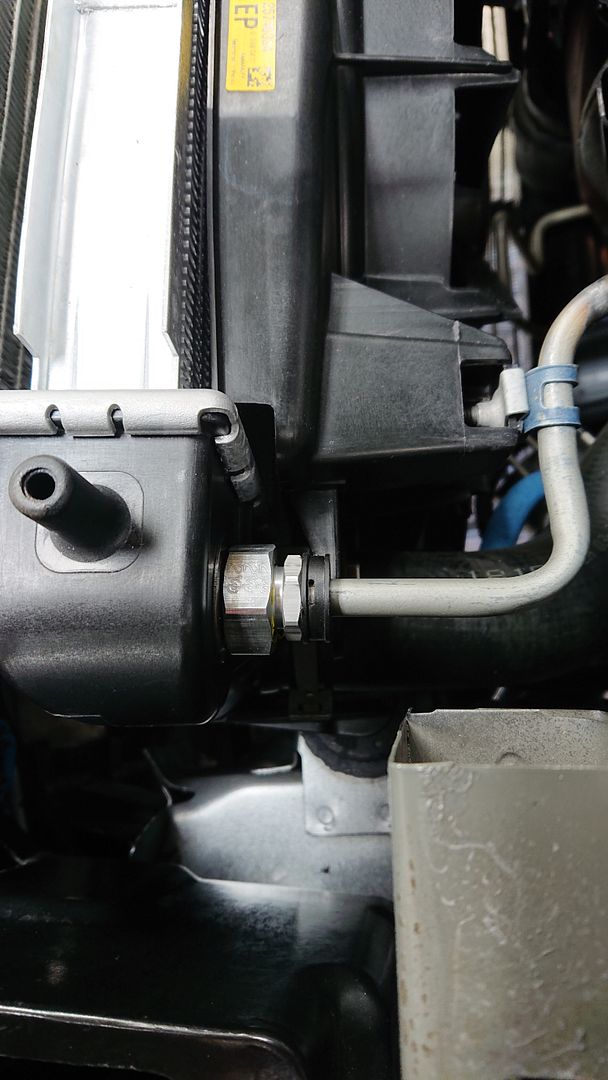 Of course a job like this just isn't complete without replacing the radiator hoses. They seemed fine but are 15 years old so I decided to change them. I've only posted a picture of the upper hose, but I'm sure you get the idea.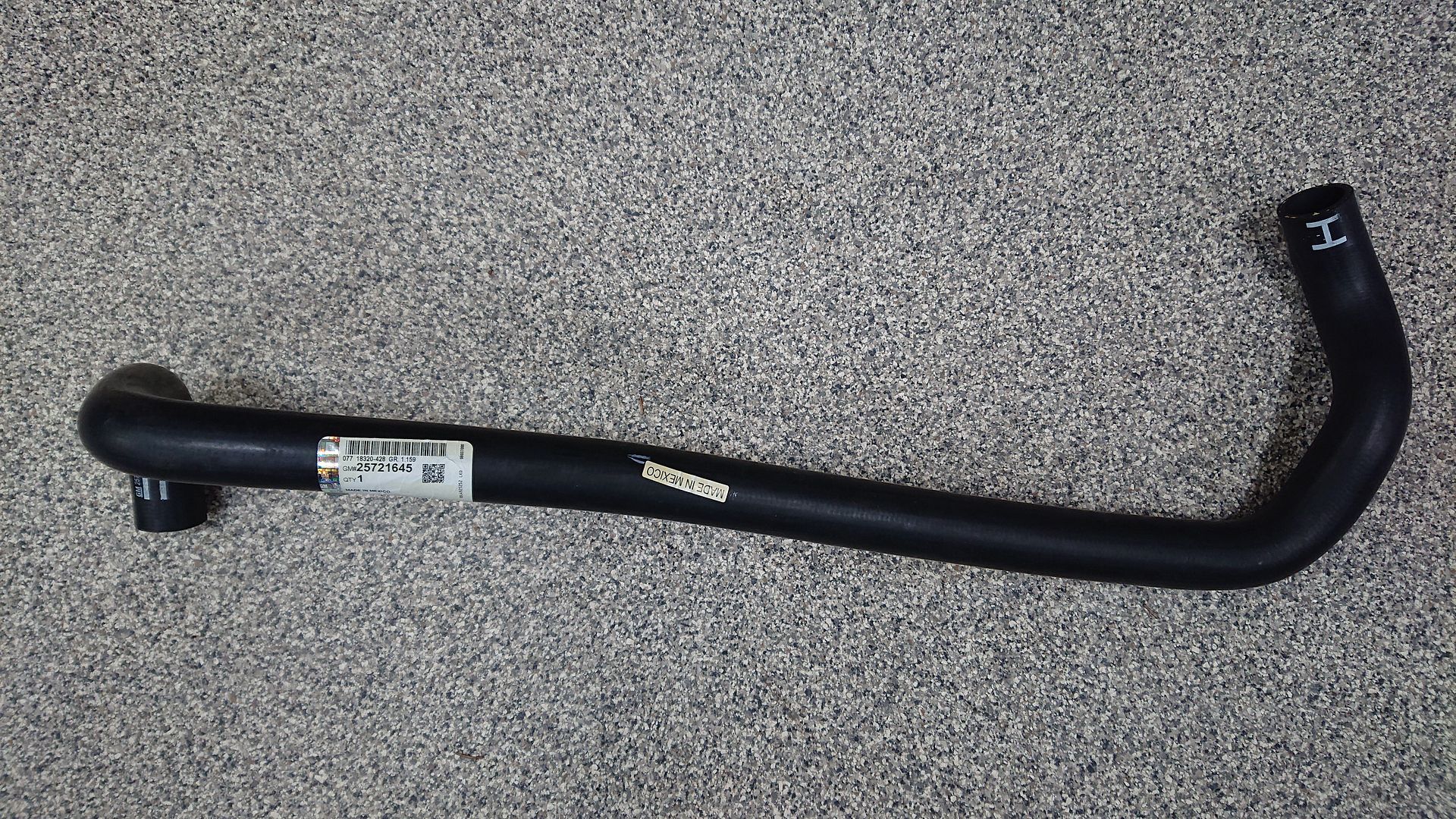 The fan assembly was another adventure. This cost me almost $600 and was reportedly available only through Vintage Parts because GM discontinued it. All their existing stock was shipped off to Vintage. The dealer ordered it for me and I had it sitting in the garage for over a year. That was my mistake! When I took it out of the box, the housing was broken. Vintage Parts did too good a job boxing it up, literally. There was a lot of packing material and it was in a correctly sized box. Unfortunately, it seems that something really heavy must have been placed on top. All the packing paper ended up fracturing 10 of 13 braces that hold one of the motors in place. There was no external damage to the box, and with the length of time I had it, there was no recourse.
My old housing was fine and I was really only replacing it because of the motors. I wasn't certain if it was excessive draw that caused the burnt terminal at the fuse block. I also didn't have a meter with a high enough current capability to measure it. The hot terminal ended up being due to water intrusion into the fuse block which I discovered after eventually taking it apart. The broken housing easy fix was to completely disassemble my existing housing, spray it with a citrus degreaser and clean it up to like new. I transferred the fan motors, fan blades and all the new mounting screws across from the new but broken housing. I would suggest the old one cleaned up well enough you'd never know it wasn't a brand new frame.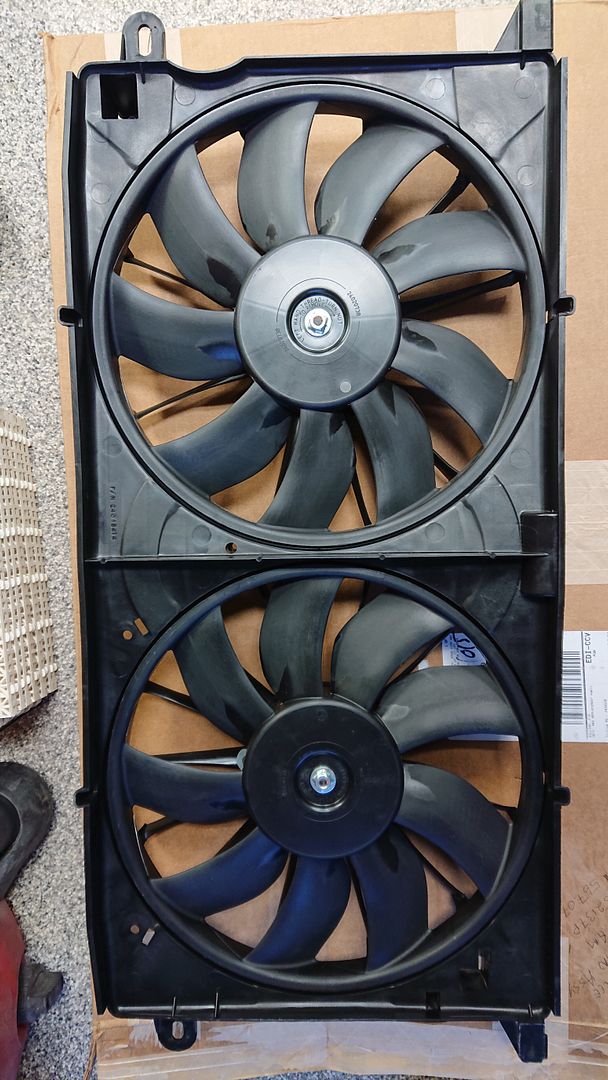 I've had a new Tire Changing Guide decal on the shelf for a few years (the original was kind of faded and wrinkled). To get the old one off, I smeared a generous amount of butter on it and left it sit overnight. I don't recall where I learned about this, but it works great. The next day it just peeled off, no sticky adhesive residue. I cleaned off all the butter with a good soap and water mix before applying the new decal.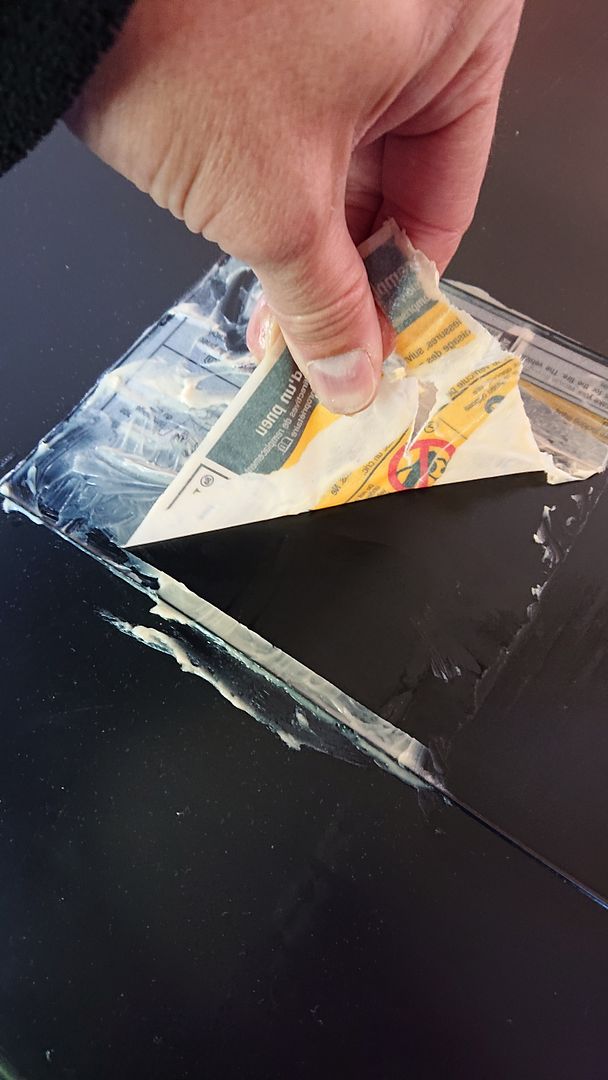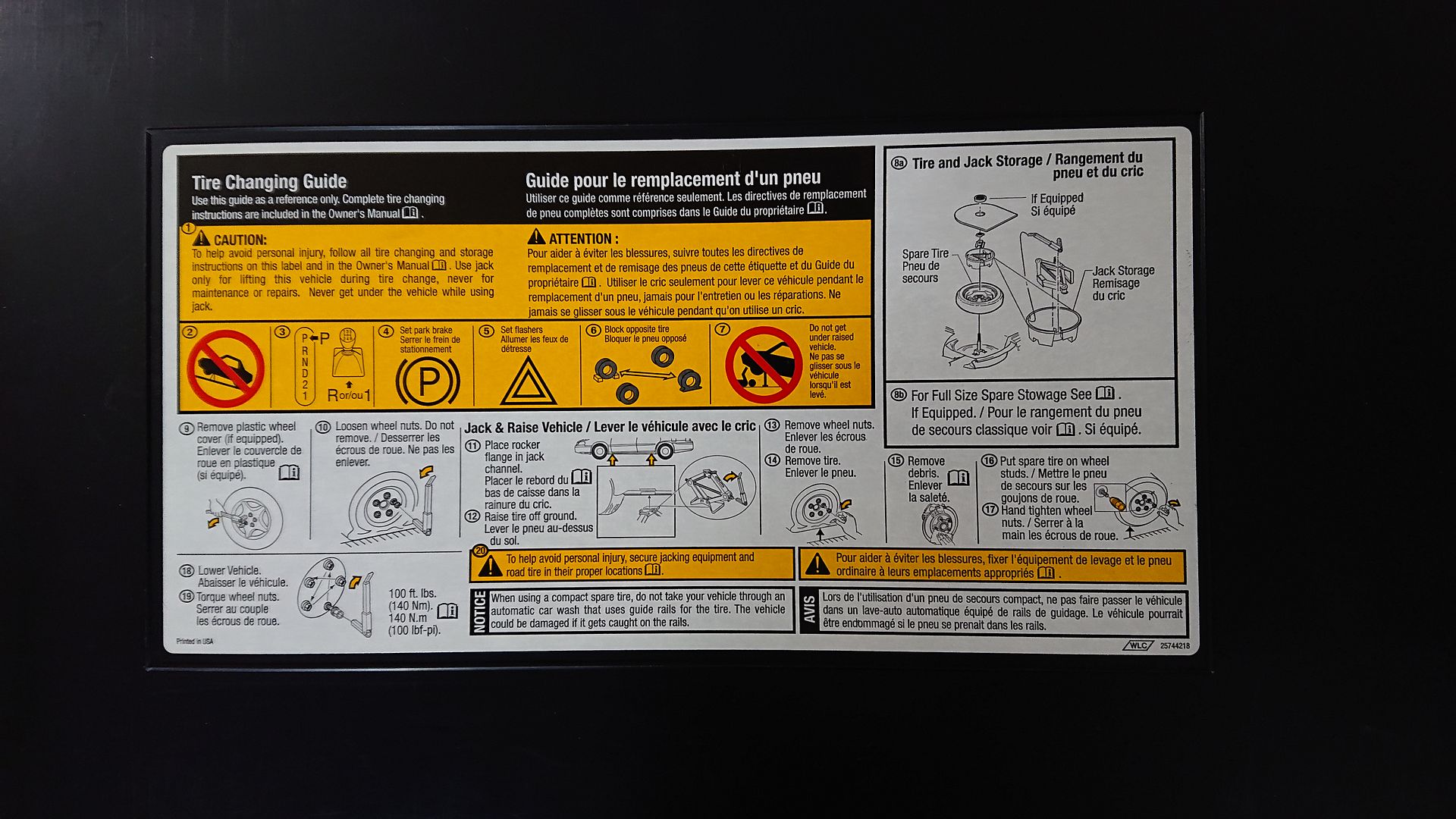 I installed a new set of rear shocks. I used two made for the left side as the right is no longer available. The mount has to be rotated to accommodate this. Andrew gave me some tips on how best to do this since they come pre-installed for the GXP shocks based on where it is to be installed.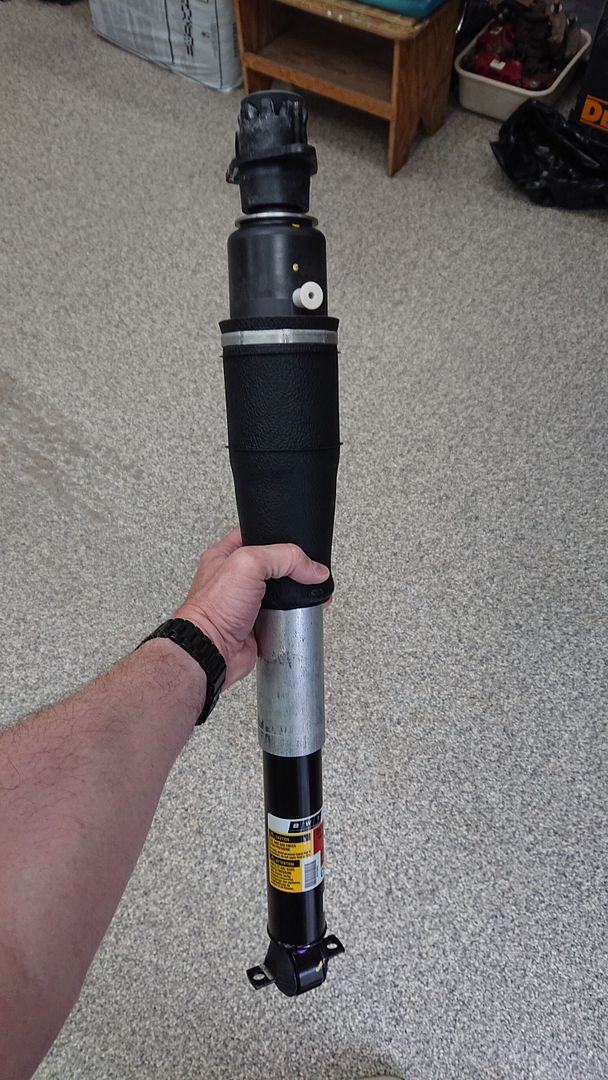 I used a set of Monroe QuickStruts on my DTS and was not at all happy with them. I decided not to go this route with the Bonneville. I purchased an OTC Clamshell style spring compressor (OTC 6494). I just don't have confidence in the really cheap ones that attach to each side of the spring independently. I really wanted the OTC 6637 Strut Tamer Extreme but just can't justify the price for a tool I may only use two or three times. Aside from the nut on the top of the old right side strut, it wasn't too bad. That nut was rusted on pretty solid. Even with penetrating fluid, I ended up having to hit it with a torch to get it off. Here are a few pics of the task...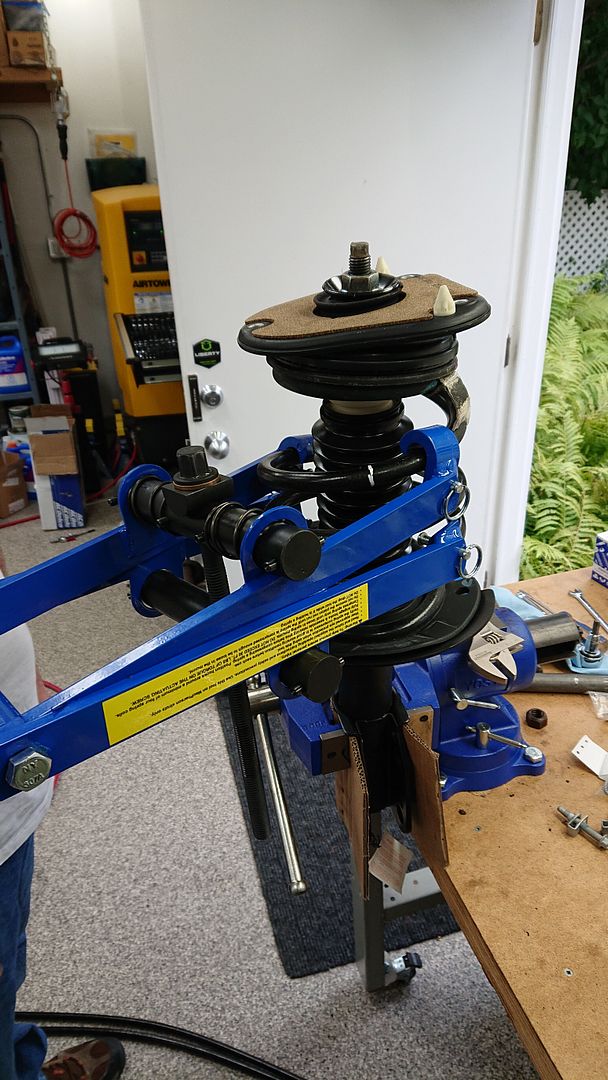 And lastly, but without pictures, I installed a new battery.
As much as I wanted to throw in the towel a couple of times, I got through everything and feel great about the accomplishment. Anything that had a torque spec, and I could access with a torque wrench was tightened accordingly. I'm really happy with how solid this car is! Sadly, I'll be parking it for the winter in about five or six weeks. I'm already looking forward to next spring when I can really enjoy a season of driving it!
IMPORTANT TAKEAWAY MESSAGE:
If you plan to install an ACDelco radiator in your GXP (GM P/N: 89018716, ACDelco P/N: 21733), you MAY require the following items:
1 x 25874797 - Transmission Fluid Cooler Line Fitting Seal (This is a metal washer with rubber insert, an O-Ring will NOT work)
2 x 25533913 - O-Ring, Engine Oil Cooler Line (At radiator fittings)
1 x 89018544 - Fitting, Trans Oil Cooler Threaded Style
1 x 52481097 - Fitting, Threaded to Snap-In Style Adapter (Used here to extend the length of a short fitting).
Edits: Non-middle-of-the-night spelling and grammar corrections, added a few more pics & radiator Takeaway Message