How can I access the oil life monitor on my LeSabre? I have a ScanGauge II hooked up and would love to have this feature. Looking in the FSM's said that the computer supports the feature and how to reset it for the Bonne. Presumably the LeSabre has this as well but no access to it.
_________________
2012 Chevrolet Cruze Eco - Current car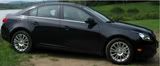 1999 Buick LeSabre Custom - Former car
Learn from the mistakes of others, that way when you mess up you can do so in new and interesting ways.