Idle air control valve could be a culprit. It makes a "grinding" sound for a minute or two when the car is first warming up to let the engine spin faster to burn more fuel, thus lighting off the catalytic converter faster. It should not make that sound after a few minutes, or when the car is fully warmed up.

I'd start by pulling it (You'll need a security Torx bit set) and cleaning off the carbon. Also, if there's a lot of gunk plan on cleaning off the throttle body. If that doesn't work, get a new IAC valve. It's about $40 or so new, and a lot less from a yard.
_________________
2012 Chevrolet Cruze Eco - Current car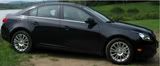 1999 Buick LeSabre Custom - Former car
Learn from the mistakes of others, that way when you mess up you can do so in new and interesting ways.