IIRC you're correct on the sizing. It's been a few years so I am not sure anymore. And get over to the Cheektowaga Harbor Freight on Union Rd. behind the Galleria to pick yourself up some extensions and deep-well sockets. If you pick up some 3/8" extensions and their color-coded deep-well 10-19mm socket set it should run you under $30 with tax and gas to/from. Those extensions and the sockets will make that job a LOT easier now that your ratchet can be put down far enough to get leverage on it.

Be careful, as on my 1999 at least the bolts are held in by those silly stamped-steel clips. It's quite easy to over-torque a rusty one and break it off, or worse, break the sheet metal around it. PB Blaster is your friend for soaking those well before attacking.

I'd go with something tougher than Rustoleum. That will flake off quickly under abuse from salt/sand/debris. The Rustoleumed brake lines on my car have the Rustoleum all flaked off where they are in the way of debris. The areas that got POR-15 are holding up fine.
_________________
2012 Chevrolet Cruze Eco - Current car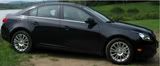 1999 Buick LeSabre Custom - Former car
Learn from the mistakes of others, that way when you mess up you can do so in new and interesting ways.