Clean your MAF, and put the IAT sensor back in. I suspect the engine is getting cooler air than what it thinks it's getting, and cutting out.
_________________
2012 Chevrolet Cruze Eco - Current car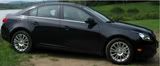 1999 Buick LeSabre Custom - Former car
Learn from the mistakes of others, that way when you mess up you can do so in new and interesting ways.