Wait, new calipers for the slider pins? If the slider pins seized you can replace just those pins along with new rubber boots for the casting in the caliper. The AutoZone pads I bought came with new rubber boots, and new slide pins were $13 for both sides.

For the drum brakes being stronger, I'd expect that with new fluid and new hoses. Did you replace the hard lines or the rubber hoses?
_________________
2012 Chevrolet Cruze Eco - Current car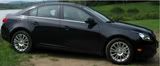 1999 Buick LeSabre Custom - Former car
Learn from the mistakes of others, that way when you mess up you can do so in new and interesting ways.